Cellular respiration
Page
3
1. 2 - ATP (substrate-level phosphorylation)
2. 6 - NADH
3. 2 - FADH2
4. 4 - CO2
Slide 27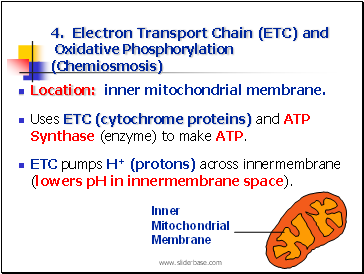 4. Electron Transport Chain (ETC) and Oxidative Phosphorylation (Chemiosmosis)
Location: inner mitochondrial membrane.
Uses ETC (cytochrome proteins) and ATP Synthase (enzyme) to make ATP.
ETC pumps H+ (protons) across innermembrane (lowers pH in innermembrane space).
Slide 28
4. Electron Transport Chain (ETC) and Oxidative Phosphorylation (Chemiosmosis)
The H+ then move via diffusion (Proton Motive Force) through ATP Synthase to make ATP.
All NADH and FADH2 converted to ATP during this stage of cellular respiration.
Each NADH converts to 3 ATP.
Each FADH2 converts to 2 ATP (enters the ETC at a lower level than NADH).
Slide 29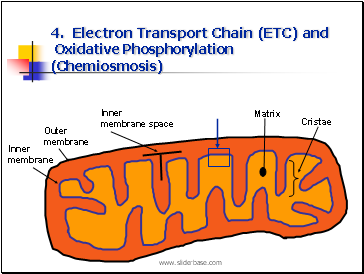 4. Electron Transport Chain (ETC) and Oxidative Phosphorylation (Chemiosmosis)
Slide 30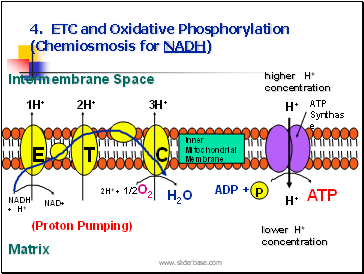 4. ETC and Oxidative Phosphorylation (Chemiosmosis for NADH)
Slide 31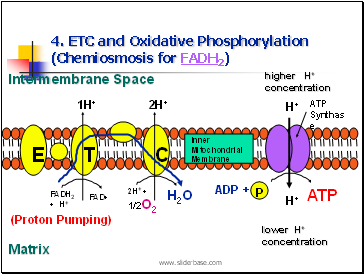 4. ETC and Oxidative Phosphorylation (Chemiosmosis for FADH2)
Slide 32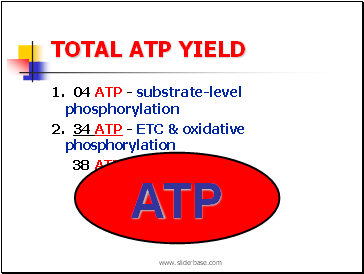 TOTAL ATP YIELD
1. 04 ATP - substrate-level phosphorylation
2. 34 ATP - ETC & oxidative phosphorylation
38 ATP - TOTAL YIELD
Slide 33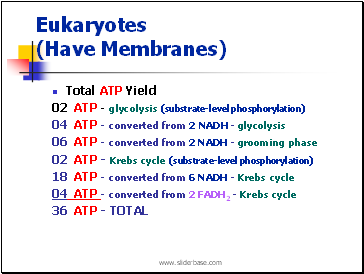 Eukaryotes (Have Membranes)
Total ATP Yield
02 ATP - glycolysis (substrate-level phosphorylation)
04 ATP - converted from 2 NADH - glycolysis
06 ATP - converted from 2 NADH - grooming phase
02 ATP - Krebs cycle (substrate-level phosphorylation)
18 ATP - converted from 6 NADH - Krebs cycle
04 ATP - converted from 2 FADH2 - Krebs cycle
36 ATP - TOTAL
Slide 34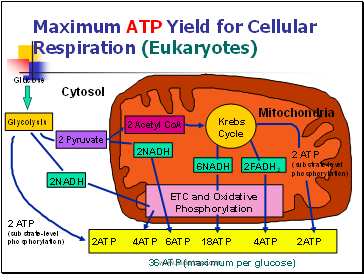 Maximum ATP Yield for Cellular Respiration (Eukaryotes)
36 ATP (maximum per glucose)
Slide 35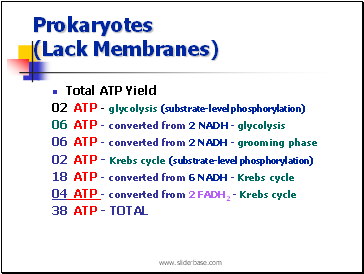 Prokaryotes (Lack Membranes)
Total ATP Yield
02 ATP - glycolysis (substrate-level phosphorylation)
06 ATP - converted from 2 NADH - glycolysis
06 ATP - converted from 2 NADH - grooming phase
02 ATP - Krebs cycle (substrate-level phosphorylation)
18 ATP - converted from 6 NADH - Krebs cycle
04 ATP - converted from 2 FADH2 - Krebs cycle
38 ATP - TOTAL
Slide 36