Gender and Plains Indian Warfare
Page
3
2. Shift from subsistence to commercial economy
3. Individual male Indians became self-employed
entrepreneurs
4. Producers on the margins of an expanding
global economy
www.sliderbase.com
Slide 19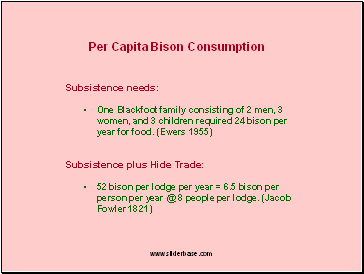 Subsistence needs:
One Blackfoot family consisting of 2 men, 3 women, and 3 children required 24 bison per year for food. (Ewers 1955)
Subsistence plus Hide Trade:
52 bison per lodge per year = 6.5 bison per person per year @ 8 people per lodge. (Jacob Fowler 1821)
Per Capita Bison Consumption
www.sliderbase.com
Slide 20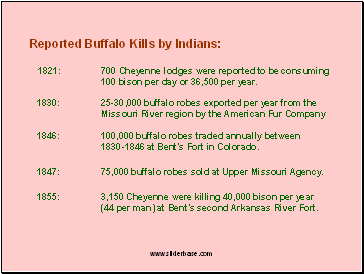 Reported Buffalo Kills by Indians:
1821: 700 Cheyenne lodges were reported to be consuming
100 bison per day or 36,500 per year.
1830: 25-30,000 buffalo robes exported per year from the
Missouri River region by the American Fur Company
1846: 100,000 buffalo robes traded annually between
1830-1846 at Bent's Fort in Colorado.
1847: 75,000 buffalo robes sold at Upper Missouri Agency.
1855: 3,150 Cheyenne were killing 40,000 bison per year
(44 per man) at Bent's second Arkansas River Fort.
www.sliderbase.com
Slide 21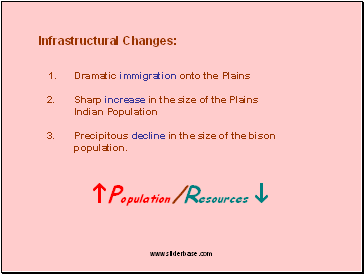 Infrastructural Changes:
1. Dramatic immigration onto the Plains
2. Sharp increase in the size of the Plains
Indian Population
3. Precipitous decline in the size of the bison
population.
Population/Resources 
www.sliderbase.com
Slide 22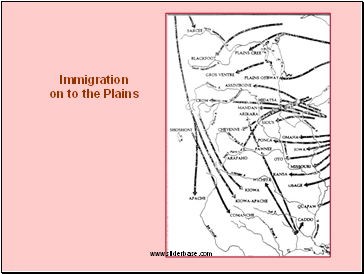 Immigration on to the Plains
www.sliderbase.com
Slide 23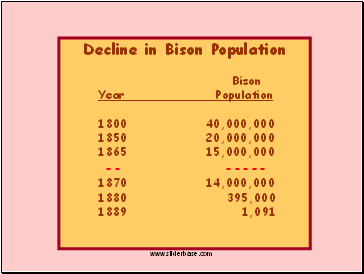 Decline in Bison Population
Bison
Year Population
1800 40,000,000
1850 20,000,000
1865 15,000,000
-- -----
1870 14,000,000
1880 395,000
1889 1,091
www.sliderbase.com
Slide 24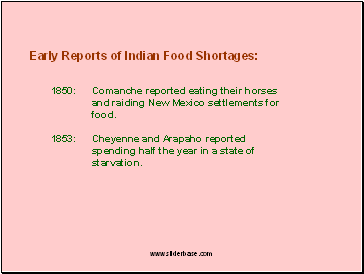 1850: Comanche reported eating their horses
and raiding New Mexico settlements for
food.
1853: Cheyenne and Arapaho reported
spending half the year in a state of
starvation.
Early Reports of Indian Food Shortages:
www.sliderbase.com
Slide 25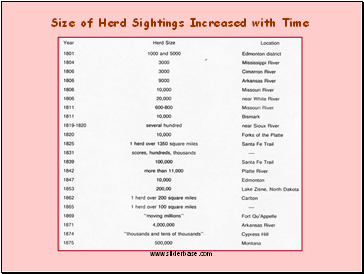 Size of Herd Sightings Increased with Time
www.sliderbase.com
Slide 26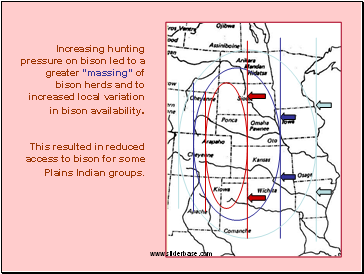 Increasing hunting pressure on bison led to a greater "massing" of bison herds and to increased local variation in bison availability.
This resulted in reduced access to bison for some Plains Indian groups.