Vertebrates
Page
4
Shark eggs are fertilized internally but embryos can develop in different ways:
Oviparous: eggs hatch outside the mother's body.
Ovoviviparous: the embryo develops within the uterus and is nourished by the egg yolk.
Viviparous: the embryo develops within the uterus and is nourished through a yolk sac placenta from the mother's blood.
The reproductive tract, excretory system, and digestive tract empty into a common cloaca.
Slide 24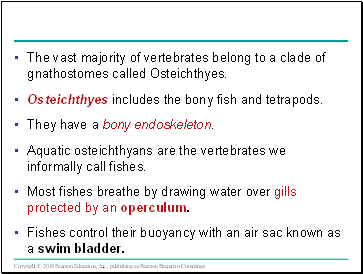 The vast majority of vertebrates belong to a clade of gnathostomes called Osteichthyes.
Osteichthyes includes the bony fish and tetrapods.
They have a bony endoskeleton.
Aquatic osteichthyans are the vertebrates we informally call fishes.
Most fishes breathe by drawing water over gills protected by an operculum.
Fishes control their buoyancy with an air sac known as a swim bladder.
Slide 25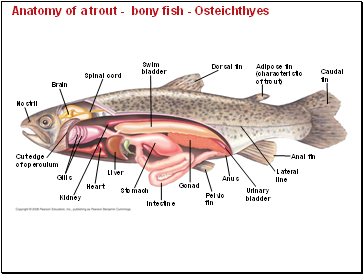 Anatomy of a trout - bony fish - Osteichthyes
Intestine
Adipose fin
(characteristic
of trout)
Cut edge
of operculum
Swim
bladder
Caudal
fin
Lateral
line
Urinary
bladder
Pelvic
fin
Anus
Dorsal fin
Spinal cord
Brain
Nostril
Gills
Kidney
Heart
Liver
Gonad
Anal fin
Stomach
Slide 26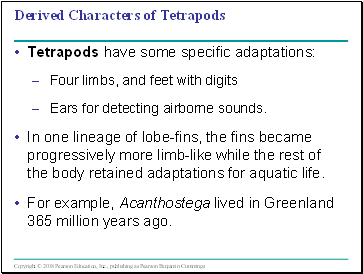 Derived Characters of Tetrapods
Tetrapods have some specific adaptations:
Four limbs, and feet with digits
Ears for detecting airborne sounds.
In one lineage of lobe-fins, the fins became progressively more limb-like while the rest of the body retained adaptations for aquatic life.
For example, Acanthostega lived in Greenland 365 million years ago.
Slide 27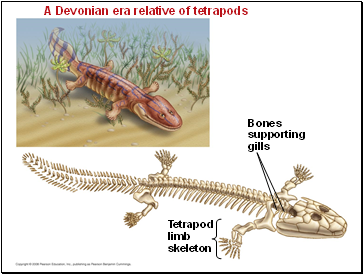 A Devonian era relative of tetrapods
Tetrapod
limb
skeleton
Bones
supporting
gills
Slide 28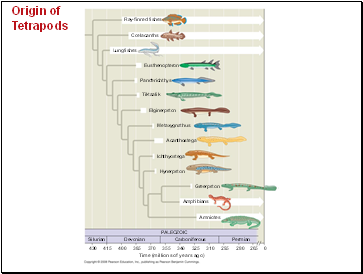 Origin of Tetrapods
Ray-finned fishes
Coelacanths
Lungfishes
Eusthenopteron
Panderichthys
Tiktaalik
Elginerpeton
Metaxygnathus
Acanthostega
Ichthyostega
Hynerpeton
Amphibians
Greerpeton
Amniotes
PALEOZOIC
Carboniferous
Silurian
Devonian
Permian
0
265
280
295
310
325
340
355
370
385
400
415
430
Time (millions of years ago)
Slide 29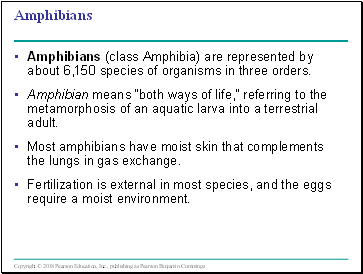 Amphibians
Amphibians (class Amphibia) are represented by about 6,150 species of organisms in three orders.
Amphibian means "both ways of life," referring to the metamorphosis of an aquatic larva into a terrestrial adult.