Vertebrates
Page
6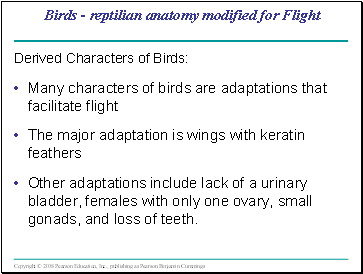 Birds - reptilian anatomy modified for Flight
Derived Characters of Birds:
Many characters of birds are adaptations that facilitate flight
The major adaptation is wings with keratin feathers
Other adaptations include lack of a urinary bladder, females with only one ovary, small gonads, and loss of teeth.
Slide 39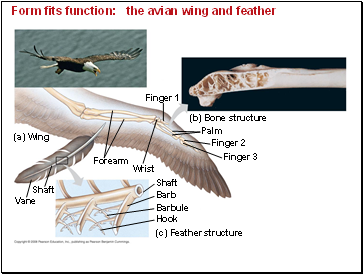 Form fits function: the avian wing and feather
(a) Wing
(b) Bone structure
(c) Feather structure
Finger 1
Finger 2
Finger 3
Palm
Hook
Vane
Barbule
Barb
Shaft
Wrist
Forearm
Shaft
Slide 40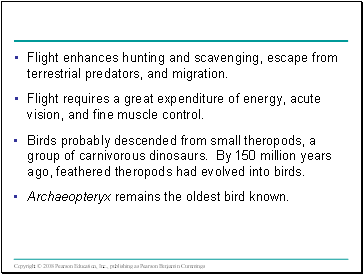 Flight enhances hunting and scavenging, escape from terrestrial predators, and migration.
Flight requires a great expenditure of energy, acute vision, and fine muscle control.
Birds probably descended from small theropods, a group of carnivorous dinosaurs. By 150 million years ago, feathered theropods had evolved into birds.
Archaeopteryx remains the oldest bird known.
Slide 41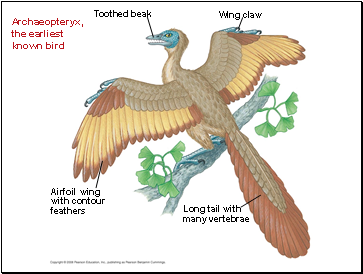 Archaeopteryx, the earliest known bird
Airfoil wing
with contour
feathers
Toothed beak
Wing claw
Long tail with
many vertebrae
Slide 42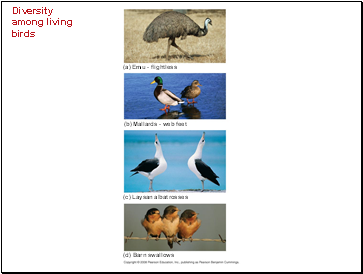 Diversity among living birds
(a) Emu - flightless
(b) Mallards - web feet
(c) Laysan albatrosses
(d) Barn swallows
Slide 43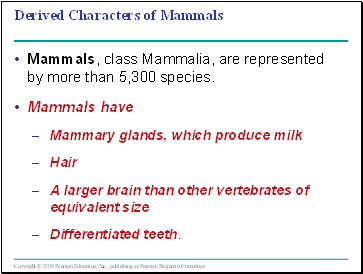 Derived Characters of Mammals
Mammals, class Mammalia, are represented by more than 5,300 species.
Mammals have
Mammary glands, which produce milk
Hair
A larger brain than other vertebrates of equivalent size
Differentiated teeth.
Slide 44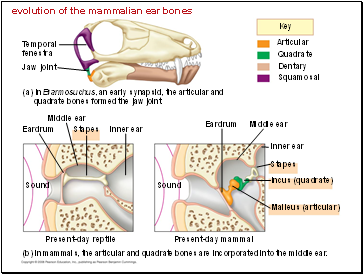 evolution of the mammalian ear bones
(b) In mammals, the articular and quadrate bones are incorporated into the middle ear.
(a) In Biarmosuchus, an early synapsid, the articular and
quadrate bones formed the jaw joint.
Middle ear
Temporal
fenestra
Jaw joint
Eardrum
Present-day reptile
Present-day mammal
Malleus (articular)
Incus (quadrate)
Sound
Stapes
Inner ear
Eardrum
Middle ear
Sound
Inner ear
Stapes
Key
Quadrate
Articular
Squamosal
Dentary
Slide 45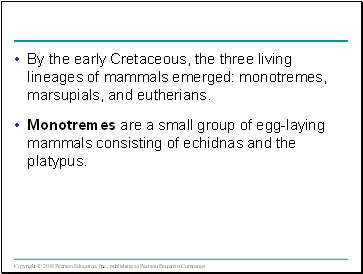 By the early Cretaceous, the three living lineages of mammals emerged: monotremes, marsupials, and eutherians.