Vertebrates
Page
9
neanderthalensis
?
Homo
ergaster
Paranthropus
robustus
Paranthropus
boisei
Australopithecus
africanus
Australopithecus
garhi
Australopithecus
afarensis
Sahelanthropus
tchadensis
Orrorin tugenensis
Ardipithecus
ramidus
Australo-
pithecus
anamensis
Kenyanthropus
platyops
Homo
rudolfensis
Millions of years ago
0
0.5
1.0
1.5
2.0
2.5
3.0
3.5
4.0
4.5
5.0
5.5
6.0
6.5
7.0
Slide 63
Hominins originated in Africa about 6–7 million years ago
Early hominins had a small brain but probably walked upright.
Two common misconceptions about early hominins:
Thinking of them as chimpanzees
Imagining human evolution as a ladder leading directly to Homo sapiens.
Slide 64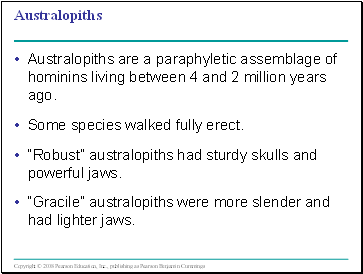 Australopiths
Australopiths are a paraphyletic assemblage of hominins living between 4 and 2 million years ago.
Some species walked fully erect.
"Robust" australopiths had sturdy skulls and powerful jaws.
"Gracile" australopiths were more slender and had lighter jaws.
Slide 65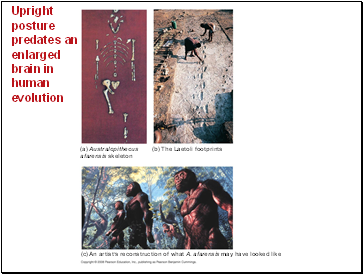 Upright posture predates an enlarged brain in human evolution
(c) An artist's reconstruction of what A. afarensis may have looked like
(a) Australopithecus
afarensis skeleton
(b) The Laetoli footprints
Slide 66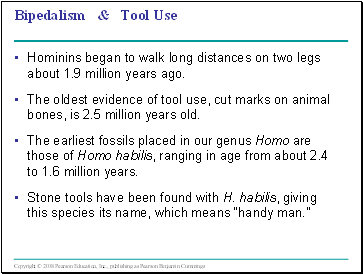 Bipedalism & Tool Use
Hominins began to walk long distances on two legs about 1.9 million years ago.
The oldest evidence of tool use, cut marks on animal bones, is 2.5 million years old.
The earliest fossils placed in our genus Homo are those of Homo habilis, ranging in age from about 2.4 to 1.6 million years.
Stone tools have been found with H. habilis, giving this species its name, which means "handy man."
Slide 67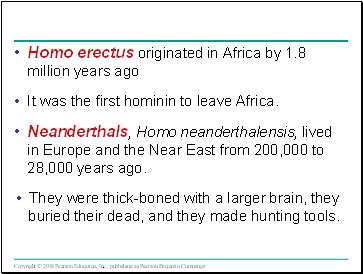 Homo erectus originated in Africa by 1.8 million years ago
It was the first hominin to leave Africa.
Neanderthals, Homo neanderthalensis, lived in Europe and the Near East from 200,000 to 28,000 years ago.
They were thick-boned with a larger brain, they buried their dead, and they made hunting tools.
Slide 68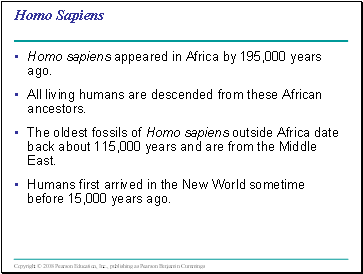 Homo Sapiens
Homo sapiens appeared in Africa by 195,000 years ago.
All living humans are descended from these African ancestors.
The oldest fossils of Homo sapiens outside Africa date back about 115,000 years and are from the Middle East.
Humans first arrived in the New World sometime before 15,000 years ago.