Circulatory System
Page
3
like urea.
It also contains useful things like;
Slide 21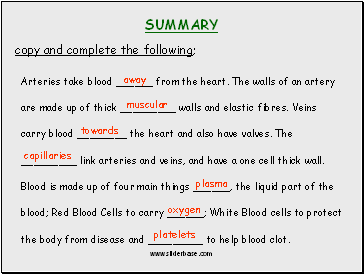 SUMMARY
copy and complete the following;
Arteries take blood from the heart. The walls of an artery are made up of thick _ walls and elastic fibres. Veins carry blood the heart and also have valves. The _ link arteries and veins, and have a one cell thick wall. Blood is made up of four main things , the liquid part of the blood; Red Blood Cells to carry ; White Blood cells to protect the body from disease and _ to help blood clot.
away
platelets
towards
capillaries
plasma
oxygen
muscular