Biochemistry of Cells
Page
5
They are variants of testosterone
Some athletes use them to build up their muscles quickly
They can pose serious health risks
Slide 49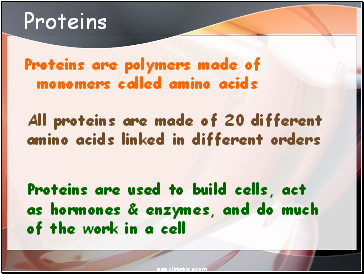 Proteins
Proteins are polymers made of monomers called amino acids
All proteins are made of 20 different amino acids linked in different orders
Proteins are used to build cells, act as hormones & enzymes, and do much of the work in a cell
Slide 50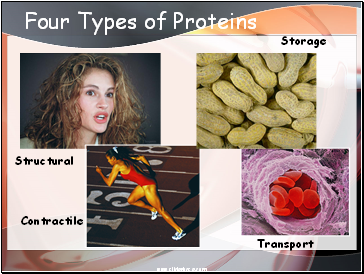 Four Types of Proteins
Structural
Contractile
Storage
Transport
Slide 51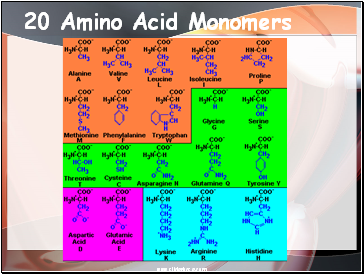 20 Amino Acid Monomers
Slide 52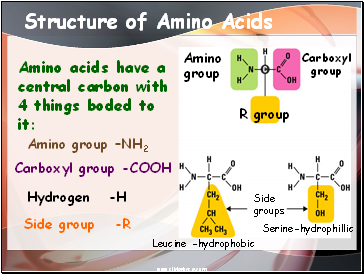 Structure of Amino Acids
Amino acids have a central carbon with 4 things boded to it:
Amino group –NH2
Carboxyl group -COOH
Hydrogen -H
Side group -R
Amino
group
Carboxyl
group
R group
Side groups
Leucine -hydrophobic
Serine-hydrophillic
Slide 53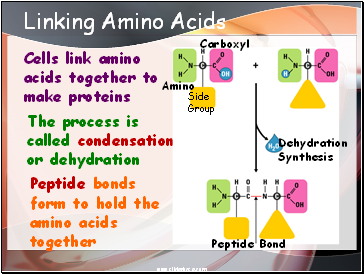 Linking Amino Acids
Cells link amino acids together to make proteins
The process is called condensation or dehydration
Peptide bonds form to hold the amino acids together
Carboxyl
Amino
Side Group
Dehydration Synthesis
Peptide Bond
Slide 54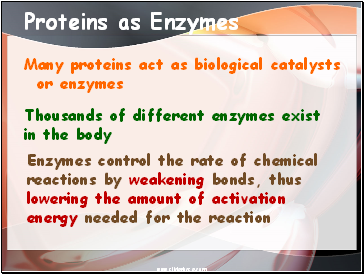 Proteins as Enzymes
Many proteins act as biological catalysts or enzymes
Thousands of different enzymes exist in the body
Enzymes control the rate of chemical reactions by weakening bonds, thus lowering the amount of activation energy needed for the reaction
Slide 55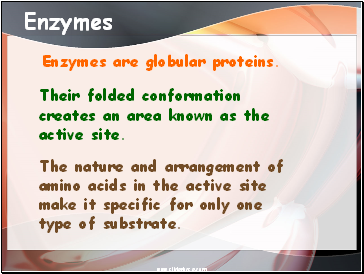 Enzymes
Their folded conformation creates an area known as the active site.
Enzymes are globular proteins.
The nature and arrangement of amino acids in the active site make it specific for only one type of substrate.
Slide 56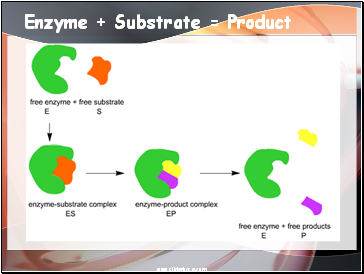 Enzyme + Substrate = Product
Slide 57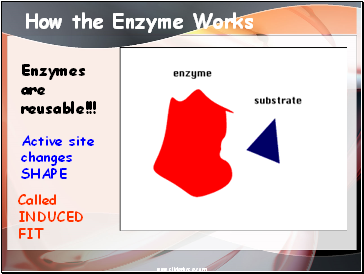 How the Enzyme Works
Enzymes are reusable!!!
Active site changes SHAPE
Called INDUCED FIT
Slide 58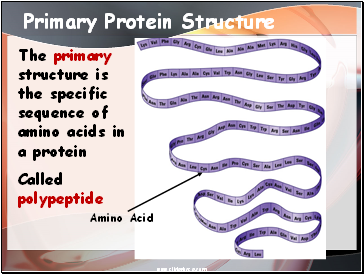 Primary Protein Structure
The primary structure is the specific sequence of amino acids in a protein
Called polypeptide
Amino Acid
Slide 59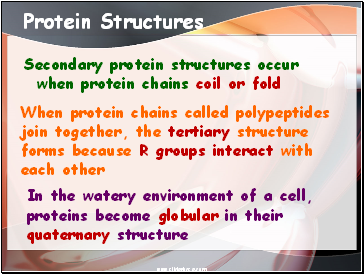 Protein Structures