Mendelian Genetics
Page
4
…And Now the Test Cross
Mendel then crossed a pure & a hybrid from his F2 generation
This is known as an F2 or test cross
There are two possible testcrosses: Homozygous dominant x Hybrid Homozygous recessive x Hybrid
Slide 35
Trait: Seed Shape
Alleles: R – Round r – Wrinkled
Cross: Round seeds x Round seeds
RR x Rr
F2 Monohybrid Cross (1st)
R
R
r
R
RR
Rr
RR
Rr
Genotype: RR, Rr
Phenotype: Round
Genotypic Ratio: 1:1
Phenotypic Ratio: All alike
Slide 36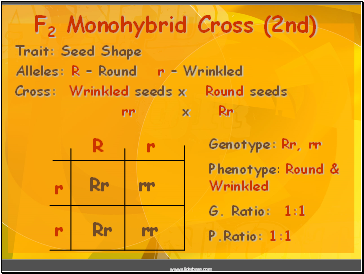 Trait: Seed Shape
Alleles: R – Round r – Wrinkled
Cross: Wrinkled seeds x Round seeds
rr x Rr
F2 Monohybrid Cross (2nd)
r
r
r
R
Rr
rr
Rr
rr
Genotype: Rr, rr
Phenotype: Round & Wrinkled
G. Ratio: 1:1
P.Ratio: 1:1
Slide 37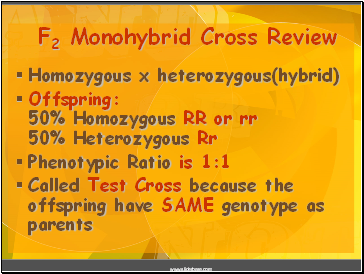 F2 Monohybrid Cross Review
Homozygous x heterozygous(hybrid)
Offspring: 50% Homozygous RR or rr 50% Heterozygous Rr
Phenotypic Ratio is 1:1
Called Test Cross because the offspring have SAME genotype as parents
Slide 38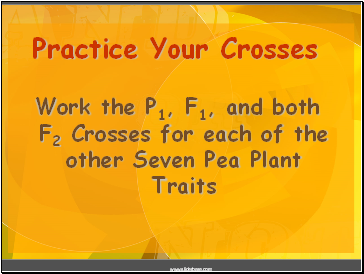 Practice Your Crosses
Work the P1, F1, and both F2 Crosses for each of the other Seven Pea Plant Traits
Slide 39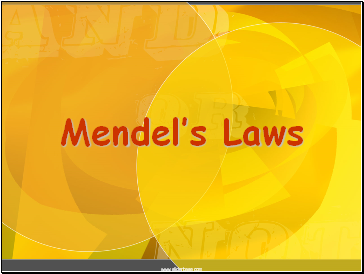 Mendel's Laws
Slide 40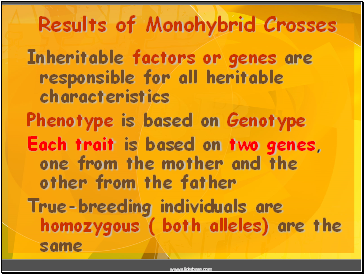 Results of Monohybrid Crosses
Inheritable factors or genes are responsible for all heritable characteristics
Phenotype is based on Genotype
Each trait is based on two genes, one from the mother and the other from the father
True-breeding individuals are homozygous ( both alleles) are the same
Slide 41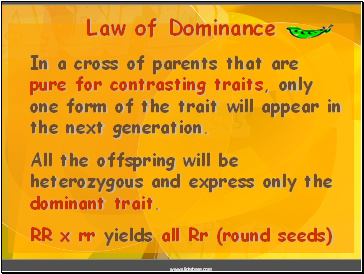 Law of Dominance
In a cross of parents that are pure for contrasting traits, only one form of the trait will appear in the next generation.
All the offspring will be heterozygous and express only the dominant trait.
RR x rr yields all Rr (round seeds)
Slide 42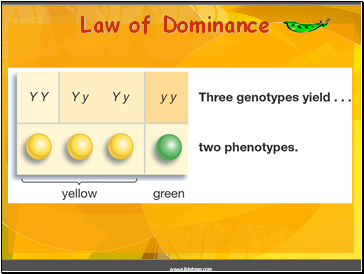 Law of Dominance
Slide 43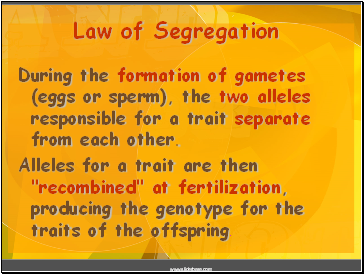 Law of Segregation
During the formation of gametes (eggs or sperm), the two alleles responsible for a trait separate from each other.
Alleles for a trait are then "recombined" at fertilization, producing the genotype for the traits of the offspring.
Slide 44