Culture of the Plains
Page
2
They fled, but later surrendered and moved to Oklahoma.
At the Lakota Sioux reservation in 1890, the Lakota were ordered by a government agent to stop the Ghost Dance.
The dancers fled the reservation and were chased by the U.S. troops to Wounded Knee Creek. Many Lakota were killed. This was the final Native American resistance to federal authority.
www.sliderbase.com
Slide 8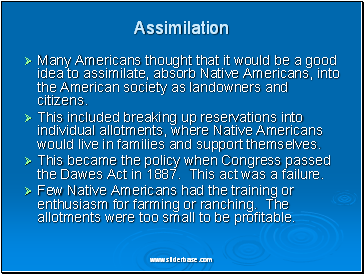 Assimilation
Many Americans thought that it would be a good idea to assimilate, absorb Native Americans, into the American society as landowners and citizens.
This included breaking up reservations into individual allotments, where Native Americans would live in families and support themselves.
This became the policy when Congress passed the Dawes Act in 1887. This act was a failure.
Few Native Americans had the training or enthusiasm for farming or ranching. The allotments were too small to be profitable.
www.sliderbase.com