Angiosperm Reproduction and Biotechnology
Page
5
Slide 33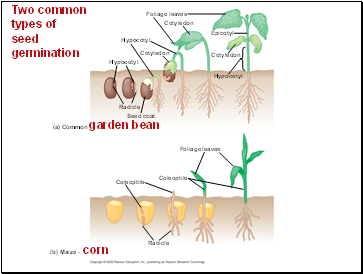 Two common types of seed germination
(a) Common garden bean
Seed coat
Radicle
Hypocotyl
Hypocotyl
Cotyledon
Cotyledon
Cotyledon
Hypocotyl
Epicotyl
Foliage leaves
(b) Maize - corn
Radicle
Foliage leaves
Coleoptile
Coleoptile
Slide 34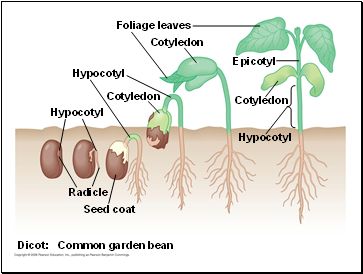 Dicot: Common garden bean
Seed coat
Radicle
Hypocotyl
Cotyledon
Cotyledon
Hypocotyl
Epicotyl
Foliage leaves
Cotyledon
Hypocotyl
Slide 35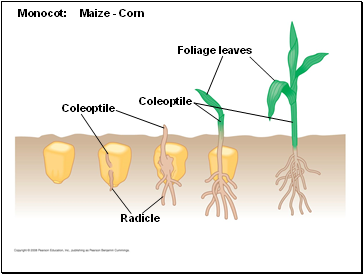 Monocot: Maize - Corn
Radicle
Foliage leaves
Coleoptile
Coleoptile
Slide 36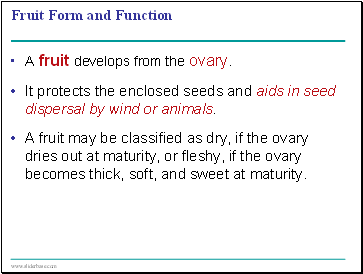 Fruit Form and Function
A fruit develops from the ovary.
It protects the enclosed seeds and aids in seed dispersal by wind or animals.
A fruit may be classified as dry, if the ovary dries out at maturity, or fleshy, if the ovary becomes thick, soft, and sweet at maturity.
Slide 37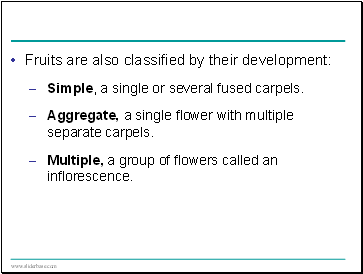 Fruits are also classified by their development:
Simple, a single or several fused carpels.
Aggregate, a single flower with multiple separate carpels.
Multiple, a group of flowers called an inflorescence.
Slide 38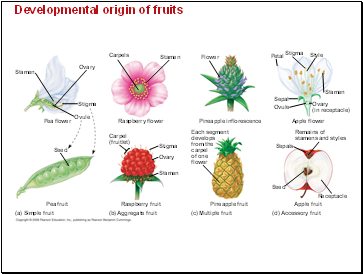 Developmental origin of fruits
Flower
Stamen
Carpels
Ovary
Stigma
Pea flower
Ovule
Seed
Carpel
(fruitlet)
Raspberry flower
Stigma
Ovary
Stamen
Stamen
Pineapple inflorescence
Apple flower
Stigma
Stamen
Ovule
Each segment
develops
from the
carpel
of one
flower
Pea fruit
Raspberry fruit
Pineapple fruit
Apple fruit
(a) Simple fruit
(b) Aggregate fruit
(c) Multiple fruit
(d) Accessory fruit
Sepal
Petal
Style
Ovary
(in receptacle)
Sepals
Seed
Receptacle
Remains of
stamens and styles
Slide 39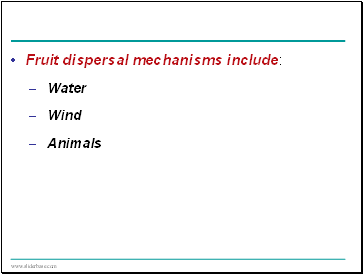 Fruit dispersal mechanisms include:
Water
Wind
Animals
Slide 40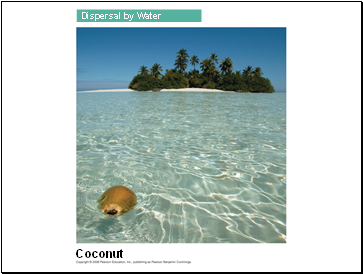 Coconut
Dispersal by Water
Slide 41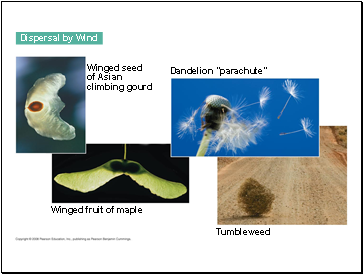 Tumbleweed
Dispersal by Wind
Winged fruit of maple
Dandelion "parachute"
Winged seed
of Asian
climbing gourd
Slide 42