To Kill a Mockingbird
Page
2
An adult man, whose father has "sentenced" him to a lifetime confinement to their house because of some mischief he got into when he was a teenager.
Has a reputation of being a lunatic
Basically a harmless, well-meaning person
Sometimes childlike in behavior
Starving for love and affection
Saves Jem and Scout from certain danger
Slide 11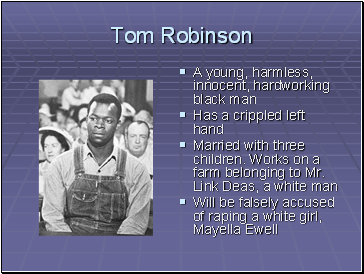 Tom Robinson
A young, harmless, innocent, hardworking black man
Has a crippled left hand
Married with three children. Works on a farm belonging to Mr. Link Deas, a white man
Will be falsely accused of raping a white girl, Mayella Ewell
Slide 12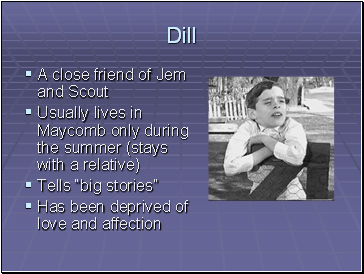 Dill
A close friend of Jem and Scout
Usually lives in Maycomb only during the summer (stays with a relative)
Tells "big stories"
Has been deprived of love and affection
Slide 13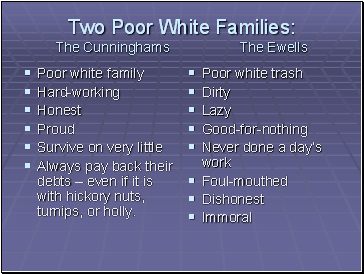 Two Poor White Families:
The Cunninghams The Ewells
Poor white family
Hard-working
Honest
Proud
Survive on very little
Always pay back their debts – even if it is with hickory nuts, turnips, or holly.
Poor white trash
Dirty
Lazy
Good-for-nothing
Never done a day's work
Foul-mouthed
Dishonest
Immoral
Slide 14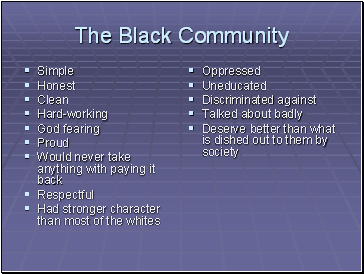 The Black Community
Simple
Honest
Clean
Hard-working
God fearing
Proud
Would never take anything with paying it back
Respectful
Had stronger character than most of the whites
Oppressed
Uneducated
Discriminated against
Talked about badly
Deserve better than what is dished out to them by society
Slide 15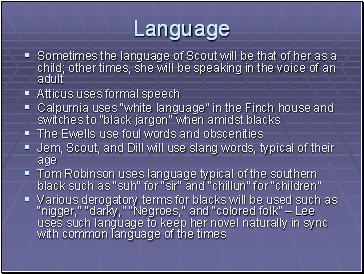 Language
Sometimes the language of Scout will be that of her as a child; other times, she will be speaking in the voice of an adult
Atticus uses formal speech
Calpurnia uses "white language" in the Finch house and switches to "black jargon" when amidst blacks
The Ewells use foul words and obscenities
Jem, Scout, and Dill will use slang words, typical of their age
Tom Robinson uses language typical of the southern black such as "suh" for "sir" and "chillun" for "children"
Various derogatory terms for blacks will be used such as "nigger," "darky," "Negroes," and "colored folk" – Lee uses such language to keep her novel naturally in sync with common language of the times
Slide 16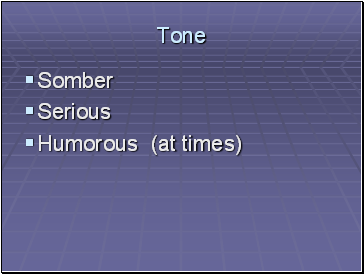 Tone
Somber
Serious
Humorous (at times)
Slide 17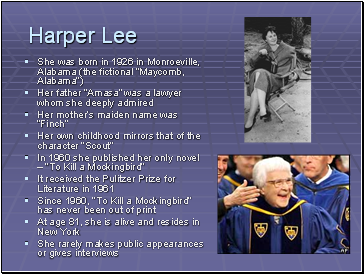 Harper Lee