Mapping
Page
2
Streams are shown as a blue line on maps.
When contour lines cross a stream it looks like an upside down V.
The point in the V points
upstream. It opens in the direction the water is flowing.
Slide 11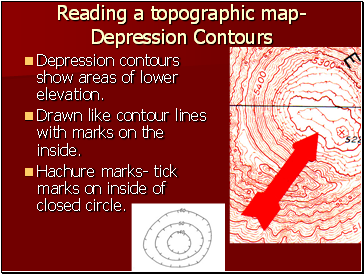 Reading a topographic map- Depression Contours
Depression contours show areas of lower elevation.
Drawn like contour lines with marks on the inside.
Hachure marks- tick marks on inside of closed circle.
Slide 12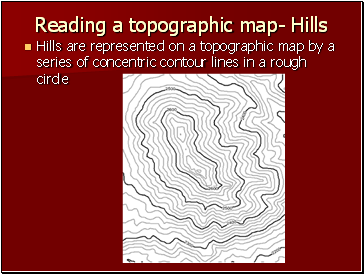 Reading a topographic map- Hills
Hills are represented on a topographic map by a series of concentric contour lines in a rough circle
Slide 13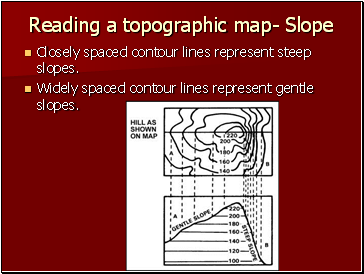 Reading a topographic map- Slope
Closely spaced contour lines represent steep slopes.
Widely spaced contour lines represent gentle slopes.
Slide 14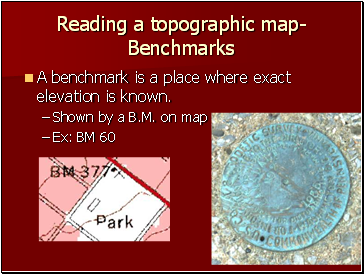 Reading a topographic map- Benchmarks
A benchmark is a place where exact elevation is known.
Shown by a B.M. on map
Ex: BM 60
Slide 15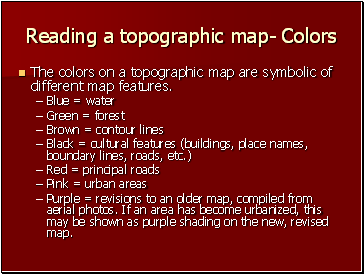 Reading a topographic map- Colors
The colors on a topographic map are symbolic of different map features.
Blue = water
Green = forest
Brown = contour lines
Black = cultural features (buildings, place names, boundary lines, roads, etc.)
Red = principal roads
Pink = urban areas
Purple = revisions to an older map, compiled from aerial photos. If an area has become urbanized, this may be shown as purple shading on the new, revised map.
Slide 16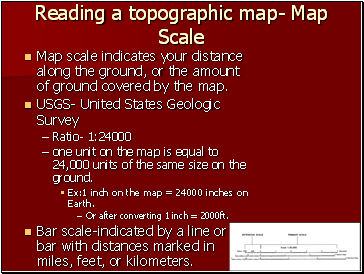 Reading a topographic map- Map Scale
Map scale indicates your distance along the ground, or the amount of ground covered by the map.
USGS- United States Geologic Survey
Ratio- 1:24000
one unit on the map is equal to 24,000 units of the same size on the ground.
Ex:1 inch on the map = 24000 inches on Earth.
Or after converting 1 inch = 2000ft.
Bar scale-indicated by a line or bar with distances marked in miles, feet, or kilometers.
Slide 17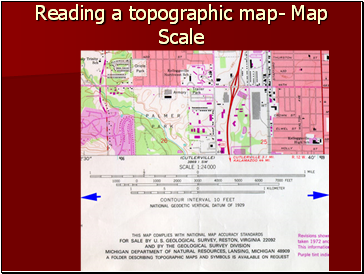 Reading a topographic map- Map Scale
Slide 18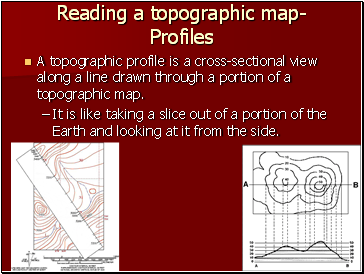 Reading a topographic map- Profiles
A topographic profile is a cross-sectional view along a line drawn through a portion of a topographic map.
It is like taking a slice out of a portion of the Earth and looking at it from the side.
Slide 19