Early Christian Ireland
Page
2
A view of Small Skellig from the early Christian settlement at the top of Skellig Michael. The round buildings, or beehive huts, were where the monks lived and worked.
Slide 8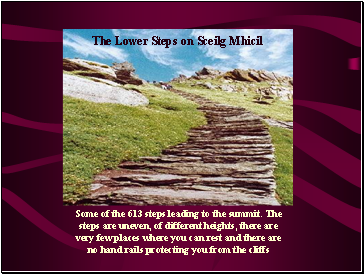 Some of the 613 steps leading to the summit. The steps are uneven, of different heights, there are very few places where you can rest and there are no hand rails protecting you from the cliffs
The Lower Steps on Sceilg Mhicil
Slide 9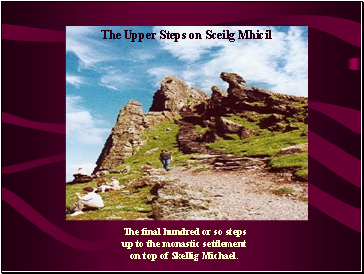 The final hundred or so steps up to the monastic settlement on top of Skellig Michael.
The Upper Steps on Sceilg Mhicil
Slide 10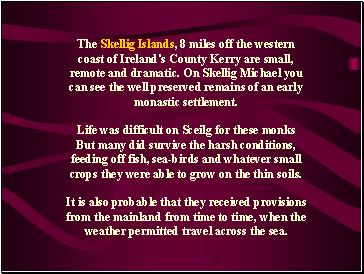 The Skellig Islands, 8 miles off the western coast of Ireland's County Kerry are small, remote and dramatic. On Skellig Michael you can see the well preserved remains of an early monastic settlement.
Life was difficult on Sceilg for these monks
But many did survive the harsh conditions, feeding off fish, sea-birds and whatever small crops they were able to grow on the thin soils.
It is also probable that they received provisions from the mainland from time to time, when the weather permitted travel across the sea.
Slide 11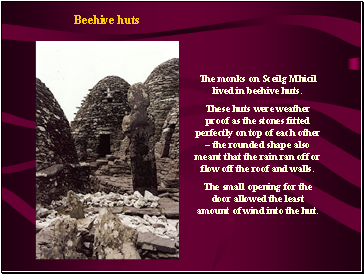 Beehive huts
The monks on Sceilg Mhicil lived in beehive huts.
These huts were weather proof as the stones fitted perfectly on top of each other – the rounded shape also meant that the rain ran off or flow off the roof and walls.
The small opening for the door allowed the least amount of wind into the hut.
Slide 12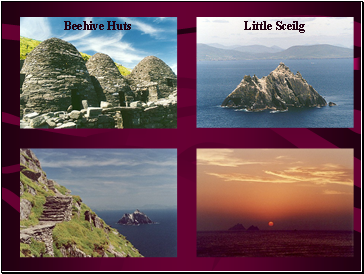 Beehive Huts
Little Sceilg
Slide 13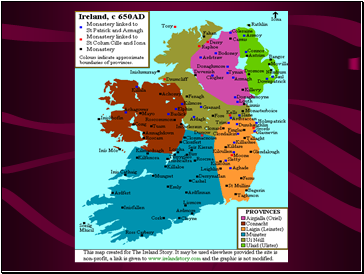 Slide 14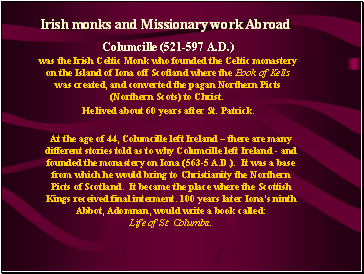 Irish monks and Missionary work Abroad
Columcille (521-597 A.D.)
was the Irish Celtic Monk who founded the Celtic monastery on the Island of Iona off Scotland where the Book of Kells was created, and converted the pagan Northern Picts (Northern Scots) to Christ.
He lived about 60 years after St. Patrick.
At the age of 44, Columcille left Ireland – there are many different stories told as to why Columcille left Ireland - and founded the monastery on Iona (563-5 A.D.). It was a base from which he would bring to Christianity the Northern Picts of Scotland. It became the place where the Scottish Kings received final interment. 100 years later Iona's ninth Abbot, Adomnan, would write a book called:
Life of St. Columba.
Slide 15