Derivation Applications of Bernoulli Principal
Page
2
An increase in velocity of the fluid results in a decrease in pressure
Bernoulliís equation is an extension of F=ma for fluid flows and aerodynamics
Constant
Slide 12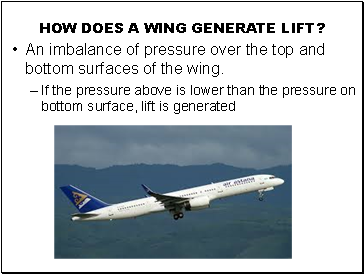 How does a wing generate lift?
An imbalance of pressure over the top and bottom surfaces of the wing.
If the pressure above is lower than the pressure on bottom surface, lift is generated
Slide 13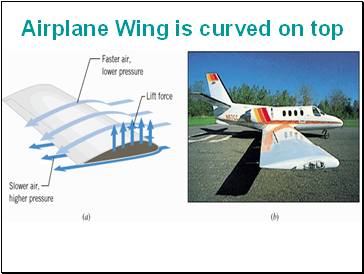 Airplane Wing is curved on top
Slide 14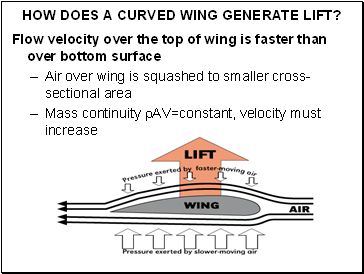 How does a curved wing generate lift?
Flow velocity over the top of wing is faster than over bottom surface
Air over wing is squashed to smaller cross-sectional area
Mass continuity rAV=constant, velocity must increase
Slide 15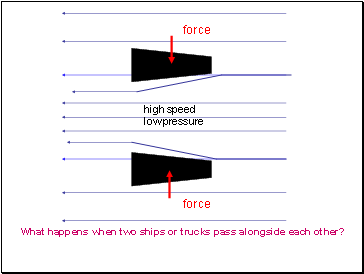 high speed
low pressure
force
force
What happens when two ships or trucks pass alongside each other?
Slide 16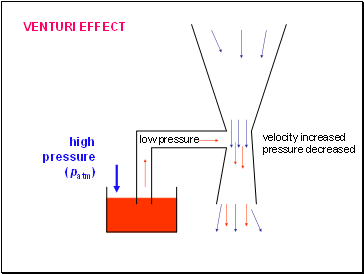 velocity increased
pressure decreased
low pressure
high
pressure
(patm)
VENTURI EFFECT
Slide 17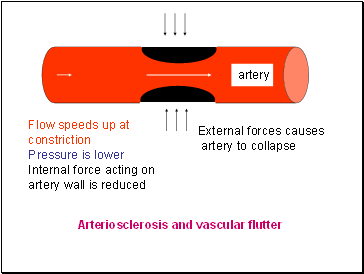 artery
External forces causes
artery to collapse
Flow speeds up at constriction
Pressure is lower
Internal force acting on artery wall is reduced
Arteriosclerosis and vascular flutter
Slide 18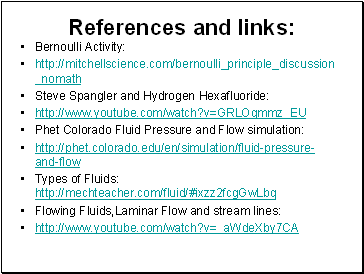 References and links:
Bernoulli Activity:
http://mitchellscience.com/bernoulli_principle_discussion_nomath
Steve Spangler and Hydrogen Hexafluoride:
http://www.youtube.com/watch?v=GRLOgmmz_EU
Phet Colorado Fluid Pressure and Flow simulation:
http://phet.colorado.edu/en/simulation/fluid-pressure-and-flow
Types of Fluids: http://mechteacher.com/fluid/#ixzz2fcgGwLbq
Flowing Fluids,Laminar Flow and stream lines:
http://www.youtube.com/watch?v=_aWdeXby7CA