Odysseus
Page
3
When Odysseus and his men slaughter the Sun's flocks, and when they eat the fruit of the lotus and forget about their homes, Odysseus as the leader is responsible for the fall into temptation.
Slide 13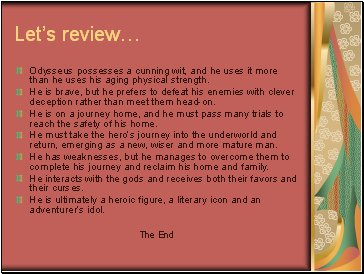 Let's review…
Odysseus possesses a cunning wit, and he uses it more than he uses his aging physical strength.
He is brave, but he prefers to defeat his enemies with clever deception rather than meet them head-on.
He is on a journey home, and he must pass many trials to reach the safety of his home.
He must take the hero's journey into the underworld and return, emerging as a new, wiser and more mature man.
He has weaknesses, but he manages to overcome them to complete his journey and reclaim his home and family.
He interacts with the gods and receives both their favors and their curses.
He is ultimately a heroic figure, a literary icon and an adventurer's idol.
The End
Slide 14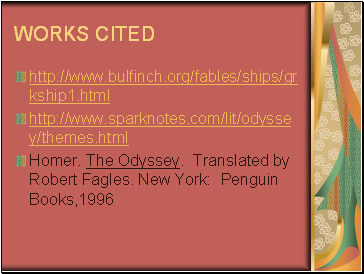 WORKS CITED
Homer. The Odyssey. Translated by Robert Fagles. New York: Penguin Books,1996