Poetry and Art
Page
2
Slide 10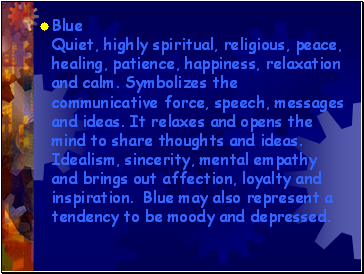 Blue Quiet, highly spiritual, religious, peace, healing, patience, happiness, relaxation and calm. Symbolizes the communicative force, speech, messages and ideas. It relaxes and opens the mind to share thoughts and ideas. Idealism, sincerity, mental empathy and brings out affection, loyalty and inspiration. Blue may also represent a tendency to be moody and depressed.
Slide 11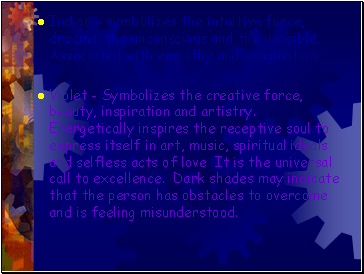 Indigo – symbolizes the intuitive force, dreams, the unconscious and the invisible. Associated with empathy and imagination
Violet - Symbolizes the creative force, beauty, inspiration and artistry. Energetically inspires the receptive soul to express itself in art, music, spiritual ideals and selfless acts of love It is the universal call to excellence. Dark shades may indicate that the person has obstacles to overcome and is feeling misunderstood.
Slide 12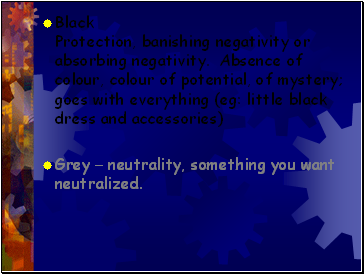 Black Protection, banishing negativity or absorbing negativity. Absence of colour, colour of potential, of mystery; goes with everything (eg: little black dress and accessories)
Grey – neutrality, something you want neutralized.
Slide 13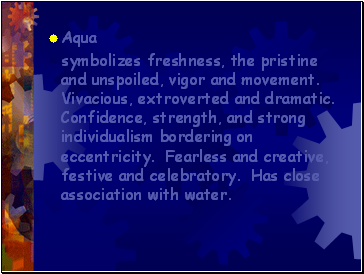 Aqua
symbolizes freshness, the pristine and unspoiled, vigor and movement. Vivacious, extroverted and dramatic. Confidence, strength, and strong individualism bordering on eccentricity. Fearless and creative, festive and celebratory. Has close association with water.
Slide 14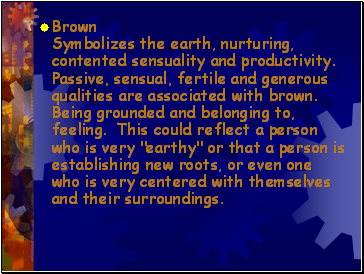 Brown Symbolizes the earth, nurturing, contented sensuality and productivity. Passive, sensual, fertile and generous qualities are associated with brown. Being grounded and belonging to, feeling. This could reflect a person who is very "earthy" or that a person is establishing new roots, or even one who is very centered with themselves and their surroundings.
Slide 15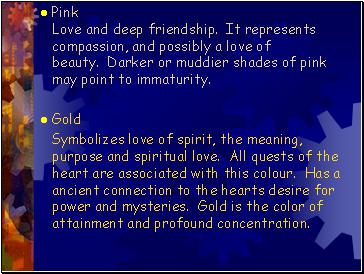 Pink Love and deep friendship. It represents compassion, and possibly a love of beauty. Darker or muddier shades of pink may point to immaturity.
Gold
Symbolizes love of spirit, the meaning, purpose and spiritual love. All quests of the heart are associated with this colour. Has a ancient connection to the hearts desire for power and mysteries. Gold is the color of attainment and profound concentration.
Slide 16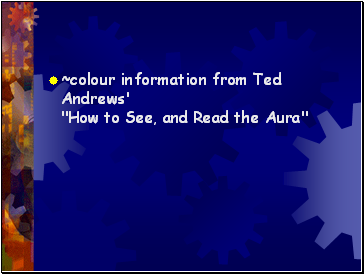 ~colour information from Ted Andrews' "How to See, and Read the Aura"
Slide 17