Ireland in conflict personalities of 1909-1922
Page
1
Slide 1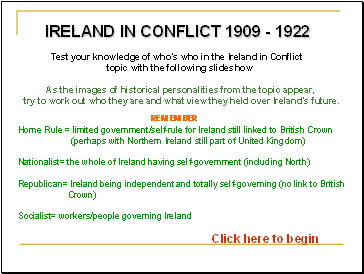 Ireland in conflict 1909 - 1922
Test your knowledge of whoís who in the Ireland in Conflict
topic with the following slideshow
Click here to begin
As the images of historical personalities from the topic appear,
try to work out who they are and what view they held over Irelandís future.
REMEMBER
Home Rule = limited government/self-rule for Ireland still linked to British Crown
(perhaps with Northern Ireland still part of United Kingdom)
Nationalist= the whole of Ireland having self-government (including North)
Republican= Ireland being independent and totally self-governing (no link to British
Crown)
Socialist= workers/people governing Ireland
Slide 2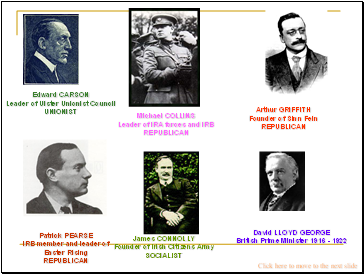 Edward CARSON
Leader of Ulster Unionist Council
UNIONIST
Arthur GRIFFITH
Founder of Sinn Fein
REPUBLICAN
Patrick PEARSE
IRB member and leader of
Easter Rising
REPUBLICAN
James CONNOLLY
Founder of Irish Citizens Army
SOCIALIST
David LLOYD GEORGE
British Prime Minister 1916 - 1922
Michael COLLINS
Leader of IRA forces and IRB
REPUBLICAN
Click here to move to the next slide
Slide 3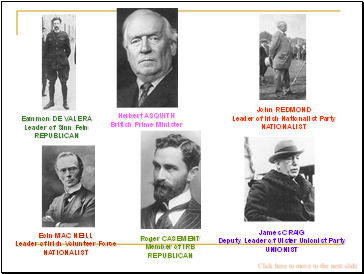 Eammon DE VALERA
Leader of Sinn Fein
REPUBLICAN
John REDMOND
Leader of Irish Nationalist Party
NATIONALIST
Eoin MAC NEILL
Leader of Irish Volunteer Force
NATIONALIST
Roger CASEMENT
Member of IRB
REPUBLICAN
James CRAIG
Deputy Leader of Ulster Unionist Party
UNIONIST
Herbert ASQUITH
British Prime Minister
Click here to move to the next slide
Slide 4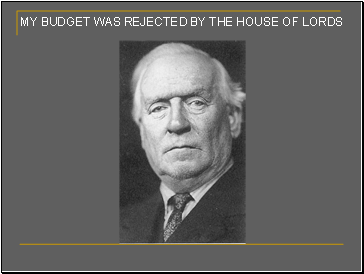 MY BUDGET WAS REJECTED BY THE HOUSE OF LORDS
Slide 5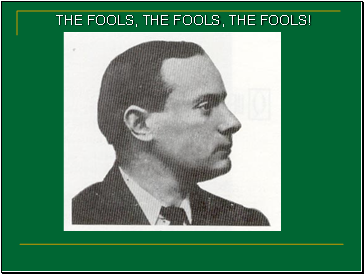 THE FOOLS, THE FOOLS, THE FOOLS!
Slide 6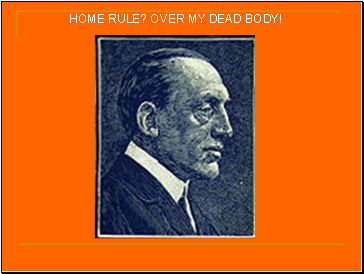 HOME RULE? OVER MY DEAD BODY!
Slide 7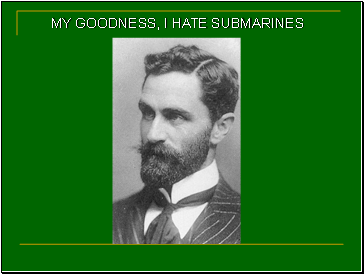 MY GOODNESS, I HATE SUBMARINES
Slide 8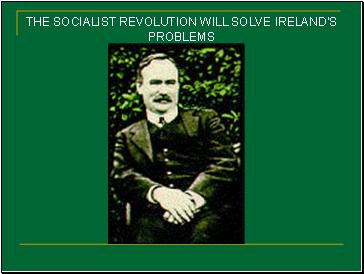 THE SOCIALIST REVOLUTION WILL SOLVE IRELANDíS PROBLEMS
Slide 9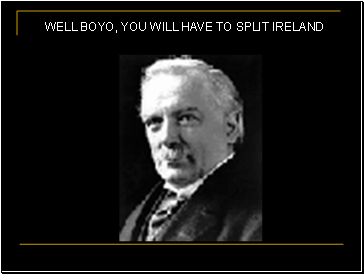 WELL BOYO, YOU WILL HAVE TO SPLIT IRELAND
Slide 10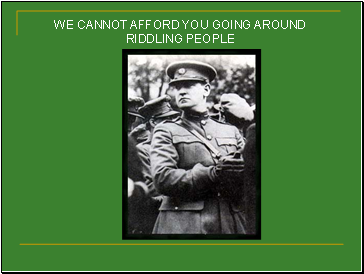 WE CANNOT AFFORD YOU GOING AROUND RIDDLING PEOPLE
Slide 11