The Immune System
Page
5
World declared free of smallpox in 1980
Slide 43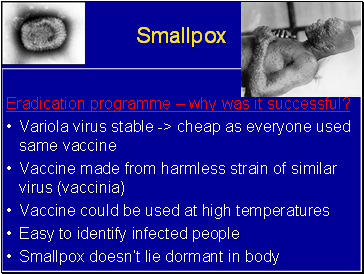 Smallpox
Eradication programme – why was it successful?
Variola virus stable -> cheap as everyone used same vaccine
Vaccine made from harmless strain of similar virus (vaccinia)
Vaccine could be used at high temperatures
Easy to identify infected people
Smallpox doesn't lie dormant in body
Slide 44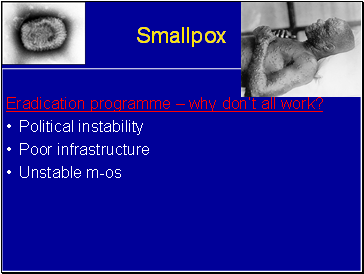 Smallpox
Eradication programme – why don't all work?
Political instability
Poor infrastructure
Unstable m-os
Slide 45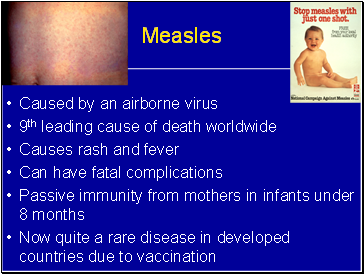 Measles
Caused by an airborne virus
9th leading cause of death worldwide
Causes rash and fever
Can have fatal complications
Passive immunity from mothers in infants under 8 months
Now quite a rare disease in developed countries due to vaccination
Slide 46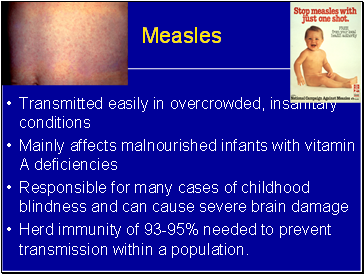 Measles
Transmitted easily in overcrowded, insanitary conditions
Mainly affects malnourished infants with vitamin A deficiencies
Responsible for many cases of childhood blindness and can cause severe brain damage
Herd immunity of 93-95% needed to prevent transmission within a population.
Slide 47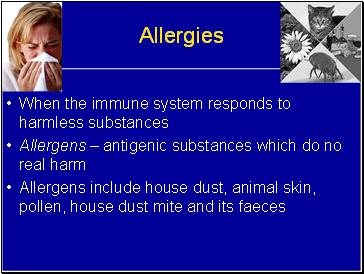 Allergies
When the immune system responds to harmless substances
Allergens – antigenic substances which do no real harm
Allergens include house dust, animal skin, pollen, house dust mite and its faeces
Slide 48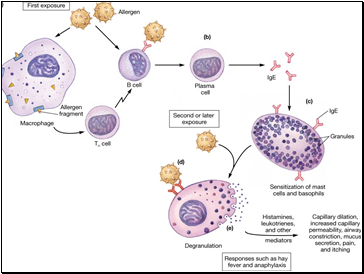 Slide 49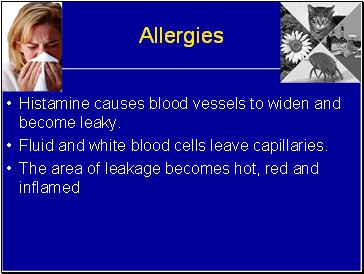 Allergies
Histamine causes blood vessels to widen and become leaky.
Fluid and white blood cells leave capillaries.
The area of leakage becomes hot, red and inflamed
Slide 50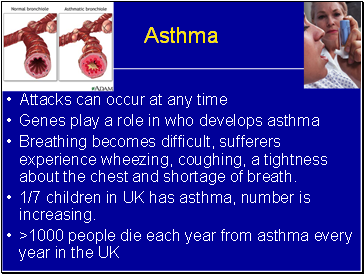 Astha
Attacks can occur at any time
Genes play a role in who develops astha
Breathing becomes difficult, sufferers experience wheezing, coughing, a tightness about the chest and shortage of breath.
1/7 children in UK has astha, number is increasing.
>1000 people die each year from astha every year in the UK
Slide 51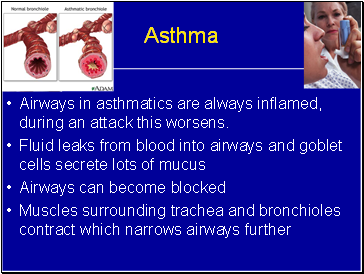 Astha
Airways in asthatics are always inflamed, during an attack this worsens.
Fluid leaks from blood into airways and goblet cells secrete lots of mucus
Airways can become blocked
Muscles surrounding trachea and bronchioles contract which narrows airways further