The History of Life on Earth
Page
7
The presence of iridium in sedimentary rocks suggests a meteorite impact about 65 million years ago.
The Chicxulub crater off the coast of Mexico is evidence of a meteorite that dates to the same time.
Massive Meterorite Impact Evidence
Slide 44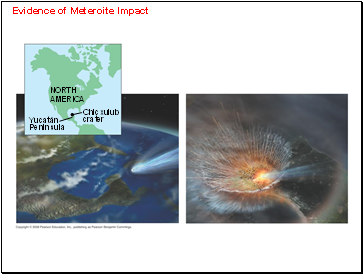 Evidence of Meteroite Impact
NORTH
AMERICA
Chicxulub
crater
Yucatán
Peninsula
Slide 45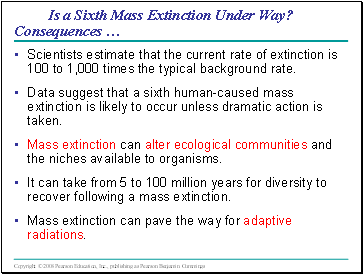 Is a Sixth Mass Extinction Under Way? Consequences …
Scientists estimate that the current rate of extinction is 100 to 1,000 times the typical background rate.
Data suggest that a sixth human-caused mass extinction is likely to occur unless dramatic action is taken.
Mass extinction can alter ecological communities and the niches available to organisms.
It can take from 5 to 100 million years for diversity to recover following a mass extinction.
Mass extinction can pave the way for adaptive radiations.
Slide 46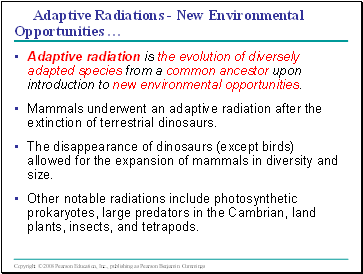 Adaptive Radiations - New Environmental Opportunities …
Adaptive radiation is the evolution of diversely adapted species from a common ancestor upon introduction to new environmental opportunities.
Mammals underwent an adaptive radiation after the extinction of terrestrial dinosaurs.
The disappearance of dinosaurs (except birds) allowed for the expansion of mammals in diversity and size.
Other notable radiations include photosynthetic prokaryotes, large predators in the Cambrian, land plants, insects, and tetrapods.
Slide 47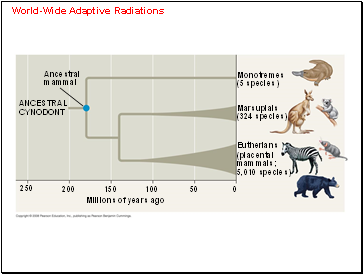 World-Wide Adaptive Radiations
Millions of years ago
Monotremes
(5 species)
250
150
100
200
50
ANCESTRAL
CYNODONT
0
Marsupials
(324 species)
Eutherians
(placental
mammals;
5,010 species)
Ancestral
mammal
Slide 48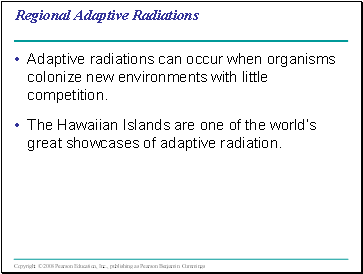 Regional Adaptive Radiations
Adaptive radiations can occur when organisms colonize new environments with little competition.
The Hawaiian Islands are one of the world's great showcases of adaptive radiation.
Slide 49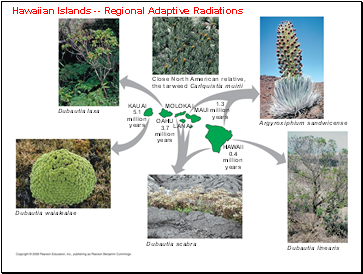 Hawaiian Islands -- Regional Adaptive Radiations
Close North American relative,
the tarweed Carlquistia muirii
Argyroxiphium sandwicense
Dubautia linearis
Dubautia scabra
Dubautia waialealae
Dubautia laxa
HAWAII
0.4
million
years
OAHU
3.7
million
years
KAUAI
5.1
million
years
1.3
million
years
MOLOKAI
MAUI
LANAI
Slide 50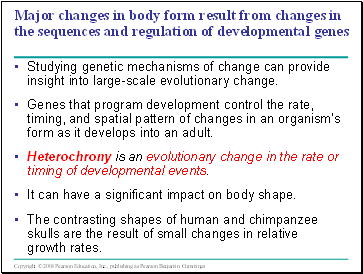 Major changes in body form result from changes in the sequences and regulation of developmental genes