Waves & Sound
Page
2
Slide 11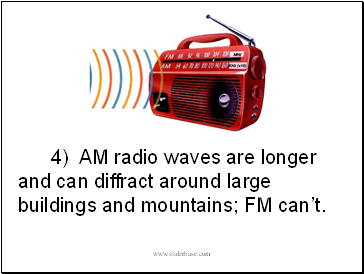 4) AM radio waves are longer and can diffract around large buildings and mountains; FM canít.
Slide 12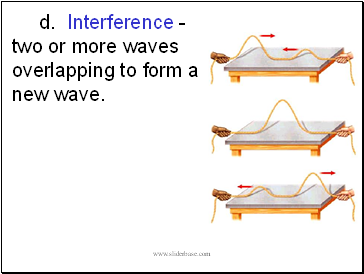 d. Interference - two or more waves overlapping to form a new wave.
Slide 13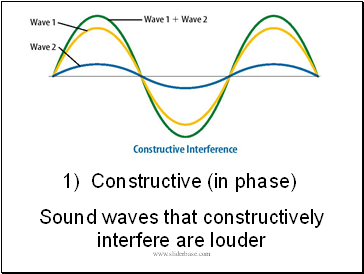 1) Constructive (in phase)
Sound waves that constructively interfere are louder
Slide 14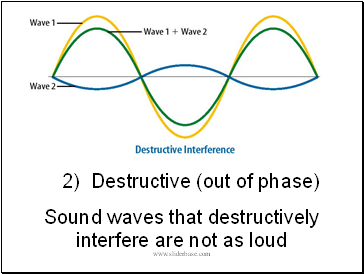 2) Destructive (out of phase)
Sound waves that destructively interfere are not as loud
Slide 15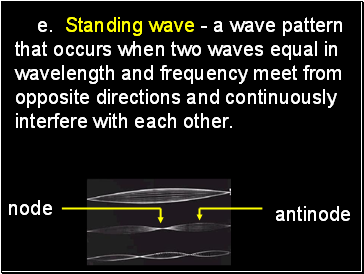 e. Standing wave - a wave pattern that occurs when two waves equal in wavelength and frequency meet from opposite directions and continuously interfere with each other.
node
antinode
Slide 16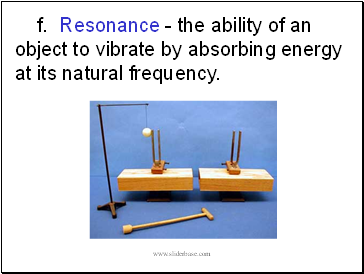 f. Resonance - the ability of an object to vibrate by absorbing energy at its natural frequency.
Slide 17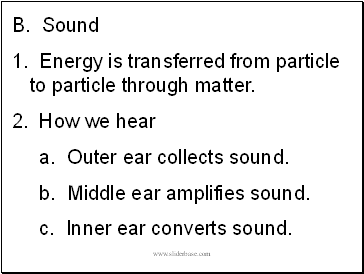 B. Sound
1. Energy is transferred from particle to particle through matter.
2. How we hear
a. Outer ear collects sound.
b. Middle ear amplifies sound.
c. Inner ear converts sound.
Slide 18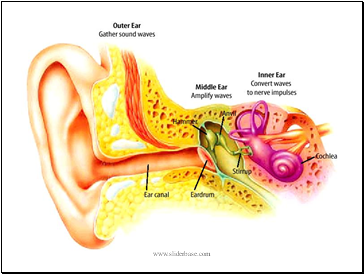 Slide 19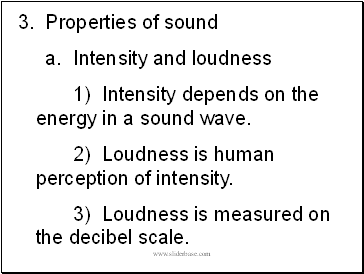 3. Properties of sound
a. Intensity and loudness
1) Intensity depends on the energy in a sound wave.
2) Loudness is human perception of intensity.
3) Loudness is measured on the decibel scale.
Slide 20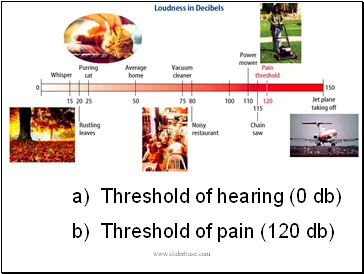 a) Threshold of hearing (0 db)
b) Threshold of pain (120 db)
Slide 21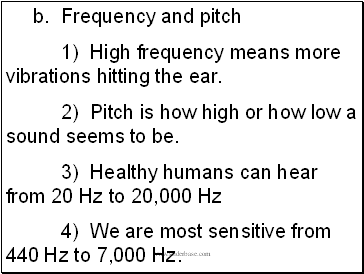 b. Frequency and pitch
1) High frequency means more vibrations hitting the ear.
2) Pitch is how high or how low a sound seems to be.
3) Healthy humans can hear from 20 Hz to 20,000 Hz
4) We are most sensitive from 440 Hz to 7,000 Hz.
Slide 22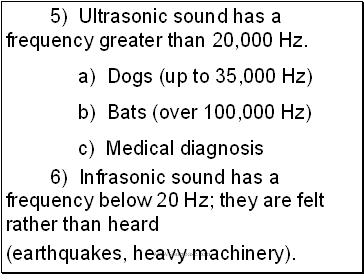 5) Ultrasonic sound has a frequency greater than 20,000 Hz.
a) Dogs (up to 35,000 Hz)
b) Bats (over 100,000 Hz)
c) Medical diagnosis
6) Infrasonic sound has a frequency below 20 Hz; they are felt rather than heard
(earthquakes, heavy machinery).
Slide 23