Power of Reading
Page
4
Became a powerful African-American Leader
Slide 29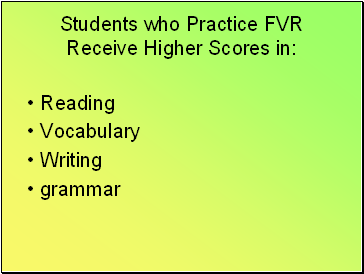 Students who Practice FVR Receive Higher Scores in:
Reading
Vocabulary
Writing
grammar
Slide 30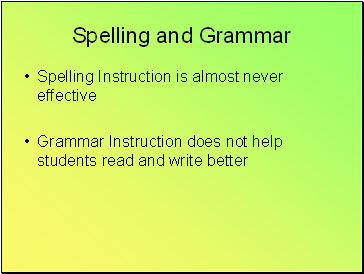 Spelling and Grammar
Spelling Instruction is almost never effective
Grammar Instruction does not help students read and write better
Slide 31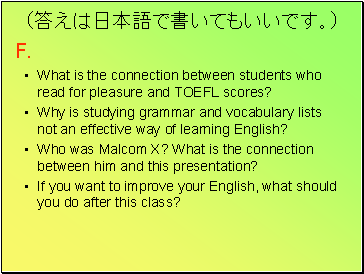 (答えは日本語で書いてもいいです。)
What is the connection between students who read for pleasure and TOEFL scores?
Why is studying grammar and vocabulary lists not an effective way of learning English?
Who was Malcom X? What is the connection between him and this presentation?
If you want to improve your English, what should you do after this class?
F.
Slide 32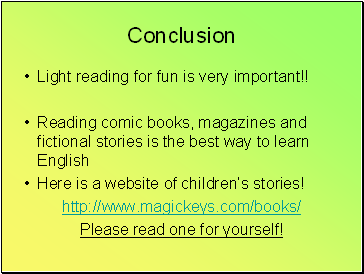 Conclusion
Light reading for fun is very important!!
Reading comic books, magazines and fictional stories is the best way to learn English
Here is a website of children's stories!
http://www.magickeys.com/books/
Please read one for yourself!
Slide 33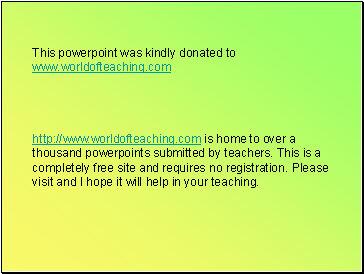 This powerpoint was kindly donated to www.worldofteaching.com
http://www.worldofteaching.com is home to over a thousand powerpoints submitted by teachers. This is a completely free site and requires no registration. Please visit and I hope it will help in your teaching.