Animal Farm
Page
7
All people are equal
Government owns everything
People own the government
Slide 31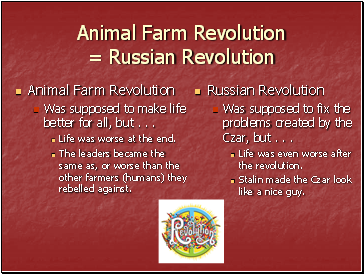 Animal Farm Revolution = Russian Revolution
Animal Farm Revolution
Was supposed to make life better for all, but . . .
Life was worse at the end.
The leaders became the same as, or worse than the other farmers (humans) they rebelled against.
Russian Revolution
Was supposed to fix the problems created by the Czar, but . . .
Life was even worse after the revolution.
Stalin made the Czar look like a nice guy.