Human immune system
Page
2
Note: Variable region recognizes the anitgens.
Slide 11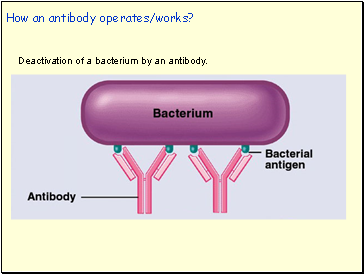 How an antibody operates/works?
Deactivation of a bacterium by an antibody.
Slide 12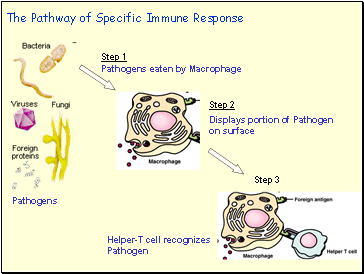 The Pathway of Specific Immune Response
Slide 13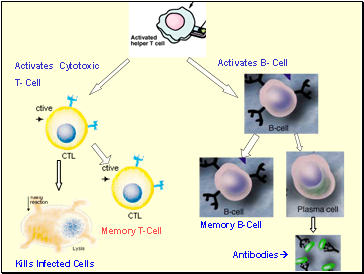 Slide 14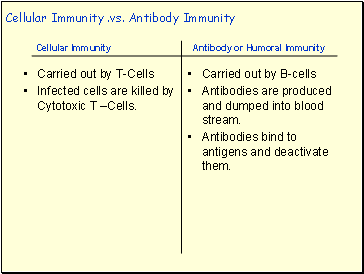 Cellular Immunity .vs. Antibody Immunity
Carried out by T-Cells
Infected cells are killed by Cytotoxic T –Cells.
Carried out by B-cells
Antibodies are produced and dumped into blood stream.
Antibodies bind to antigens and deactivate them.
Cellular Immunity Antibody or Humoral Immunity
Slide 15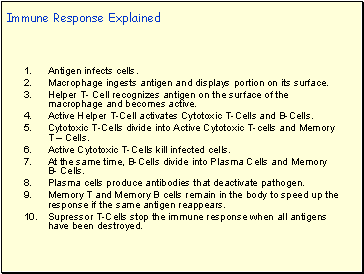 Immune Response Explained
Antigen infects cells.
Macrophage ingests antigen and displays portion on its surface.
Helper T- Cell recognizes antigen on the surface of the macrophage and becomes active.
Active Helper T-Cell activates Cytotoxic T-Cells and B-Cells.
Cytotoxic T-Cells divide into Active Cytotoxic T-cells and Memory T – Cells.
Active Cytotoxic T-Cells kill infected cells.
At the same time, B-Cells divide into Plasma Cells and Memory B- Cells.
Plasma cells produce antibodies that deactivate pathogen.
Memory T and Memory B cells remain in the body to speed up the response if the same antigen reappears.
Supressor T-Cells stop the immune response when all antigens have been destroyed.
Slide 16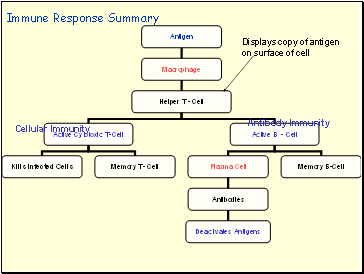 Immune Response Summary
Displays copy of antigen on surface of cell
Cellular Immunity
Antibody Immunity
Slide 17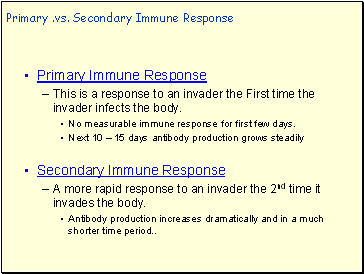 Primary .vs. Secondary Immune Response
Primary Immune Response
This is a response to an invader the First time the invader infects the body.
No measurable immune response for first few days.
Next 10 – 15 days antibody production grows steadily
Secondary Immune Response
A more rapid response to an invader the 2nd time it invades the body.
Antibody production increases dramatically and in a much shorter time period
Slide 18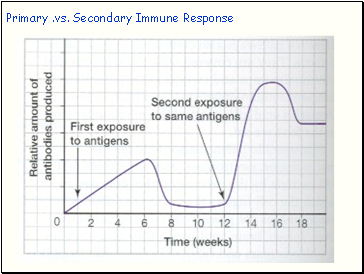 Primary .vs. Secondary Immune Response
Slide 19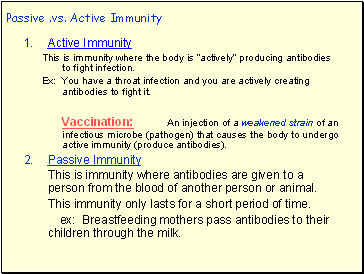 Passive .vs. Active Immunity
Active Immunity
This is immunity where the body is "actively" producing antibodies to fight infection.
Ex: You have a throat infection and you are actively creating antibodies to fight it.