Sexuality
Page
1
Slide 1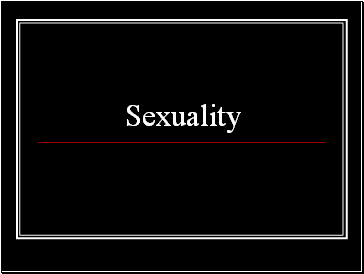 Sexuality
Slide 2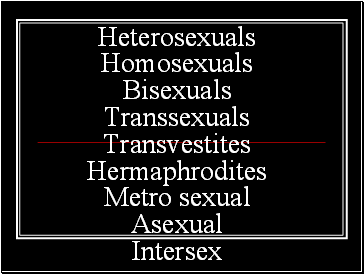 Heterosexuals Homosexuals Bisexuals Transsexuals Transvestites Hermaphrodites Metro sexual Asexual Intersex
Slide 3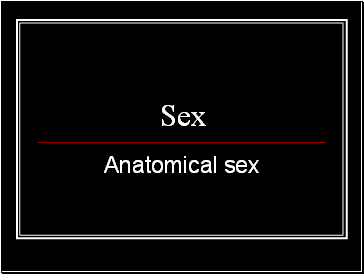 Sex
Anatomical sex
Slide 4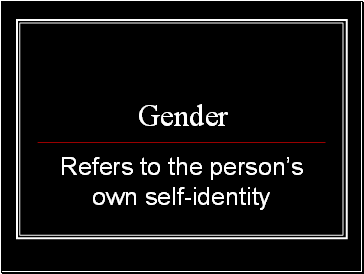 Gender
Refers to the person's own self-identity
Slide 5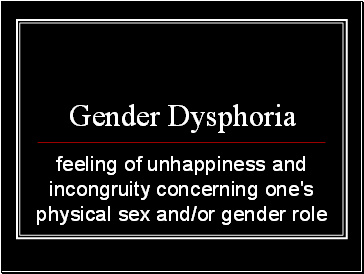 Gender Dysphoria
feeling of unhappiness and incongruity concerning one's physical sex and/or gender role
Slide 6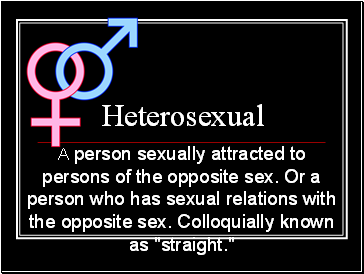 Heterosexual
A person sexually attracted to persons of the opposite sex. Or a person who has sexual relations with the opposite sex. Colloquially known as "straight."
Slide 7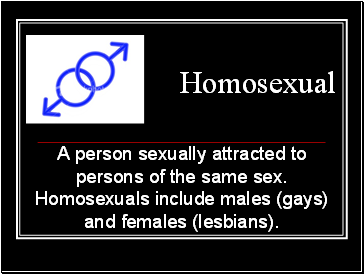 Homosexual
A person sexually attracted to persons of the same sex. Homosexuals include males (gays) and females (lesbians).
Slide 8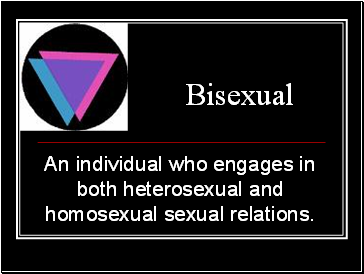 Bisexual
An individual who engages in both heterosexual and homosexual sexual relations.
Slide 9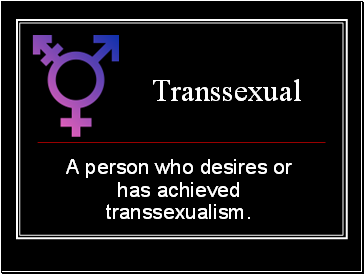 Transsexual
A person who desires or has achieved transsexualism.
Slide 10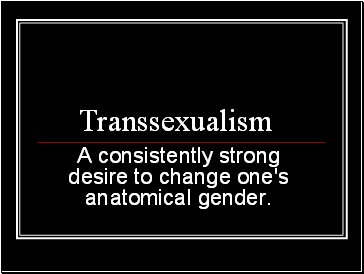 Transsexualism
A consistently strong desire to change one's anatomical gender.
Slide 11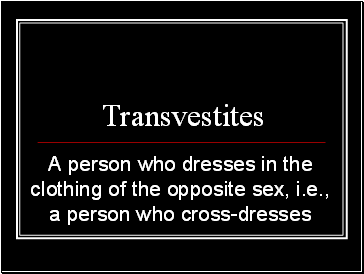 Transvestites
A person who dresses in the clothing of the opposite sex, i.e., a person who cross-dresses
Slide 12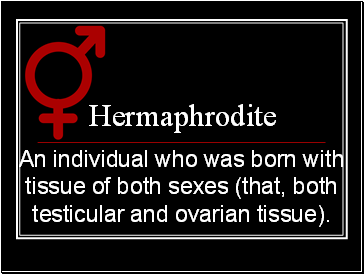 Hermaphrodite
An individual who was born with tissue of both sexes (that, both testicular and ovarian tissue).
Slide 13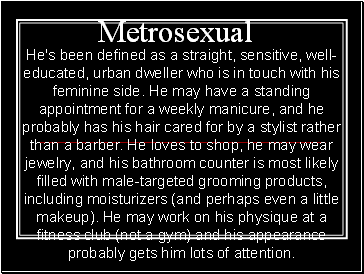 Metrosexual
He's been defined as a straight, sensitive, well-educated, urban dweller who is in touch with his feminine side. He may have a standing appointment for a weekly manicure, and he probably has his hair cared for by a stylist rather than a barber. He loves to shop, he may wear jewelry, and his bathroom counter is most likely filled with male-targeted grooming products, including moisturizers (and perhaps even a little makeup). He may work on his physique at a fitness club (not a gym) and his appearance probably gets him lots of attention.