Health and Hospitals
Page
2
Slide 11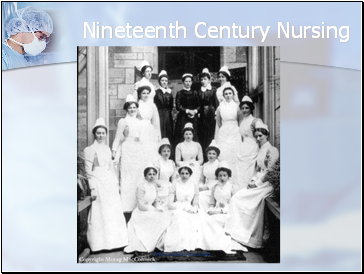 Nineteenth Century Nursing
Slide 12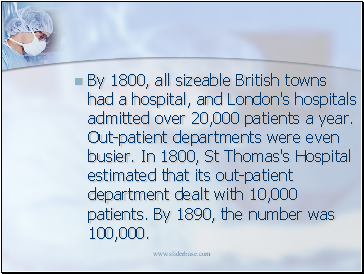 By 1800, all sizeable British towns had a hospital, and London's hospitals admitted over 20,000 patients a year. Out-patient departments were even busier. In 1800, St Thomas's Hospital estimated that its out-patient department dealt with 10,000 patients. By 1890, the number was 100,000.
Slide 13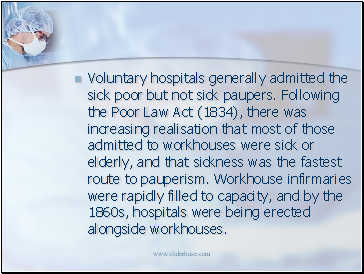 Voluntary hospitals generally admitted the sick poor but not sick paupers. Following the Poor Law Act (1834), there was increasing realisation that most of those admitted to workhouses were sick or elderly, and that sickness was the fastest route to pauperism. Workhouse infirmaries were rapidly filled to capacity, and by the 1860s, hospitals were being erected alongside workhouses.
Slide 14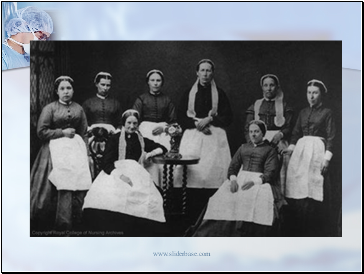 Slide 15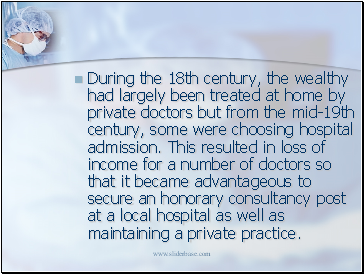 During the 18th century, the wealthy had largely been treated at home by private doctors but from the mid-19th century, some were choosing hospital admission. This resulted in loss of income for a number of doctors so that it became advantageous to secure an honorary consultancy post at a local hospital as well as maintaining a private practice.
Slide 16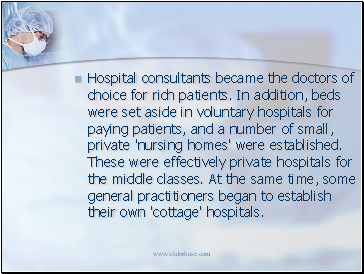 Hospital consultants became the doctors of choice for rich patients. In addition, beds were set aside in voluntary hospitals for paying patients, and a number of small, private 'nursing homes' were established. These were effectively private hospitals for the middle classes. At the same time, some general practitioners began to establish their own 'cottage' hospitals.
Slide 17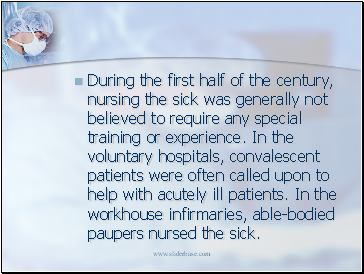 During the first half of the century, nursing the sick was generally not believed to require any special training or experience. In the voluntary hospitals, convalescent patients were often called upon to help with acutely ill patients. In the workhouse infirmaries, able-bodied paupers nursed the sick.
Slide 18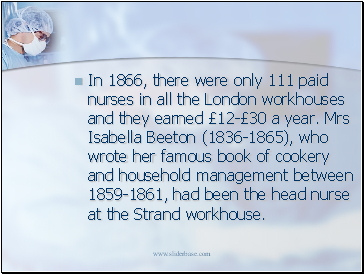 In 1866, there were only 111 paid nurses in all the London workhouses and they earned £12-£30 a year. Mrs Isabella Beeton (1836-1865), who wrote her famous book of cookery and household management between 1859-1861, had been the head nurse at the Strand workhouse.
Slide 19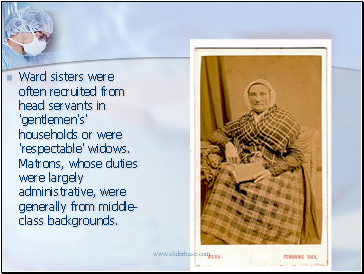 Ward sisters were often recruited from head servants in 'gentlemen's' households or were 'respectable' widows. Matrons, whose duties were largely administrative, were generally from middle-class backgrounds.