Nutritional requirements
Page
2
Histidine is the essential amino acid only for infants but not for adults.
Slide 6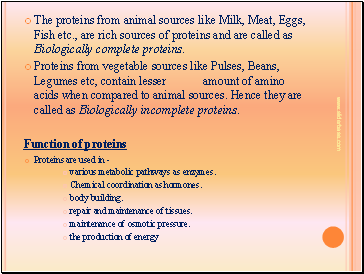 The proteins from animal sources like Milk, Meat, Eggs, Fish etc., are rich sources of proteins and are called as Biologically complete proteins.
Proteins from vegetable sources like Pulses, Beans, Legumes etc, contain lesser amount of amino acids when compared to animal sources. Hence they are called as Biologically incomplete proteins.
Function of proteins
Proteins are used in -
various metabolic pathways as enzymes.
Chemical coordination as hormones.
body building.
repair and maintenance of tissues.
maintenance of osmotic pressure.
the production of energy
Slide 7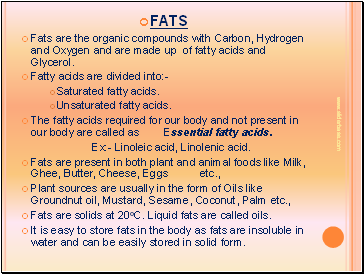 Fats
Fats are the organic compounds with Carbon, Hydrogen and Oxygen and are made up of fatty acids and Glycerol.
Fatty acids are divided into:-
Saturated fatty acids.
Unsaturated fatty acids.
The fatty acids required for our body and not present in our body are called as Essential fatty acids.
Ex:- Linoleic acid, Linolenic acid.
Fats are present in both plant and animal foods like Milk, Ghee, Butter, Cheese, Eggs etc.,
Plant sources are usually in the form of Oils like Groundnut oil, Mustard, Sesame, Coconut, Palm etc.,
Fats are solids at 20oC. Liquid fats are called oils.
It is easy to store fats in the body as fats are insoluble in water and can be easily stored in solid form.
Slide 8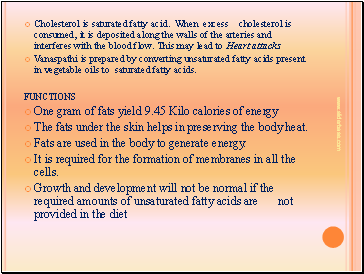 Cholesterol is saturated fatty acid. When excess cholesterol is consumed, it is deposited along the walls of the arteries and interferes with the blood flow. This may lead to Heart attacks
Vanaspathi is prepared by converting unsaturated fatty acids present in vegetable oils to saturated fatty acids.
Functions
One gram of fats yield 9.45 Kilo calories of energy
The fats under the skin helps in preserving the body heat.
Fats are used in the body to generate energy.
It is required for the formation of membranes in all the cells.
Growth and development will not be normal if the required amounts of unsaturated fatty acids are not provided in the diet
Slide 9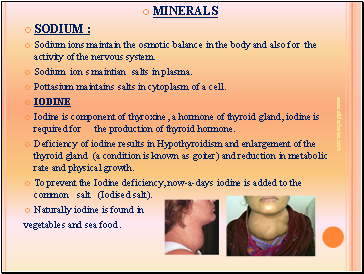 Minerals
SODIUM :
Sodium ions maintain the osmotic balance in the body and also for the activity of the nervous system.
Sodium ion s maintian salts in plasma.
Pottasium maintains salts in cytoplasm of a cell.
IODINE
Iodine is component of thyroxine, a hormone of thyroid gland, iodine is required for the production of thyroid hormone.
Deficiency of iodine results in Hypothyroidism and enlargement of the thyroid gland (a condition is known as goiter) and reduction in metabolic rate and physical growth.