Macromolecules
Page
1
Slide 1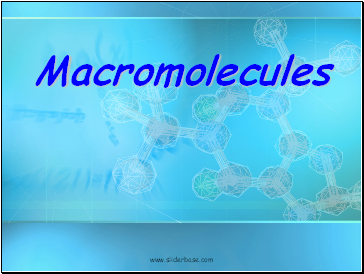 Macromolecules
Slide 2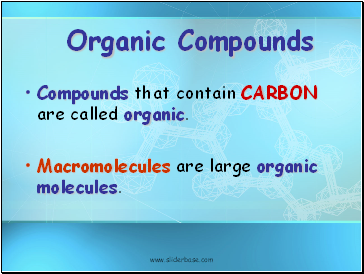 Organic Compounds
Compounds that contain CARBON are called organic.
Macromolecules are large organic molecules.
Slide 3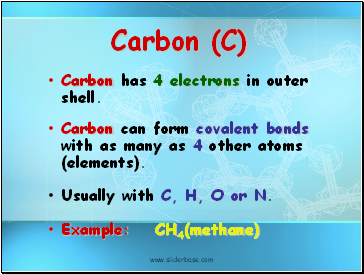 Carbon (C)
Carbon has 4 electrons in outer shell.
Carbon can form covalent bonds with as many as 4 other atoms (elements).
Usually with C, H, O or N.
Example: CH4(methane)
Slide 4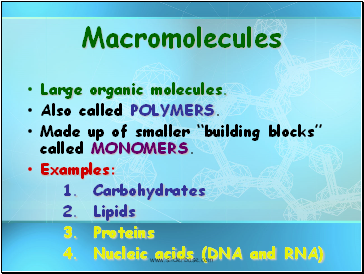 Macromolecules
Large organic molecules.
Also called POLYMERS.
Made up of smaller "building blocks" called MONOMERS.
Examples:
1. Carbohydrates
2. Lipids
3. Proteins
4. Nucleic acids (DNA and RNA)
Slide 5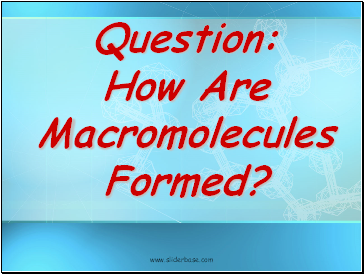 Question: How Are Macromolecules Formed?
Slide 6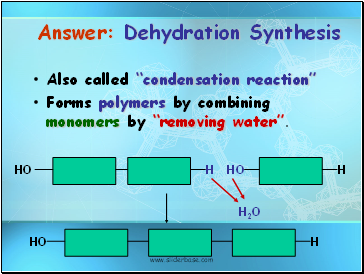 Answer: Dehydration Synthesis
Also called "condensation reaction"
Forms polymers by combining monomers by "removing water".
Slide 7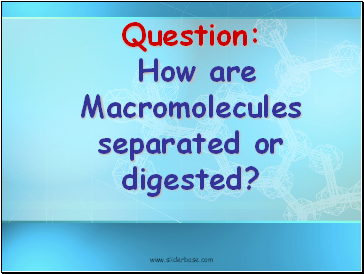 Question: How are Macromolecules separated or digested?
Slide 8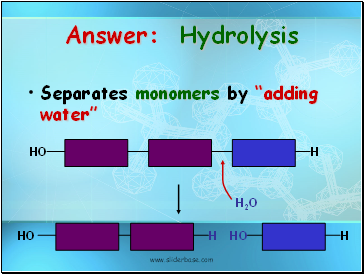 Answer: Hydrolysis
Separates monomers by "adding water"
Slide 9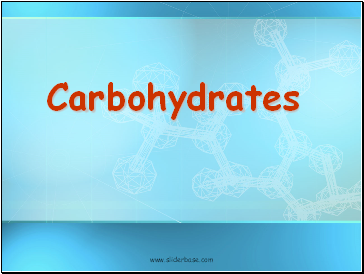 Carbohydrates
Slide 10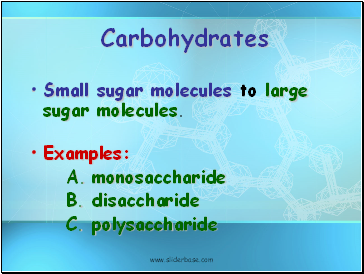 Carbohydrates
Small sugar molecules to large sugar molecules.
Examples:
A. monosaccharide
B. disaccharide
C. polysaccharide
Slide 11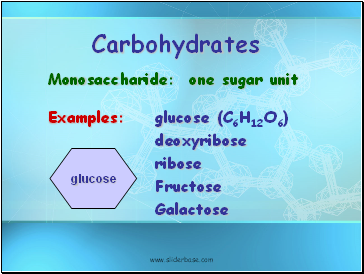 Carbohydrates
Monosaccharide: one sugar unit
Examples: glucose (C6H12O6)
deoxyribose
ribose
Fructose
Galactose
Slide 12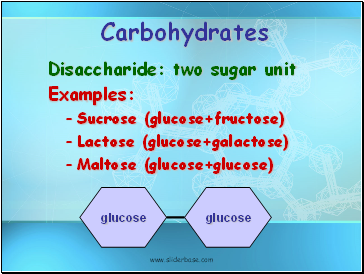 Carbohydrates
Disaccharide: two sugar unit
Examples:
Sucrose (glucose+fructose)
Lactose (glucose+galactose)
Maltose (glucose+glucose)
Slide 13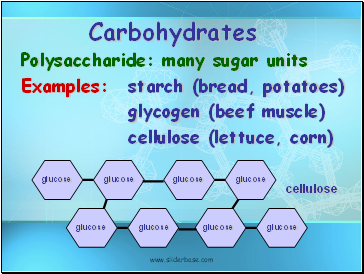 Carbohydrates
Polysaccharide: many sugar units
Examples: starch (bread, potatoes)
glycogen (beef muscle)
cellulose (lettuce, corn)
Slide 14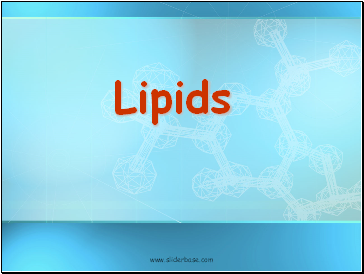 Lipids
Slide 15