Chemical reactions I
Page
1
Slide 1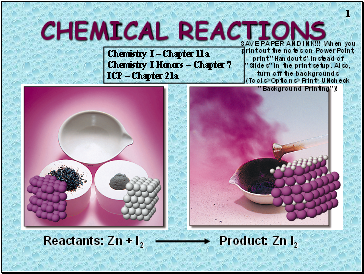 CHEMICAL REACTIONS
Reactants: Zn + I2
Product: Zn I2
Chemistry I – Chapter 11a Chemistry I Honors – Chapter 7 ICP – Chapter 21a
SAVE PAPER AND INK!!! When you print out the notes on PowerPoint, print "Handouts" instead of "Slides" in the print setup. Also, turn off the backgrounds (Tools>Options>Print>UNcheck "Background Printing")!
Slide 2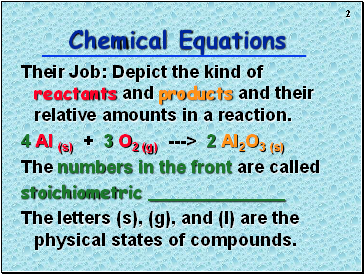 Chemical Equations
Their Job: Depict the kind of reactants and products and their relative amounts in a reaction.
4 Al (s) + 3 O2 (g) ---> 2 Al2O3 (s)
The numbers in the front are called
stoichiometric
The letters (s), (g), and (l) are the physical states of compounds.
Slide 3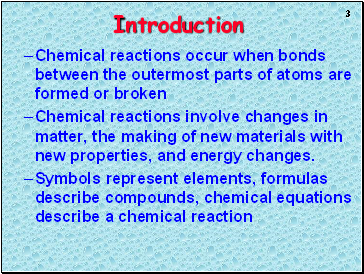 Chemical reactions occur when bonds between the outermost parts of atoms are formed or broken
Chemical reactions involve changes in matter, the making of new materials with new properties, and energy changes.
Symbols represent elements, formulas describe compounds, chemical equations describe a chemical reaction
Introduction
Slide 4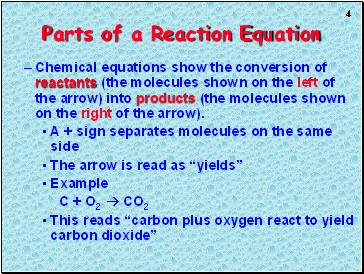 Chemical equations show the conversion of reactants (the molecules shown on the left of the arrow) into products (the molecules shown on the right of the arrow).
A + sign separates molecules on the same side
The arrow is read as "yields"
Example
C + O2  CO2
This reads "carbon plus oxygen react to yield carbon dioxide"
Parts of a Reaction Equation
Slide 5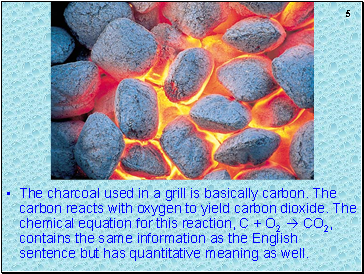 The charcoal used in a grill is basically carbon. The carbon reacts with oxygen to yield carbon dioxide. The chemical equation for this reaction, C + O2  CO2, contains the same information as the English sentence but has quantitative meaning as well.
Slide 6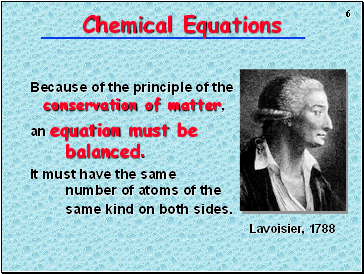 Because of the principle of the conservation of matter,
an equation must be balanced.
It must have the same number of atoms of the same kind on both sides.
Chemical Equations
Slide 7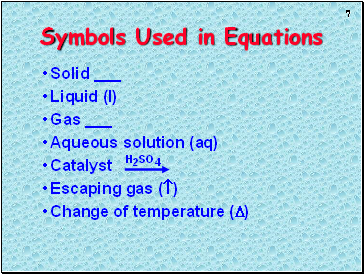 Solid _
Liquid (l)
Gas _
Aqueous solution (aq)
Catalyst H2SO4
Escaping gas ()
Change of temperature ()
Symbols Used in Equations
Slide 8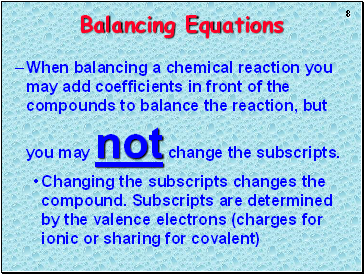 Balancing Equations
When balancing a chemical reaction you may add coefficients in front of the compounds to balance the reaction, but you may not change the subscripts.