Native American Pueblo Indians
Page
1
Slide 1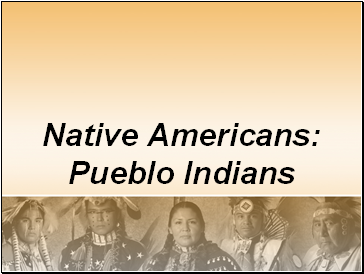 Native Americans: Pueblo Indians
Slide 2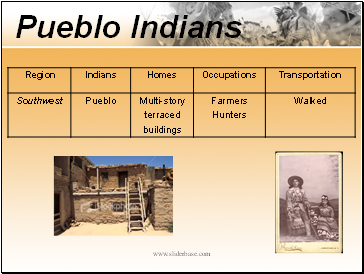 Pueblo Indians
www.sliderbase.com
Slide 3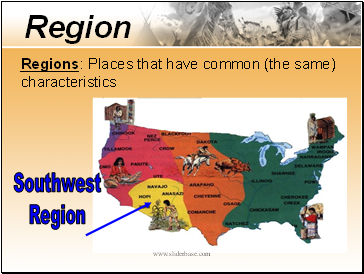 Region
Southwest
Region
Regions: Places that have common (the same) characteristics
www.sliderbase.com
Slide 4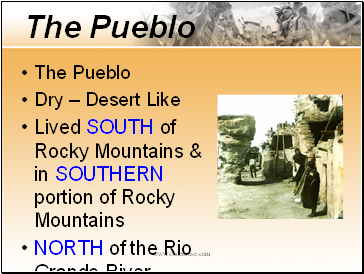 The Pueblo
The Pueblo
Dry – Desert Like
Lived SOUTH of Rocky Mountains & in SOUTHERN portion of Rocky Mountains
NORTH of the Rio Grande River
www.sliderbase.com
Slide 5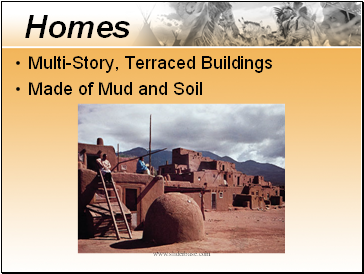 Homes
Multi-Story, Terraced Buildings
Made of Mud and Soil
www.sliderbase.com
Slide 6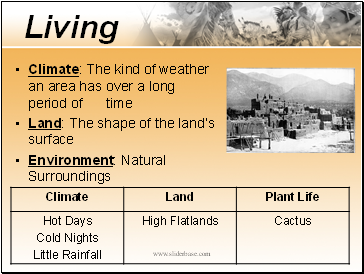 Living
Climate: The kind of weather an area has over a long period of time
Land: The shape of the land's surface
Environment: Natural Surroundings
www.sliderbase.com
Slide 7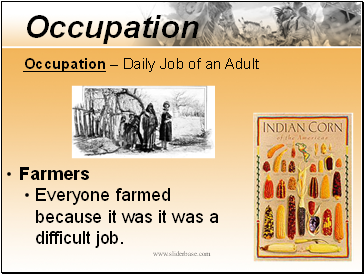 Occupation
Farmers
Everyone farmed because it was it was a difficult job.
Occupation – Daily Job of an Adult
www.sliderbase.com
Slide 8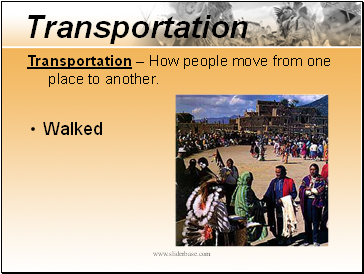 Transportation
Walked
Transportation – How people move from one
place to another.
www.sliderbase.com
Slide 9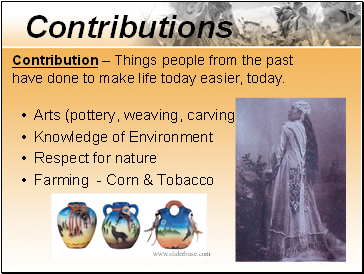 Contributions
Arts (pottery, weaving, carving)
Knowledge of Environment
Respect for nature
Farming - Corn & Tobacco
Contribution – Things people from the past
have done to make life today easier, today.
www.sliderbase.com
Slide 10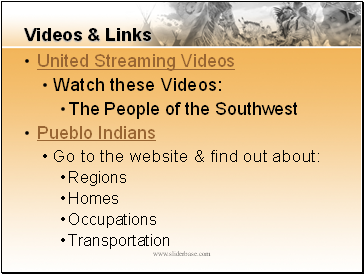 Videos & Links
United Streaming Videos
Watch these Videos:
The People of the Southwest
Pueblo Indians
Go to the website & find out about:
Regions
Homes
Occupations
Transportation
www.sliderbase.com
Slide 11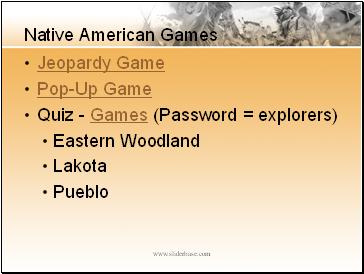 Native American Games
Jeopardy Game
Pop-Up Game
Quiz - Games (Password = explorers)
Eastern Woodland
Lakota
Pueblo
www.sliderbase.com