Eskimos
Page
1
Slide 1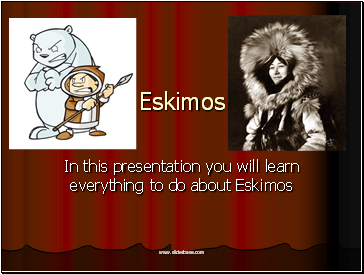 Eskimos
In this presentation you will learn everything to do about Eskimos
www.sliderbase.com
Slide 2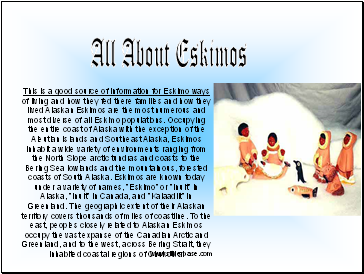 This is a good source of information for Eskimo ways of living and how they fed there families and how they lived Alaskan Eskimos are the most numerous and most diverse of all Eskimo populations. Occupying the entire coast of Alaska with the exception of the Aleutian Islands and Southeast Alaska, Eskimos inhabit a wide variety of environments ranging from the North Slope arctic tundras and coasts to the Bering Sea lowlands and the mountainous, forested coasts of South Alaska. Eskimos are known today under a variety of names, "Eskimo" or "Inuit" in Alaska, "Inuit" in Canada, and "Kalaadlit" in Greenland. The geographic extent of their Alaskan territory covers thousands of miles of coastline. To the east, peoples closely related to Alaskan Eskimos occupy the vast expanse of the Canadian Arctic and Greenland, and to the west, across Bering Strait, they inhabited coastal regions of Chukotka.
All About Eskimos
www.sliderbase.com
Slide 3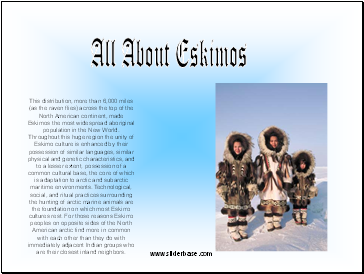 This distribution, more than 6,000 miles (as the raven flies) across the top of the North American continent, made Eskimos the most widespread aboriginal population in the New World.
Throughout this huge region the unity of Eskimo culture is enhanced by their possession of similar languages, similar physical and genetic characteristics, and to a lesser extent, possession of a common cultural base, the core of which is adaptation to arctic and subarctic maritime environments. Technological, social, and ritual practices surrounding the hunting of arctic marine animals are the foundation on which most Eskimo cultures rest. For those reasons Eskimo peoples on opposite sides of the North American arctic find more in common with each other than they do with immediately adjacent Indian groups who are their closest inland neighbors.
All About Eskimos
www.sliderbase.com
Slide 4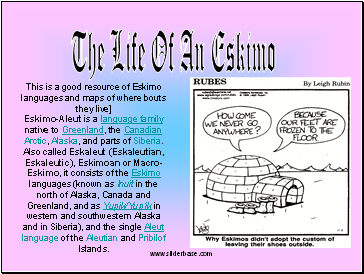 This is a good resource of Eskimo languages and maps of where bouts they live]
Eskimo-Aleut is a language family native to Greenland, the Canadian Arctic, Alaska, and parts of Siberia. Also called Eskaleut (Eskaleutian, Eskaleutic), Eskimoan or Macro-Eskimo, it consists of the Eskimo languages (known as Inuit in the north of Alaska, Canada and Greenland, and as Yupik/Yup'ik in western and southwestern Alaska and in Siberia), and the single Aleut language of the Aleutian and Pribilof Islands.
The Life Of An Eskimo
www.sliderbase.com
Slide 5