Comanche – People of the Mountains and Plains
Page
1
Slide 1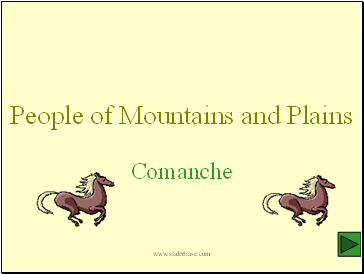 People of Mountains and Plains
Comanche
www.sliderbase.com
Slide 2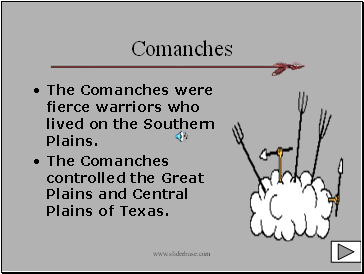 Comanches
The Comanches were fierce warriors who lived on the Southern Plains.
The Comanches controlled the Great Plains and Central Plains of Texas.
www.sliderbase.com
Slide 3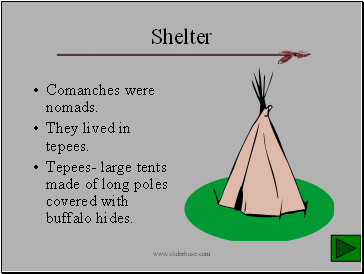 Shelter
Comanches were nomads.
They lived in tepees.
Tepees- large tents made of long poles covered with buffalo hides.
www.sliderbase.com
Slide 4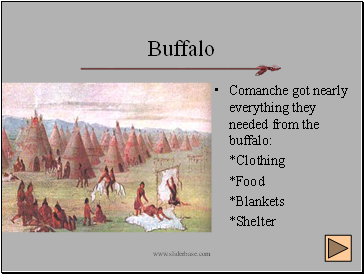 Buffalo
Comanche got nearly everything they needed from the buffalo:
*Clothing
*Food
*Blankets
*Shelter
www.sliderbase.com
Slide 5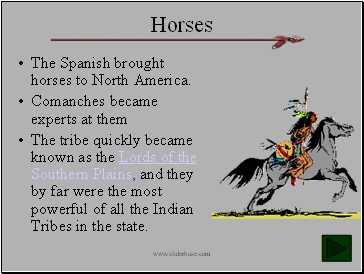 Horses
The Spanish brought horses to North America.
Comanches became experts at them
The tribe quickly became known as the Lords of the Southern Plains, and they by far were the most powerful of all the Indian Tribes in the state.
www.sliderbase.com
Slide 6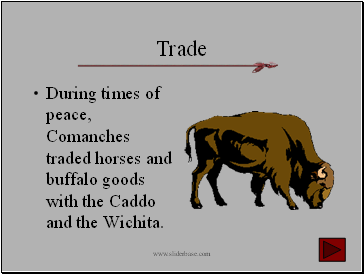 Trade
During times of peace, Comanches traded horses and buffalo goods with the Caddo and the Wichita.
www.sliderbase.com
Slide 7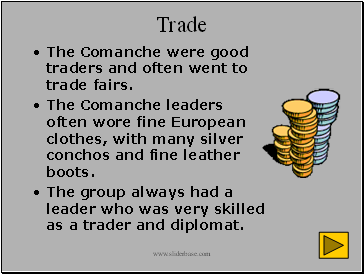 Trade
The Comanche were good traders and often went to trade fairs.
The Comanche leaders often wore fine European clothes, with many silver conchos and fine leather boots.
The group always had a leader who was very skilled as a trader and diplomat.
www.sliderbase.com
Slide 8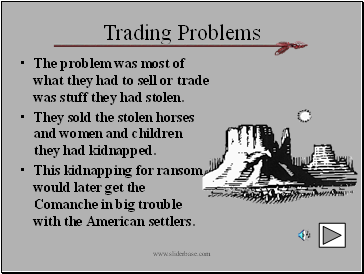 Trading Problems
The problem was most of what they had to sell or trade was stuff they had stolen.
They sold the stolen horses and women and children they had kidnapped.
This kidnapping for ransom would later get the Comanche in big trouble with the American settlers.
www.sliderbase.com
Slide 9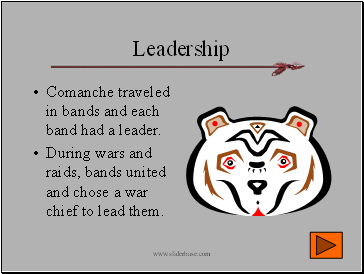 Leadership
Comanche traveled in bands and each band had a leader.
During wars and raids, bands united and chose a war chief to lead them.
www.sliderbase.com
Slide 10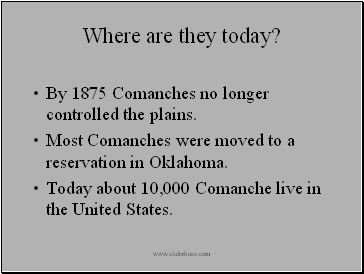 Where are they today?
By 1875 Comanches no longer controlled the plains.
Most Comanches were moved to a reservation in Oklahoma.
Today about 10,000 Comanche live in the United States.