Nervous Systems
Page
1
Slide 1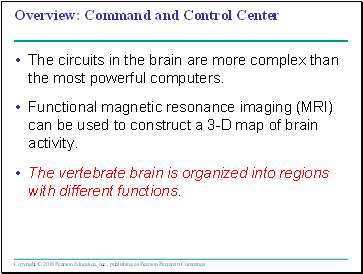 Command and Control Center
The circuits in the brain are more complex than the most powerful computers.
Functional magnetic resonance imaging (MRI) can be used to construct a 3-D map of brain activity.
The vertebrate brain is organized into regions with different functions.
Slide 2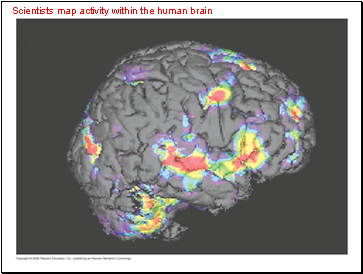 Scientists map activity within the human brain
Slide 3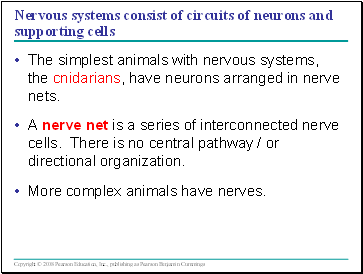 Nervous systems consist of circuits of neurons and supporting cells
The simplest animals with nervous systems, the cnidarians, have neurons arranged in nerve nets.
A nerve net is a series of interconnected nerve cells. There is no central pathway / or directional organization.
More complex animals have nerves.
Slide 4
Nerves are bundles that consist of the axons of multiple nerve cells.
Sea stars have a nerve net in each arm connected by radial nerves to a central nerve ring.
Slide 5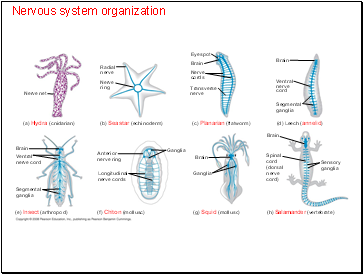 Nervous system organization
(e) Insect (arthropod)
Segmental
ganglia
Ventral
nerve cord
Brain
(a) Hydra (cnidarian)
Nerve net
Nerve
ring
Radial
nerve
(b) Sea star (echinoderm)
Anterior
nerve ring
Longitudinal
nerve cords
(f) Chiton (mollusc)
(g) Squid (mollusc)
Ganglia
Brain
Ganglia
(c) Planarian (flatworm)
Nerve
cords
Transverse
nerve
Brain
Eyespot
Brain
(d) Leech (annelid)
Segmental
ganglia
Ventral
nerve
cord
Brain
Spinal
cord
(dorsal
nerve
cord)
Sensory
ganglia
(h) Salamander (vertebrate)
Slide 6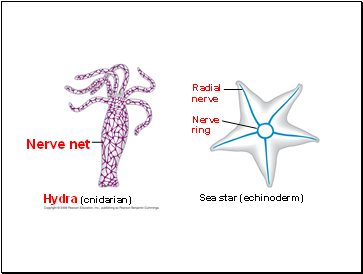 Hydra (cnidarian)
Nerve net
Nerve
ring
Radial
nerve
Sea star (echinoderm)
Slide 7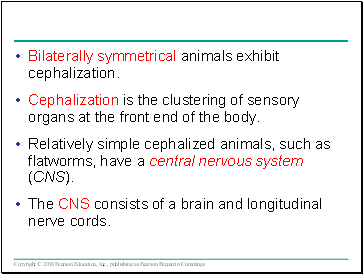 Bilaterally symmetrical animals exhibit cephalization.
Cephalization is the clustering of sensory organs at the front end of the body.
Relatively simple cephalized animals, such as flatworms, have a central nervous system (CNS).
The CNS consists of a brain and longitudinal nerve cords.
Slide 8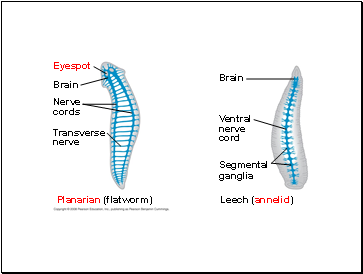 Planarian (flatworm)
Nerve
cords
Transverse
nerve
Brain
Eyespot
Brain
Leech (annelid)
Segmental
ganglia
Ventral
nerve
cord
Slide 9