Plant Responses to Internal and External Signals
Page
1
Slide 1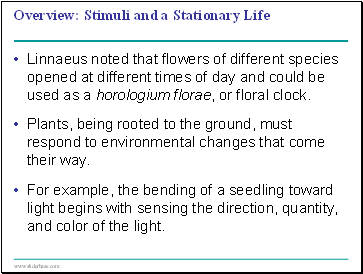 Stimuli and a Stationary Life
Linnaeus noted that flowers of different species opened at different times of day and could be used as a horologium florae, or floral clock.
Plants, being rooted to the ground, must respond to environmental changes that come their way.
For example, the bending of a seedling toward light begins with sensing the direction, quantity, and color of the light.
Slide 2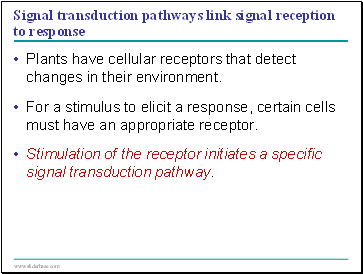 Signal transduction pathways link signal reception to response
Plants have cellular receptors that detect changes in their environment.
For a stimulus to elicit a response, certain cells must have an appropriate receptor.
Stimulation of the receptor initiates a specific signal transduction pathway.
Slide 3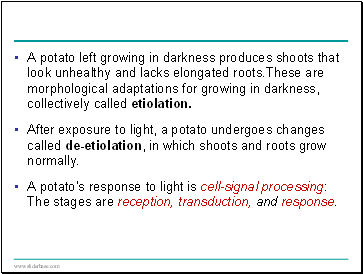 A potato left growing in darkness produces shoots that look unhealthy and lacks elongated roots.These are morphological adaptations for growing in darkness, collectively called etiolation.
After exposure to light, a potato undergoes changes called de-etiolation, in which shoots and roots grow normally.
A potato's response to light is cell-signal processing: The stages are reception, transduction, and response.
Slide 4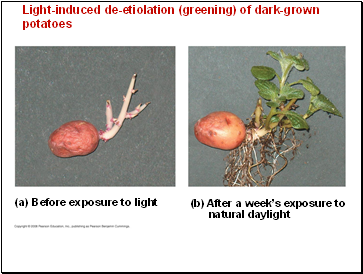 Light-induced de-etiolation (greening) of dark-grown potatoes
(a) Before exposure to light
(b) After a week's exposure to
natural daylight
Slide 5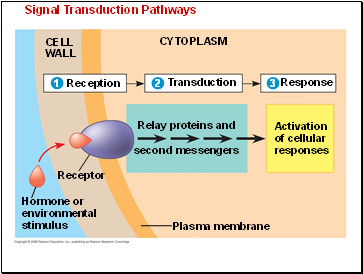 Signal Transduction Pathways
CELL
WALL
CYTOPLASM
Reception
Transduction
Response
Relay proteins and
second messengers
Activation
of cellular
responses
Hormone or
environmental
stimulus
Receptor
Plasma membrane
1
2
3
Slide 6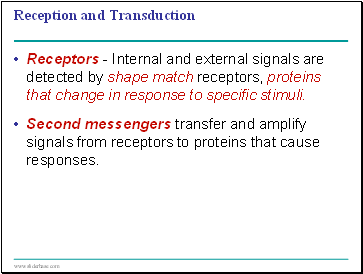 Reception and Transduction
Receptors - Internal and external signals are detected by shape match receptors, proteins that change in response to specific stimuli.
Second messengers transfer and amplify signals from receptors to proteins that cause responses.
Slide 7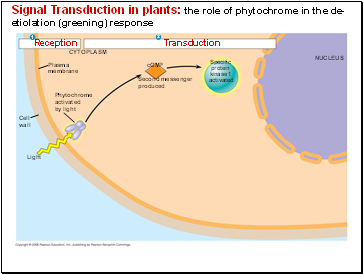 Signal Transduction in plants: the role of phytochrome in the de-etiolation (greening) response
CYTOPLASM
Reception
Plasma
membrane
Cell
wall
Phytochrome
activated
by light
Light
Transduction
Second messenger
produced
cGMP
NUCLEUS
1
2
Specific
protein
kinase 1
activated
Slide 8