Plant Structure, Growth, and Development
Page
1
Slide 1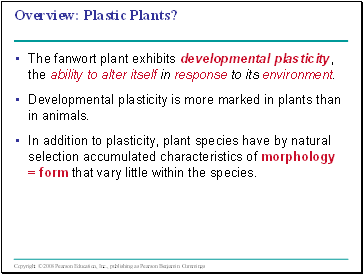 Plastic Plants?
The fanwort plant exhibits developmental plasticity, the ability to alter itself in response to its environment.
Developmental plasticity is more marked in plants than in animals.
In addition to plasticity, plant species have by natural selection accumulated characteristics of morphology = form that vary little within the species.
Slide 2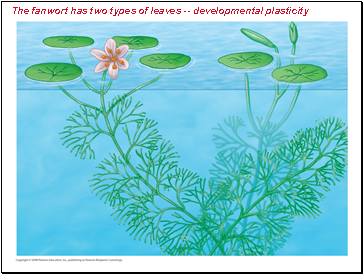 The fanwort has two types of leaves -- developmental plasticity
Slide 3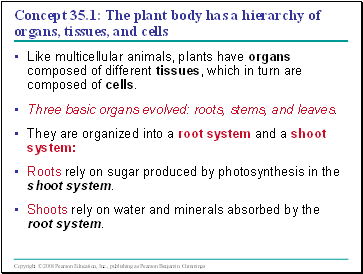 Concept 35.1: The plant body has a hierarchy of organs, tissues, and cells
Like multicellular animals, plants have organs composed of different tissues, which in turn are composed of cells.
Three basic organs evolved: roots, stems, and leaves.
They are organized into a root system and a shoot system:
Roots rely on sugar produced by photosynthesis in the shoot system.
Shoots rely on water and minerals absorbed by the root system.
Slide 4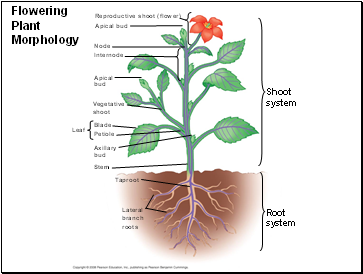 Flowering Plant Morphology
Reproductive shoot (flower)
Apical bud
Node
Internode
Apical
bud
Shoot
system
Vegetative
shoot
Leaf
Blade
Petiole
Axillary
bud
Stem
Taproot
Lateral
branch
roots
Root
system
Slide 5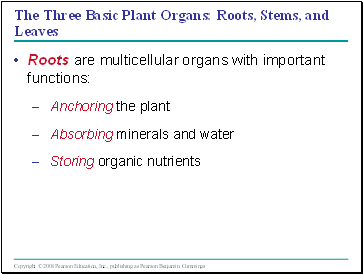 The Three Basic Plant Organs: Roots, Stems, and Leaves
Roots are multicellular organs with important functions:
Anchoring the plant
Absorbing minerals and water
Storing organic nutrients
Slide 6
A taproot system consists of one main vertical root that gives rise to some large lateral roots, or branch roots.
Adventitious roots arise from stems or leaves.
Seedless vascular plants and monocots have a fibrous root system characterized by many thin lateral roots with no main root.
In most plants, absorption of water and minerals occurs near the root hairs, where vast numbers of tiny root hairs increase the surface area.
Slide 7
Root Hairs of a radish seedling
Slide 8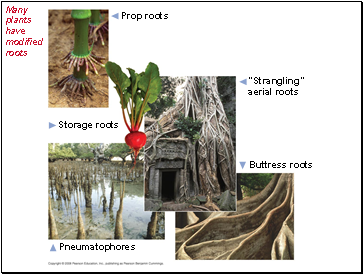 Many plants have modified roots
Prop roots
"Strangling"
aerial roots
Storage roots
Buttress roots
Pneumatophores
Slide 9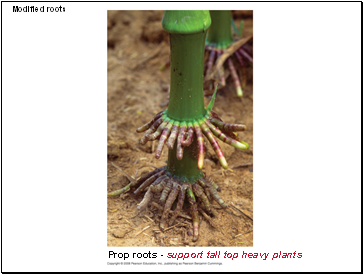 Modified roots
Prop roots - support tall top heavy plants