Nano Sunscreen
Page
1
Slide 1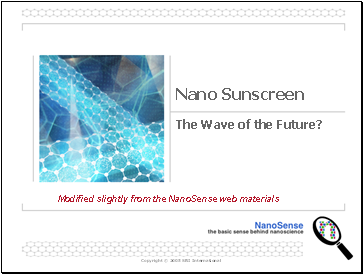 Nano Sunscreen
The Wave of the Future?
Modified slightly from the NanoSense web materials
Slide 2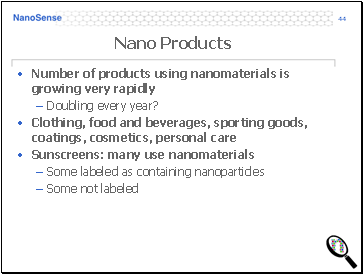 Nano Products
Number of products using nanomaterials is growing very rapidly
Doubling every year?
Clothing, food and beverages, sporting goods, coatings, cosmetics, personal care
Sunscreens: many use nanomaterials
Some labeled as containing nanoparticles
Some not labeled
Slide 3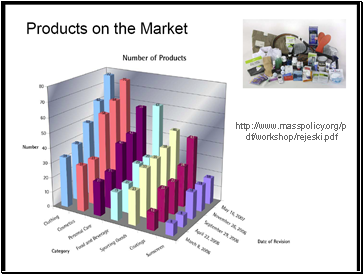 Slide 4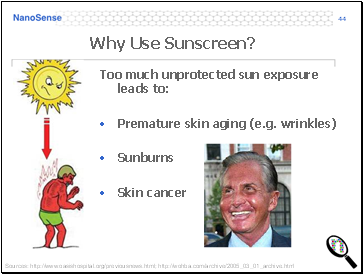 Why Use Sunscreen?
Too much unprotected sun exposure leads to:
Premature skin aging (e.g. wrinkles)
Sunburns
Skin cancer
Sources: http://www.oasishospital.org/previousnews.html; http://wohba.com/archive/2005_03_01_archive.html
Slide 5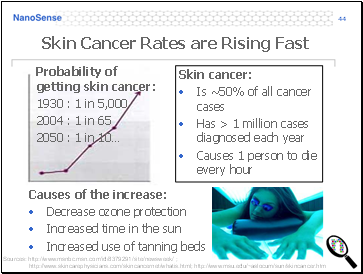 Skin Cancer Rates are Rising Fast
Skin cancer:
Is ~50% of all cancer cases
Has > 1 million cases diagnosed each year
Causes 1 person to die every hour
Probability of getting skin cancer:
1930 : 1 in 5,000
2004 : 1 in 65
2050 : 1 in 10Ö
http://www.skincarephysicians.com/skincancernet/whatis.html; http://www.msu.edu/~aslocum/sun/skincancer.htm
Causes of the increase:
Decrease ozone protection
Increased time in the sun
Increased use of tanning beds
Sources: http://www.msnbc.msn.com/id/8379291/site/newsweek/ ;
Slide 6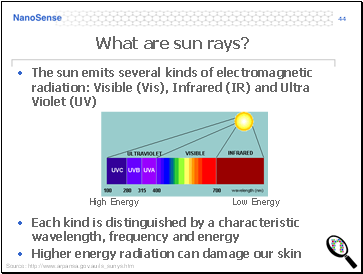 What are sun rays?
The sun emits several kinds of electromagnetic radiation: Visible (Vis), Infrared (IR) and Ultra Violet (UV)
Each kind is distinguished by a characteristic wavelength, frequency and energy
Higher energy radiation can damage our skin
Source: http://www.arpansa.gov.au/is_sunys.htm
High Energy Low Energy
Slide 7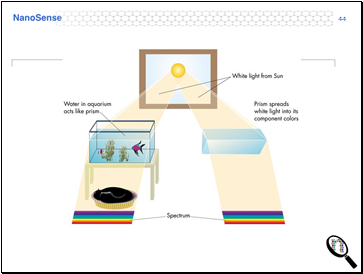 Slide 8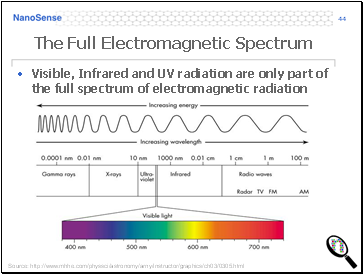 The Full Electromagnetic Spectrum
Visible, Infrared and UV radiation are only part of the full spectrum of electromagnetic radiation
Source: http://www.mhhe.com/physsci/astronomy/arny/instructor/graphics/ch03/0305.html
Slide 9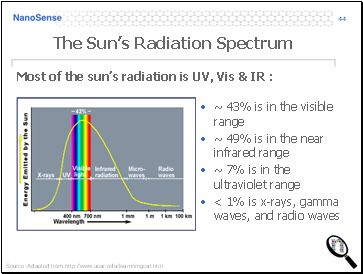 The Sunís Radiation Spectrum
~ 43% is in the visible range
~ 49% is in the near infrared range
~ 7% is in the ultraviolet range
< 1% is x-rays, gamma waves, and radio waves
.