Stars and Galaxies
Page
1
Slide 1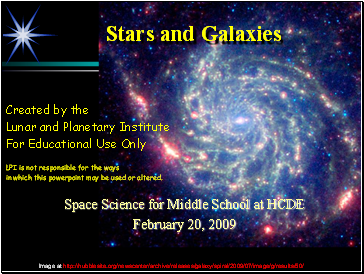 Stars and Galaxies
Space Science for Middle School at HCDE
February 20, 2009
Created by the
Lunar and Planetary Institute
For Educational Use Only
LPI is not responsible for the ways
in which this powerpoint may be used or altered.
Slide 2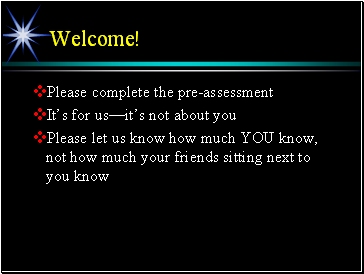 Welcome!
Please complete the pre-assessment
It's for us—it's not about you
Please let us know how much YOU know, not how much your friends sitting next to you know
Slide 3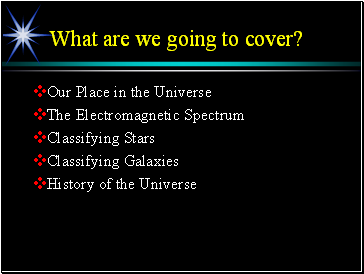 What are we going to cover?
Our Place in the Universe
The Electromagnetic Spectrum
Classifying Stars
Classifying Galaxies
History of the Universe
Slide 4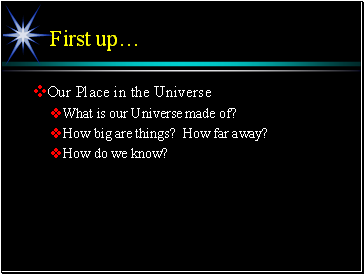 First up…
Our Place in the Universe
What is our Universe made of?
How big are things? How far away?
How do we know?
Slide 5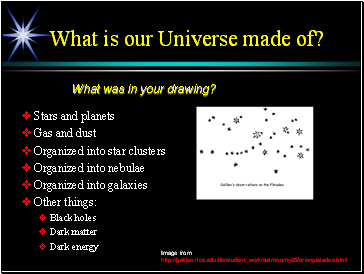 What is our Universe made of?
Stars and planets
Gas and dust
Organized into star clusters
Organized into nebulae
Organized into galaxies
Other things:
Black holes
Dark matter
Dark energy
What was in your drawing?
Image from http://galileo.rice.edu/lib/student_work/astronomy95/orionpleiades.html
Slide 6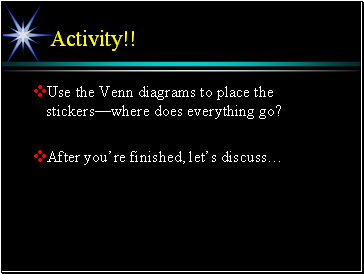 Activity!!
Use the Venn diagrams to place the stickers—where does everything go?
After you're finished, let's discuss…
Slide 7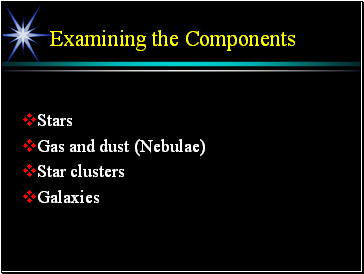 Examining the Components
Stars
Gas and dust (Nebulae)
Star clusters
Galaxies
Slide 8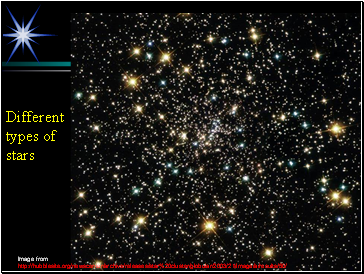 Different types of stars
Slide 9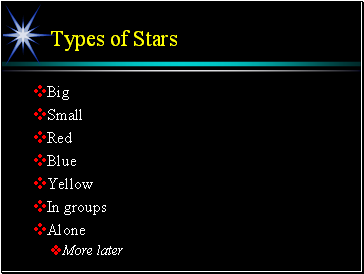 Types of Stars
Big
Small
Red
Blue
Yellow
In groups
Alone
More later
Slide 10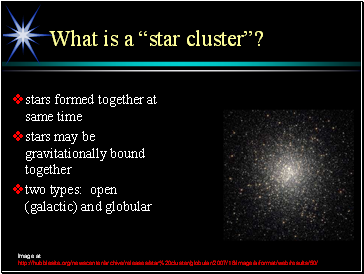 What is a "star cluster"?
stars formed together at same time
stars may be gravitationally bound together
two types: open (galactic) and globular
Image at http://hubblesite.org/newscenter/archive/releases/star%20cluster/globular/2007/18/image/a/format/web/results/50/
Slide 11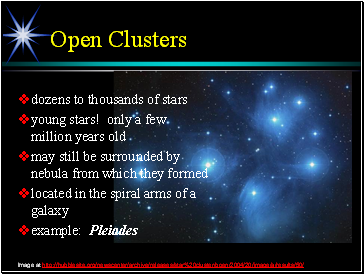 Open Clusters
dozens to thousands of stars
young stars! only a few million years old