Exam paper- English SATS Shakespeare generic
Page
1
Slide 1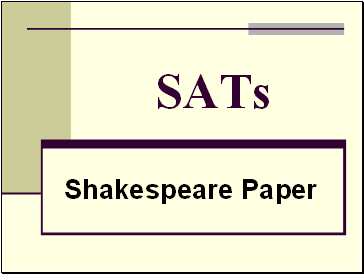 SATs
Shakespeare Paper
Slide 2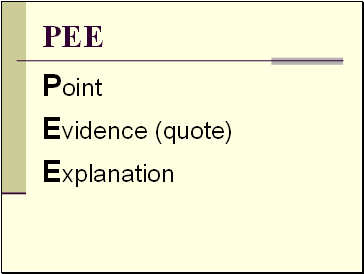 PEE
Point
Evidence (quote)
Explanation
Slide 3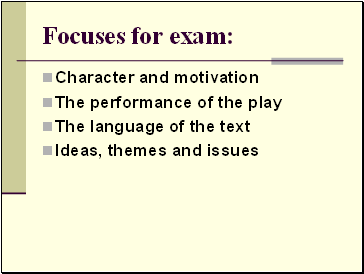 Focuses for exam
Character and motivation
The performance of the play
The language of the text
Ideas, themes and issues
Slide 4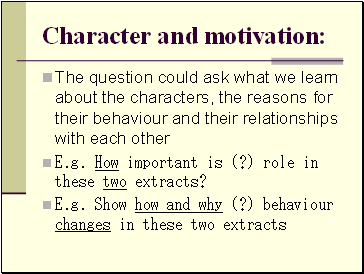 Character and motivation
The question could ask what we learn about the characters, the reasons for their behaviour and their relationships with each other
E.g. How important is (?) role in these two extracts?
E.g. Show how and why (?) behaviour changes in these two extracts
Slide 5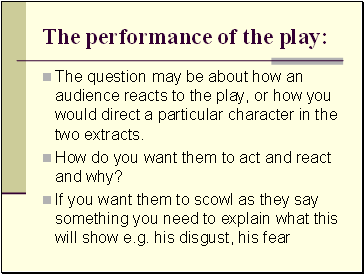 The performance of the play
The question may be about how an audience reacts to the play, or how you would direct a particular character in the two extracts.
How do you want them to act and react and why?
If you want them to scowl as they say something you need to explain what this will show e.g. his disgust, his fear
Slide 6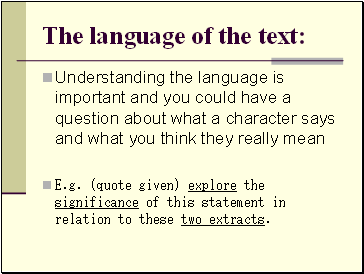 The language of the text
Understanding the language is important and you could have a question about what a character says and what you think they really mean
E.g. (quote given) explore the significance of this statement in relation to these two extracts.
Slide 7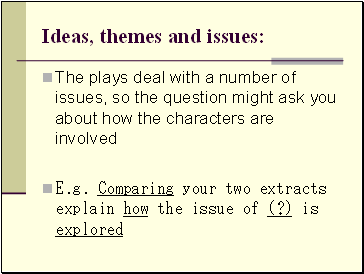 Ideas, themes and issues
The plays deal with a number of issues, so the question might ask you about how the characters are involved
E.g. Comparing your two extracts explain how the issue of (?) is explored
Slide 8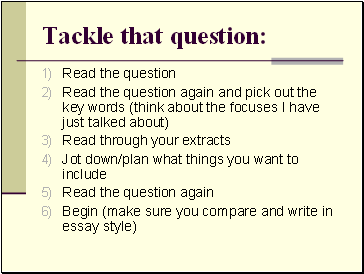 Tackle that question
Read the question
Read the question again and pick out the key words (think about the focuses I have just talked about)
Read through your extracts
Jot down/plan what things you want to include
Read the question again
Begin (make sure you compare and write in essay style)
Slide 9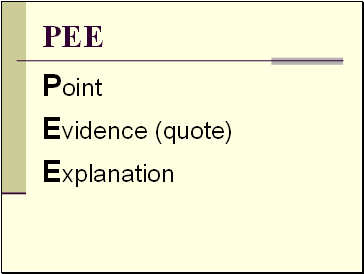 PEE
Point
Evidence (quote)
Explanation