Of Mice and Men. Themes-The American Dream
Page
1
Slide 1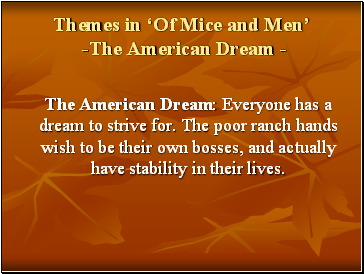 Themes in 'Of Mice and Men' -The American Dream -
The American Dream: Everyone has a dream to strive for. The poor ranch hands wish to be their own bosses, and actually have stability in their lives.
Slide 2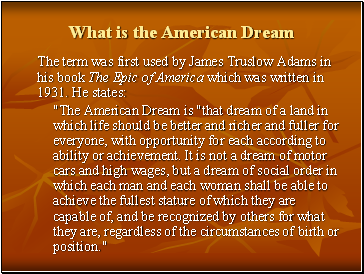 What is the American Dream
The term was first used by James Truslow Adams in his book The Epic of America which was written in 1931. He states:
"The American Dream is "that dream of a land in which life should be better and richer and fuller for everyone, with opportunity for each according to ability or achievement. It is not a dream of motor cars and high wages, but a dream of social order in which each man and each woman shall be able to achieve the fullest stature of which they are capable of, and be recognized by others for what they are, regardless of the circumstances of birth or position."
Slide 3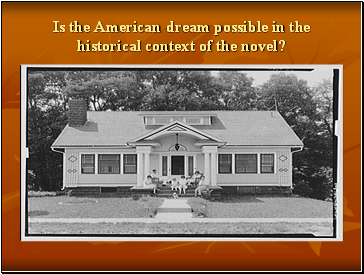 Is the American dream possible in the historical context of the novel?
Slide 4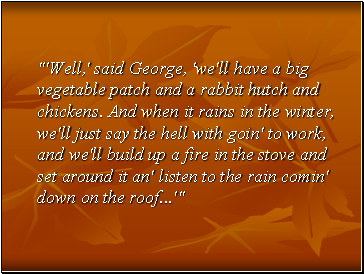 "'Well,' said George, 'we'll have a big vegetable patch and a rabbit hutch and chickens. And when it rains in the winter, we'll just say the hell with goin' to work, and we'll build up a fire in the stove and set around it an' listen to the rain comin' down on the roof .'"
Slide 5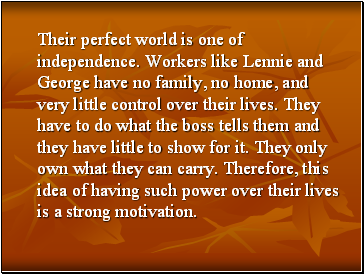 Their perfect world is one of independence. Workers like Lennie and George have no family, no home, and very little control over their lives. They have to do what the boss tells them and they have little to show for it. They only own what they can carry. Therefore, this idea of having such power over their lives is a strong motivation.
Slide 6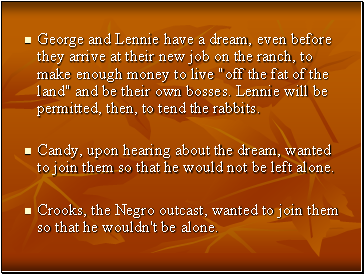 George and Lennie have a dream, even before they arrive at their new job on the ranch, to make enough money to live "off the fat of the land" and be their own bosses. Lennie will be permitted, then, to tend the rabbits.
Candy, upon hearing about the dream, wanted to join them so that he would not be left alone.
Crooks, the Negro outcast, wanted to join them so that he wouldn't be alone.
Slide 7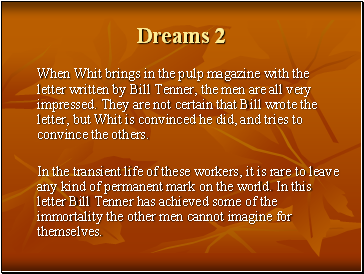 Dreams 2
When Whit brings in the pulp magazine with the letter written by Bill Tenner, the men are all very impressed. They are not certain that Bill wrote the letter, but Whit is convinced he did, and tries to convince the others.
In the transient life of these workers, it is rare to leave any kind of permanent mark on the world. In this letter Bill Tenner has achieved some of the immortality the other men cannot imagine for themselves.