The Masque of the Red Death
Page
1
Slide 1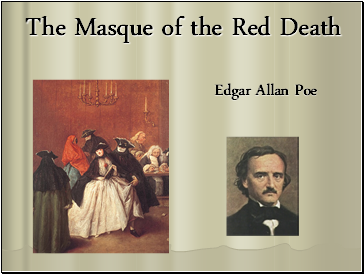 The Masque of the Red Death
Edgar Allan Poe
Slide 2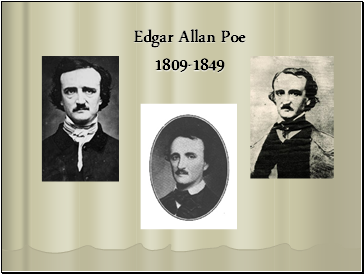 Edgar Allan Poe 1809-1849
Slide 3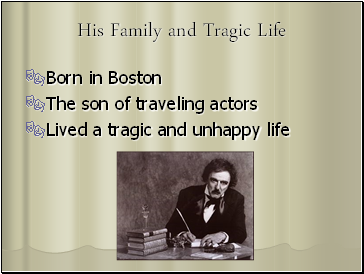 His Family and Tragic Life
Born in Boston
The son of traveling actors
Lived a tragic and unhappy life
Slide 4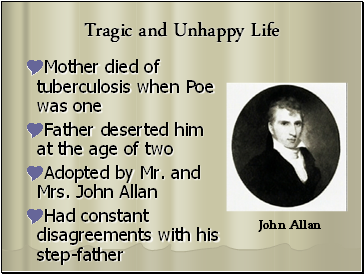 Tragic and Unhappy Life
Mother died of tuberculosis when Poe was one
Father deserted him at the age of two
Adopted by Mr. and Mrs. John Allan
Had constant disagreements with his step-father
John Allan
Slide 5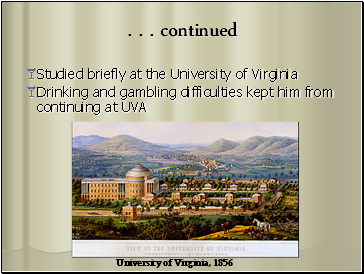 . . . continued
Studied briefly at the University of Virginia
Drinking and gambling difficulties kept him from continuing at UVA
University of Virginia, 1856
Slide 6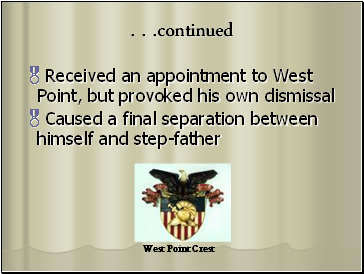 . . .continued
Received an appointment to West Point, but provoked his own dismissal
Caused a final separation between himself and step-father
West Point Crest
Slide 7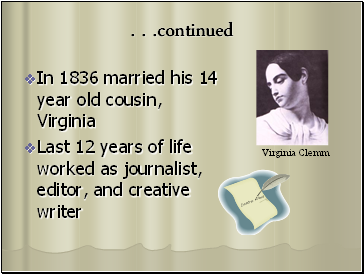 . . .continued
In 1836 married his 14 year old cousin, Virginia
Last 12 years of life worked as journalist, editor, and creative writer
Virginia Clemm
Slide 8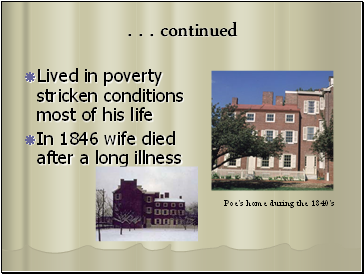 . . . continued
Lived in poverty stricken conditions most of his life
In 1846 wife died after a long illness
Poe's home during the 1840's
Slide 9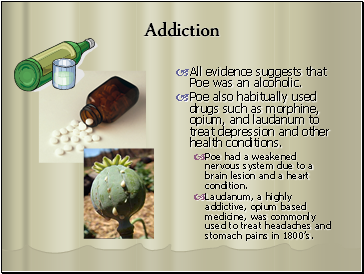 Addiction
All evidence suggests that Poe was an alcoholic.
Poe also habitually used drugs such as morphine, opium, and laudanum to treat depression and other health conditions.
Poe had a weakened nervous system due to a brain lesion and a heart condition.
Laudanum, a highly addictive, opium based medicine, was commonly used to treat headaches and stomach pains in 1800's.
Slide 10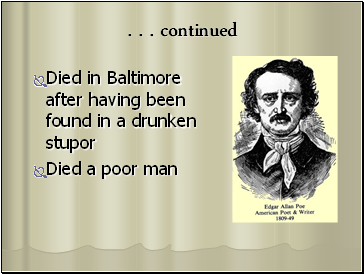 . . . continued
Died in Baltimore after having been found in a drunken stupor
Died a poor man
Slide 11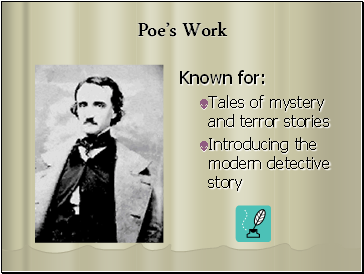 Poe's Work
Known for:
Tales of mystery and terror stories
Introducing the modern detective story
Slide 12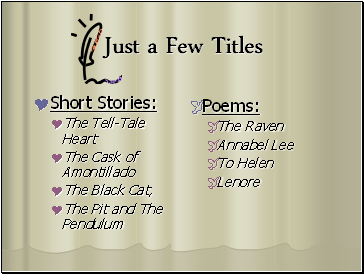 Just a Few Titles
Short Stories:
The Tell-Tale Heart