Coastal Dunes
Page
1
Slide 1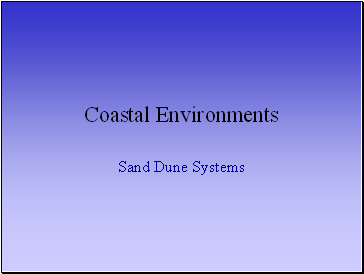 Coastal Environments
Sand Dune Systems
Slide 2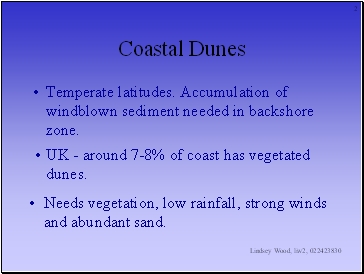 Coastal Dunes
Lindsey Wood, liw2, 022423830
2
Temperate latitudes. Accumulation of windblown sediment needed in backshore zone.
UK - around 7-8% of coast has vegetated dunes.
Needs vegetation, low rainfall, strong winds and abundant sand.
Slide 3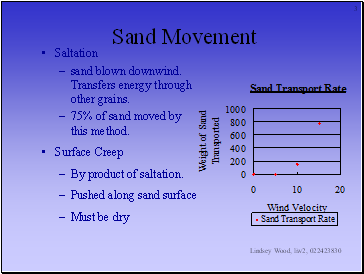 Sand Movement
Lindsey Wood, liw2, 022423830
3
Saltation
sand blown downwind. Transfers energy through other grains.
75% of sand moved by this method.
Surface Creep
By product of saltation.
Pushed along sand surface
Must be dry
Slide 4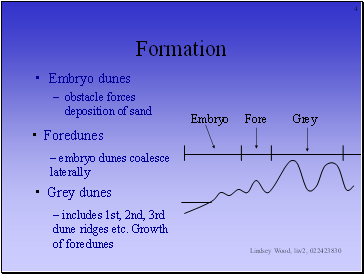 Formation
Lindsey Wood, liw2, 022423830
4
Embryo dunes
obstacle forces deposition of sand
Embryo
Fore
Grey
Foredunes
embryo dunes coalesce laterally
Grey dunes
includes 1st, 2nd, 3rd dune ridges etc. Growth of foredunes
Slide 5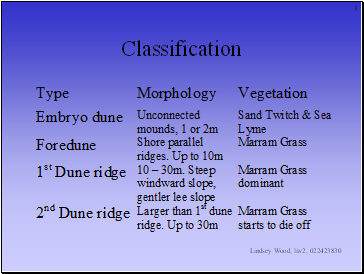 Classification
Lindsey Wood, liw2, 022423830
5
Slide 6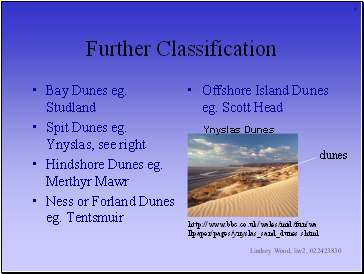 Further Classification
Lindsey Wood, liw2, 022423830
6
Bay Dunes eg. Studland
Spit Dunes eg. Ynyslas, see right
Hindshore Dunes eg. Merthyr Mawr
Ness or Forland Dunes eg. Tentsmuir
Offshore Island Dunes eg. Scott Head
http://www.bbc.co.uk/wales/mid/fun/wallpaper/pages/ynyslas_sand_dunes.shtml
Ynyslas Dunes
dunes