Upcoming Classes
Page
1
Slide 1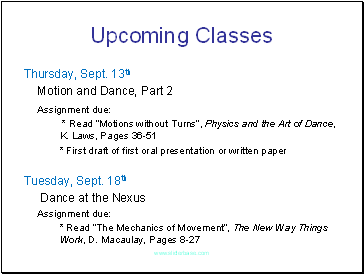 Upcoming Classes
Thursday, Sept. 13th
Motion and Dance, Part 2
Assignment due:
* Read "Motions without Turns", Physics and the Art of Dance, K. Laws, Pages 36-51
* First draft of first oral presentation or written paper
Tuesday, Sept. 18th
Dance at the Nexus
Assignment due:
* Read "The Mechanics of Movement", The New Way Things Work, D. Macaulay, Pages 8-27
Slide 2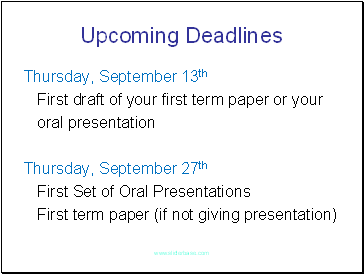 Upcoming Deadlines
Thursday, September 13th
First draft of your first term paper or your
oral presentation
Thursday, September 27th
First Set of Oral Presentations
First term paper (if not giving presentation)
Slide 3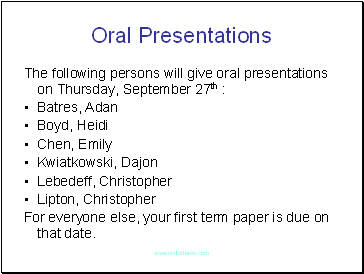 Oral Presentations
The following persons will give oral presentations on Thursday, September 27th :
Batres, Adan
Boyd, Heidi
Chen, Emily
Kwiatkowski, Dajon
Lebedeff, Christopher
Lipton, Christopher
For everyone else, your first term paper is due on that date.
Slide 4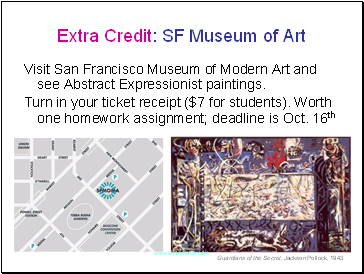 Extra Credit: SF Museum of Art
Visit San Francisco Museum of Modern Art and see Abstract Expressionist paintings.
Turn in your ticket receipt ($7 for students). Worth one homework assignment; deadline is Oct. 16th
Guardians of the Secret, Jackson Pollock, 1943
Slide 5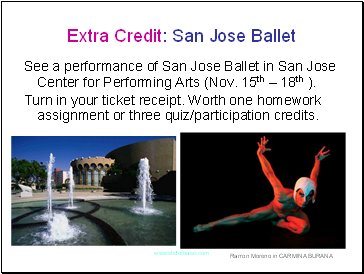 Extra Credit: San Jose Ballet
See a performance of San Jose Ballet in San Jose Center for Performing Arts (Nov. 15th – 18th ).
Turn in your ticket receipt. Worth one homework assignment or three quiz/participation credits.
Ramon Moreno in CARMINA BURANA
Slide 6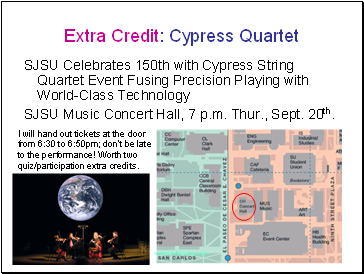 Extra Credit: Cypress Quartet
SJSU Celebrates 150th with Cypress String Quartet Event Fusing Precision Playing with World-Class Technology
SJSU Music Concert Hall, 7 p.m. Thur., Sept. 20th.
I will hand out tickets at the door from 6:30 to 6:50pm; don't be late to the performance! Worth two quiz/participation extra credits.
Slide 7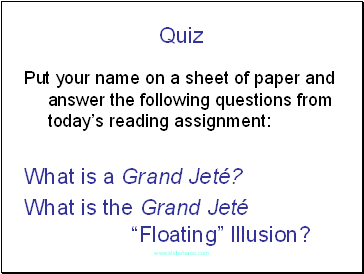 Quiz
Put your name on a sheet of paper and answer the following questions from today's reading assignment:
What is a Grand Jeté?
What is the Grand Jeté "Floating" Illusion?
Slide 8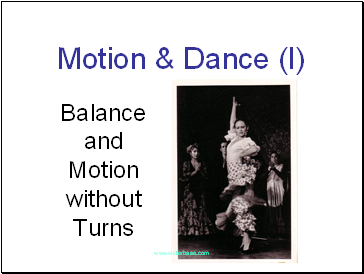 Motion & Dance (I)
Balance and Motion without Turns
Slide 9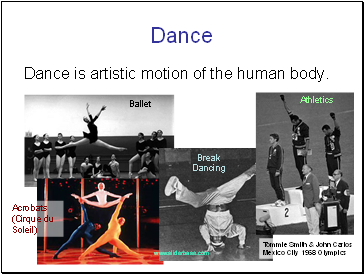 Dance