Erosion and Weathering
Page
1
Slide 1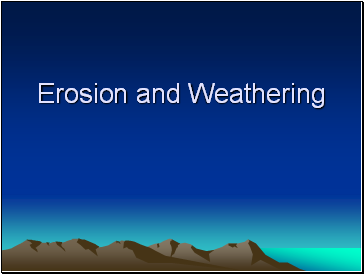 Erosion and Weathering
Slide 2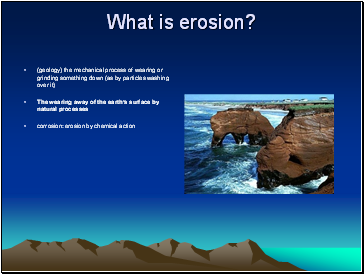 What is erosion?
(geology) the mechanical process of wearing or grinding something down (as by particles washing over it)
The wearing away of the earth's surface by natural processes
corrosion: erosion by chemical action
Slide 3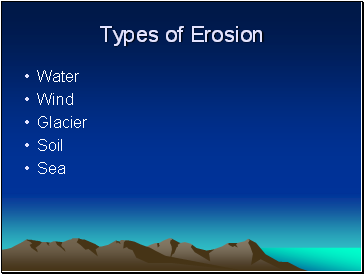 Types of Erosion
Water
Wind
Glacier
Soil
Sea
Slide 4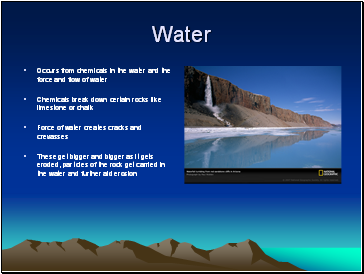 Water
Occurs from chemicals in the water and the force and flow of water
Chemicals break down certain rocks like limestone or chalk
Force of water creates cracks and crevasses
These get bigger and bigger as it gets eroded, particles of the rock get carried in the water and further aid erosion
Slide 5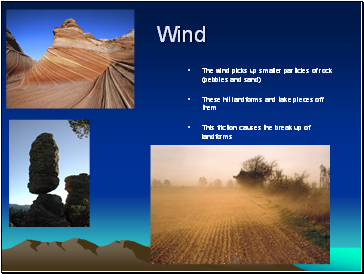 Wind
The wind picks up smaller particles of rock (pebbles and sand)
These hit landforms and take pieces off them
This friction causes the break up of landforms
Slide 6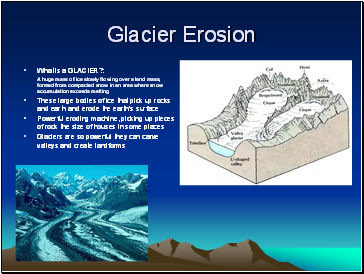 Glacier Erosion
What is a GLACIER?:
A huge mass of ice slowly flowing over a land mass, formed from compacted snow in an area where snow accumulation exceeds melting
These large bodies of ice that pick up rocks and earth and erode the earth's surface
Powerful eroding machine, picking up pieces of rock the size of houses in some places
Glaciers are so powerful they can carve valleys and create landforms
Slide 7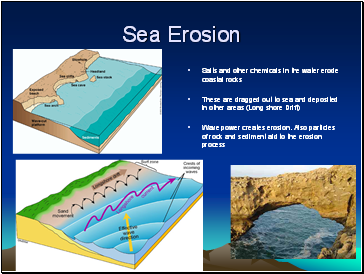 Sea Erosion
Salts and other chemicals in the water erode coastal rocks
These are dragged out to sea and deposited in other areas (Long shore Drift)
Wave power creates erosion. Also particles of rock and sediment aid to the erosion process
Slide 8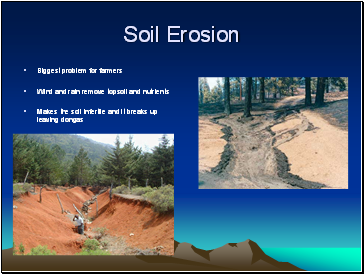 Soil Erosion
Biggest problem for farmers
Wind and rain remove topsoil and nutrients
Makes the soil infertile and it breaks up leaving dongas
Slide 9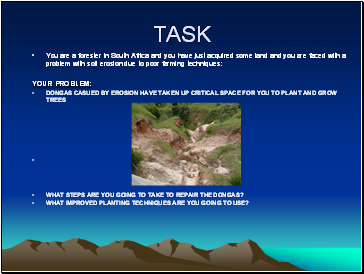 Task
You are a forester in South Africa and you have just acquired some land and you are faced with a problem with soil erosion due to poor farming techniques:
YOUR PROBLEM:
DONGAS CASUED BY EROSION HAVE TAKEN UP CRITICAL SPACE FOR YOU TO PLANT AND GROW TREES
WHAT STEPS ARE YOU GOING TO TAKE TO REPAIR THE DONGAS?
WHAT IMPROVED PLANTING TECHNIQUES ARE YOU GOING TO USE?