Chemistry intro
Page
1
Slide 1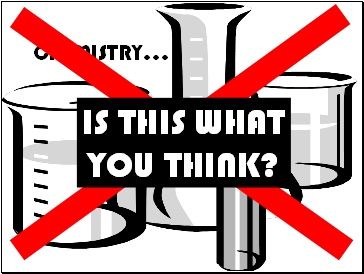 CHEMISTRY…
IS THIS WHAT YOU THINK?
Slide 2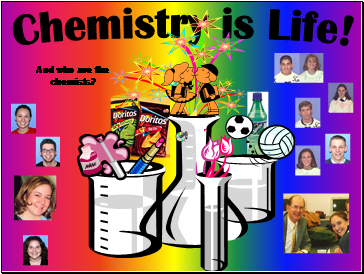 Chemistry is Life!
And who are the chemists?
Slide 3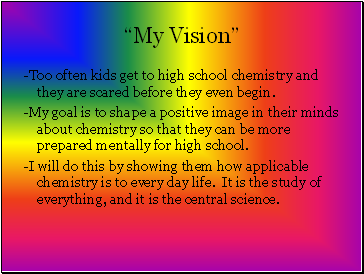 My Vision
-Too often kids get to high school chemistry and they are scared before they even begin.
-My goal is to shape a positive image in their minds about chemistry so that they can be more prepared mentally for high school.
-I will do this by showing them how applicable chemistry is to every day life. It is the study of everything, and it is the central science.
Slide 4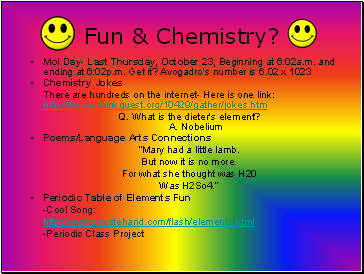 Fun & Chemistry?
Mol Day- Last Thursday, October 23, Beginning at 6:02a.m. and ending at 6:02p.m. Get it? Avogadro's number is 6.02 x 1023
Chemistry Jokes
There are hundreds on the internet- Here is one link: http://library.thinkquest.org/10429/gather/jokes.htm
Q. What is the dieter's element? A. Nobelium
Poems/Language Arts Connections
"Mary had a little lamb.
But now it is no more.
For what she thought was H20
Was H2So4."
Periodic Table of Elements Fun
-Cool Song:
http://www.privatehand.com/flash/elements.html
-Periodic Class Project
Slide 5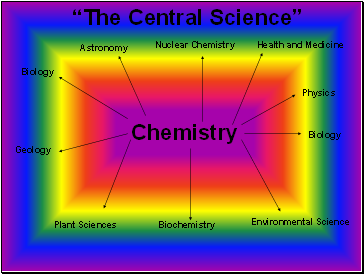 The Central Science
Chemistry
Biology
Plant Sciences
Geology
Environmental Science
Health and Medicine
Nuclear Chemistry
Physics
Astronomy
Biochemistry
Biology
""
Slide 6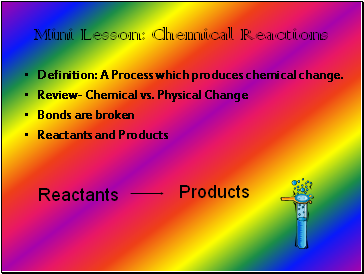 Mini Lesson: Chemical Reactions
Definition: A Process which produces chemical change.
Review- Chemical vs. Physical Change
Bonds are broken
Reactants and Products
Reactants
Products
Slide 7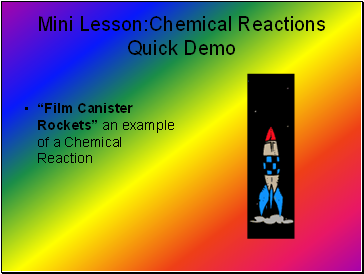 Mini Lesson:Chemical Reactions Quick Demo
"Film Canister Rockets" an example of a Chemical Reaction
Slide 8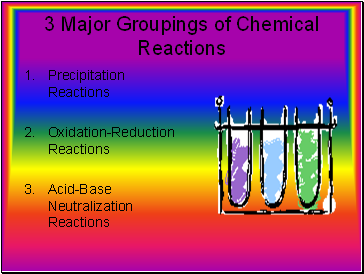 3 Major Groupings of Chemical Reactions
Precipitation Reactions
Oxidation-Reduction Reactions
Acid-Base Neutralization Reactions
Slide 9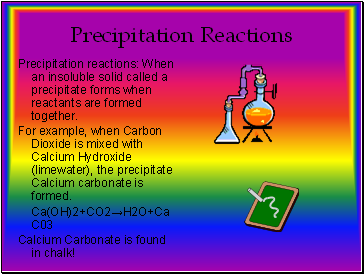 Precipitation Reactions
Precipitation reactions: When an insoluble solid called a precipitate forms when reactants are formed together.
For example, when Carbon Dioxide is mixed with Calcium Hydroxide (limewater), the precipitate Calcium carbonate is formed.
Ca(OH)2+CO2→H2O+CaC03