Resultant forces
Page
1
Slide 1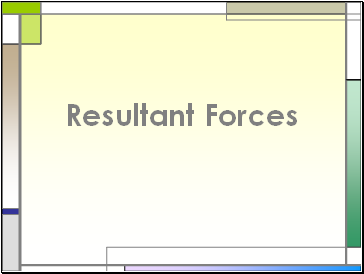 Resultant Forces
Slide 2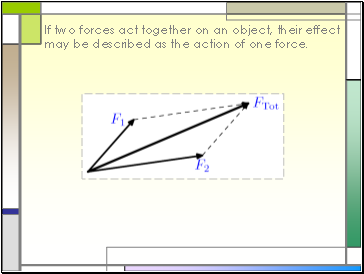 If two forces act together on an object, their effect may be described as the action of one force.
Slide 3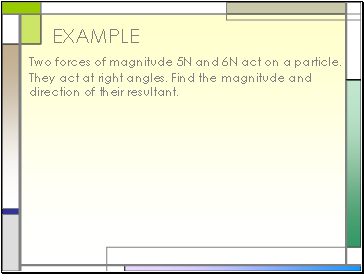 Example
Two forces of magnitude 5N and 6N act on a particle. They act at right angles. Find the magnitude and direction of their resultant.
Slide 4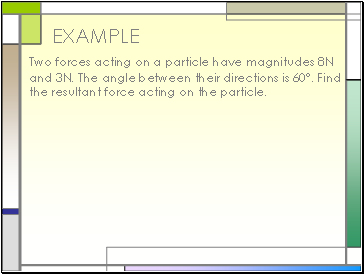 EXAMPLE
Two forces acting on a particle have magnitudes 8N and 3N. The angle between their directions is 60°. Find the resultant force acting on the particle.
Slide 5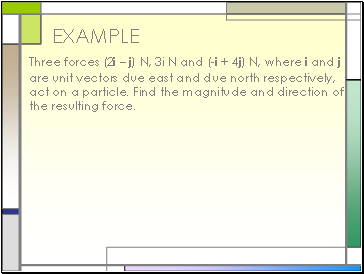 EXAMPLE
Three forces (2i – j) N, 3i N and (-i + 4j) N, where i and j are unit vectors due east and due north respectively, act on a particle. Find the magnitude and direction of the resulting force.
Slide 6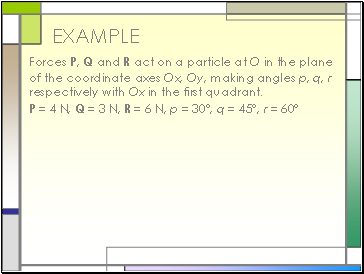 EXAMPLE
Forces P, Q and R act on a particle at O in the plane of the coordinate axes Ox, Oy, making angles p, q, r respectively with Ox in the first quadrant.
P = 4 N, Q = 3 N, R = 6 N, p = 30°, q = 45°, r = 60°