Plant structure adaptations and responses
Page
3
What is the result of pollination?
A Fruit: An ovary containing seeds.
Slide 16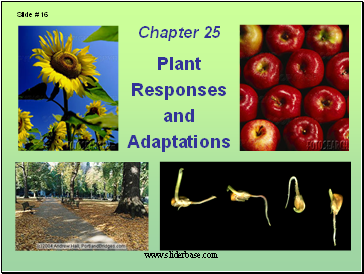 Chapter 25
Plant
Responses and Adaptations
Slide # 16
Slide 17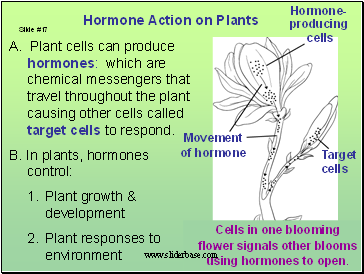 Slide #17
Hormone-producing cells
Target
cells
Movement
of hormone
Hormone Action on Plants
A. Plant cells can produce hormones: which are chemical messengers that travel throughout the plant causing other cells called target cells to respond.
B. In plants, hormones control:
Plant growth & development
Plant responses to environment
Cells in one blooming flower signals other blooms using hormones to open.
Slide 18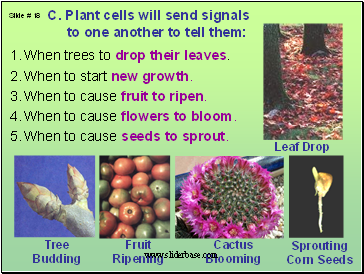 C. Plant cells will send signals to one another to tell them:
When trees to drop their leaves.
When to start new growth.
When to cause fruit to ripen.
When to cause flowers to bloom.
When to cause seeds to sprout.
Slide # 18
Leaf Drop
Fruit
Ripening
Sprouting
Corn Seeds
Cactus
Blooming
Tree Budding
Slide 19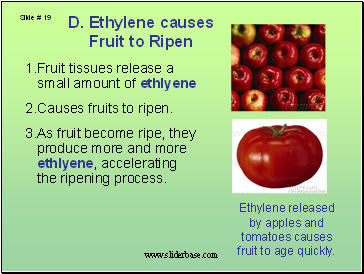 Ethylene causes Fruit to Ripen
Fruit tissues release a small amount of ethlyene
Causes fruits to ripen.
As fruit become ripe, they produce more and more ethlyene, accelerating the ripening process.
Slide # 19
Ethylene released by apples and tomatoes causes fruit to age quickly.
Slide 20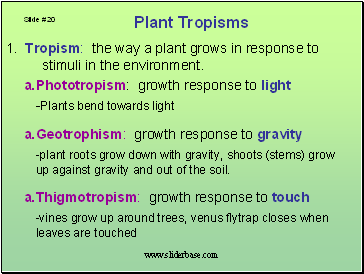 Plant Tropisms
1. Tropism: the way a plant grows in response to stimuli in the environment.
Phototropism: growth response to light
-Plants bend towards light
Geotrophism: growth response to gravity
-plant roots grow down with gravity, shoots (stems) grow up against gravity and out of the soil.
Thigmotropism: growth response to touch
-vines grow up around trees, venus flytrap closes when leaves are touched
Slide # 20
Slide 21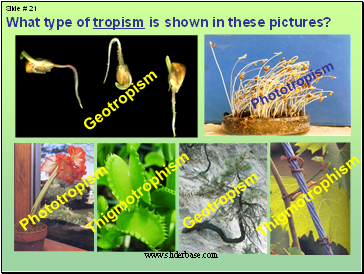 Slide # 21
Geotropism
What type of tropism is shown in these pictures?
Thigmotrophism
Thigmotrophism
Geotropism
Phototropism
Phototropism