Plantlets
Page
1
Slide 1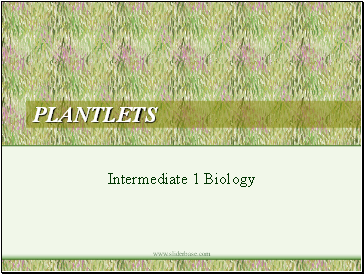 PLANTLETS
Intermediate 1 Biology
Slide 2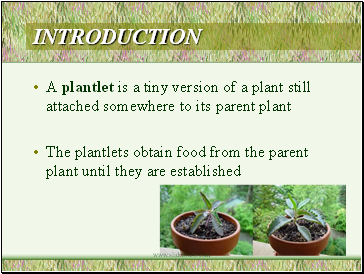 INTRODUCTION
A plantlet is a tiny version of a plant still attached somewhere to its parent plant
The plantlets obtain food from the parent plant until they are established
Slide 3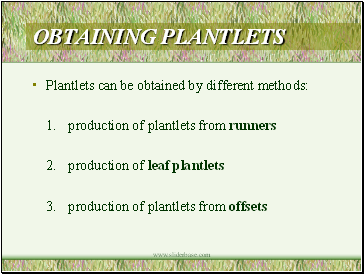 Obtaining Plantlets
Plantlets can be obtained by different methods:
1. production of plantlets from runners
2. production of leaf plantlets
3. production of plantlets from offsets
Slide 4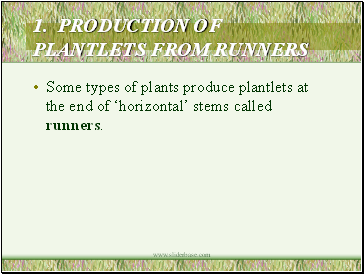 1. PRODUCTION OF PLANTLETS FROM RUNNERS
Some types of plants produce plantlets at the end of 'horizontal' stems called runners.
Slide 5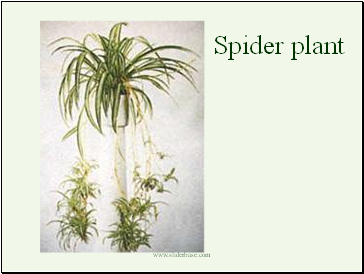 Spider plant
Slide 6
Method Of Obtaning Plantlets From Runners
The plantlet can be 'pegged down' into a small pot of compost using wire
When the roots are established, the runner is cut close to the new plant and the wire removed
Slide 7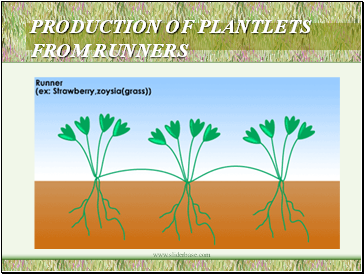 Production Of Plantlets From Runners
Slide 8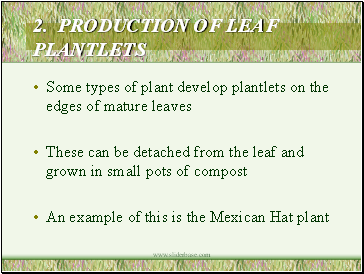 2. PRODUCTION OF LEAF PLANTLETS
Some types of plant develop plantlets on the edges of mature leaves
These can be detached from the leaf and grown in small pots of compost
An example of this is the Mexican Hat plant
Slide 9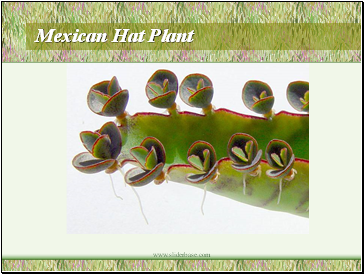 Mexican Hat Plant
Slide 10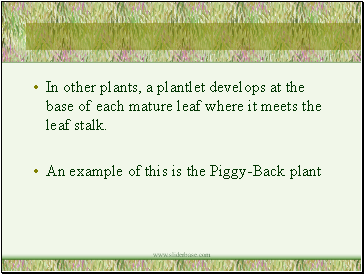 In other plants, a plantlet develops at the base of each mature leaf where it meets the leaf stalk.
An example of this is the Piggy-Back plant
Slide 11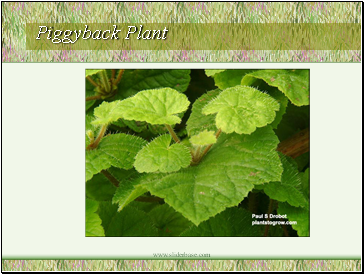 Piggyback Plant
Slide 12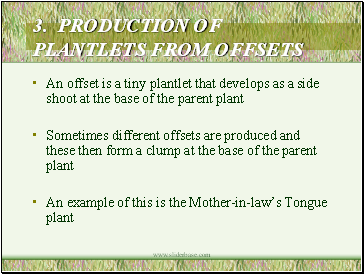 3. PRODUCTION OF PLANTLETS FROM OFFSETS
An offset is a tiny plantlet that develops as a side shoot at the base of the parent plant
Sometimes different offsets are produced and these then form a clump at the base of the parent plant
An example of this is the Mother-in-law's Tongue plant
Slide 13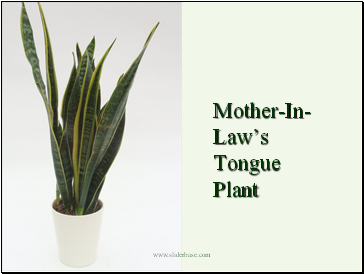 Mother-In-Law's Tongue Plant
Slide 14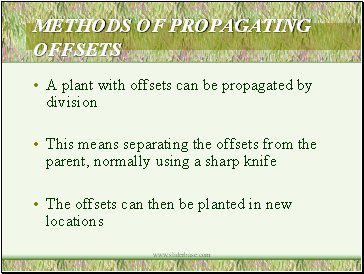 Methods Of Propagating Offsets