Controlling Disease
Page
1
Slide 1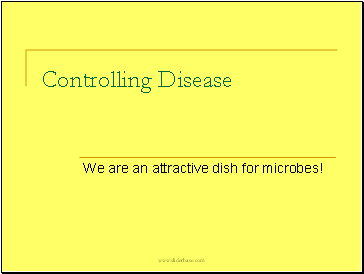 Controlling Disease
We are an attractive dish for microbes!
Slide 2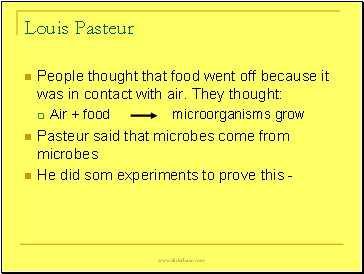 Louis Pasteur
People thought that food went off because it was in contact with air. They thought:
Air + food microorganisms grow
Pasteur said that microbes come from microbes
He did som experiments to prove this -
Slide 3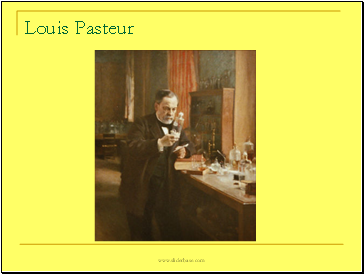 Louis Pasteur
Slide 4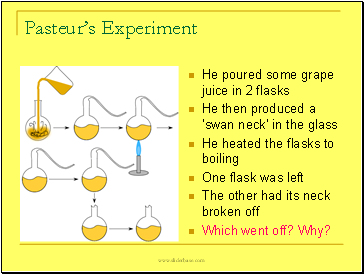 Pasteur's Experiment
He poured some grape juice in 2 flasks
He then produced a 'swan neck' in the glass
He heated the flasks to boiling
One flask was left
The other had its neck broken off
Which went off? Why?
Slide 5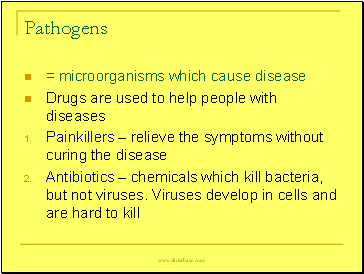 Pathogens
= microorganisms which cause disease
Drugs are used to help people with diseases
Painkillers – relieve the symptoms without curing the disease
Antibiotics – chemicals which kill bacteria, but not viruses. Viruses develop in cells and are hard to kill
Slide 6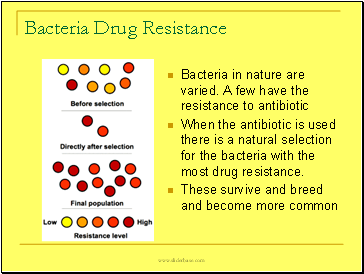 Bacteria Drug Resistance
Bacteria in nature are varied. A few have the resistance to antibiotic
When the antibiotic is used there is a natural selection for the bacteria with the most drug resistance.
These survive and breed and become more common
Slide 7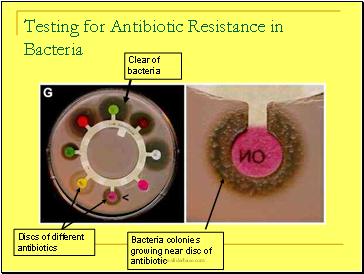 Testing for Antibiotic Resistance in Bacteria
Clear of bacteria
Bacteria colonies growing near disc of antibiotic
Discs of different antibiotics
Slide 8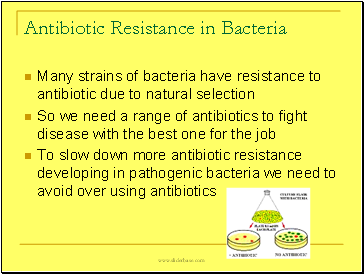 Antibiotic Resistance in Bacteria
Many strains of bacteria have resistance to antibiotic due to natural selection
So we need a range of antibiotics to fight disease with the best one for the job
To slow down more antibiotic resistance developing in pathogenic bacteria we need to avoid over using antibiotics