Tobacco and Health
Page
1
Slide 1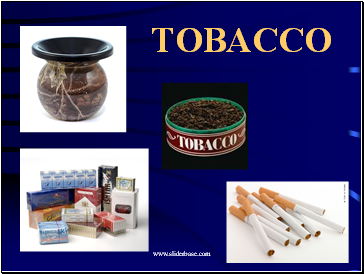 TOBACCO
Slide 2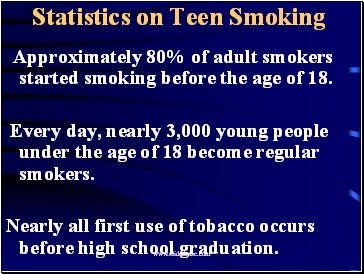 Slide 3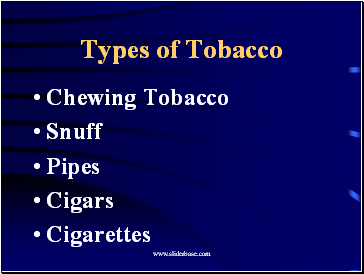 Slide 4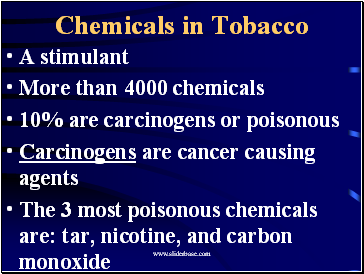 Slide 5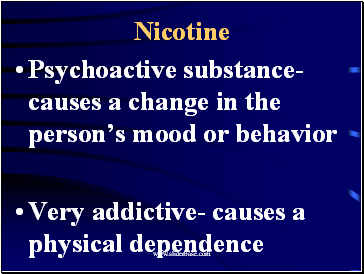 Nicotine
Psychoactive substance- causes a change in the person's mood or behavior
Very addictive- causes a physical dependence
Slide 6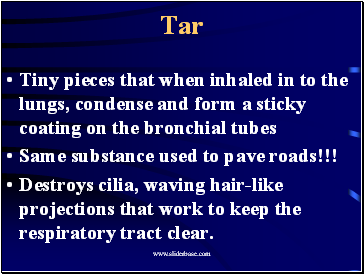 Tar
Tiny pieces that when inhaled in to the lungs, condense and form a sticky coating on the bronchial tubes
Same substance used to pave roads!!!
Destroys cilia, waving hair-like projections that work to keep the respiratory tract clear.
Slide 7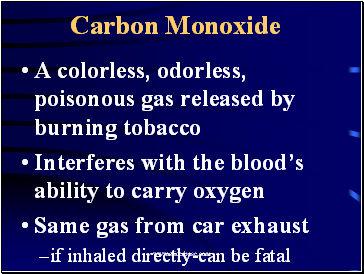 Carbon Monoxide
A colorless, odorless, poisonous gas released by burning tobacco
Interferes with the blood's ability to carry oxygen
Same gas from car exhaust
if inhaled directly-can be fatal
Slide 8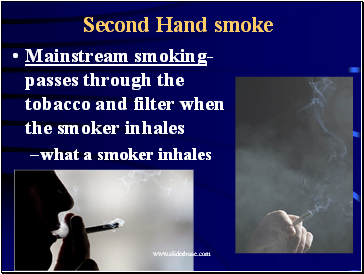 Second Hand smoke
Mainstream smoking- passes through the tobacco and filter when the smoker inhales
what a smoker inhales
Slide 9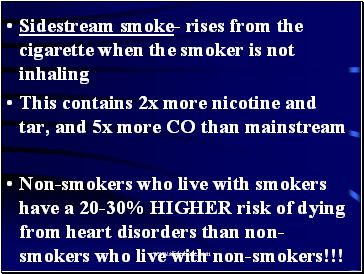 Sidestream smoke- rises from the cigarette when the smoker is not inhaling
This contains 2x more nicotine and tar, and 5x more CO than mainstream
Non-smokers who live with smokers have a 20-30% HIGHER risk of dying from heart disorders than non-smokers who live with non-smokers!!!
Slide 10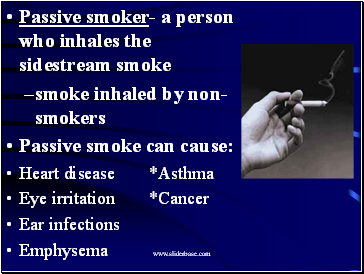 Passive smoker- a person who inhales the sidestream smoke
smoke inhaled by non-smokers
Passive smoke can cause:
Heart disease *Astha
Eye irritation *Cancer
Ear infections
Emphysema
Slide 11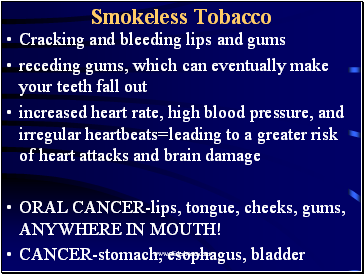 Smokeless Tobacco
Cracking and bleeding lips and gums
receding gums, which can eventually make your teeth fall out
increased heart rate, high blood pressure, and irregular heartbeats=leading to a greater risk of heart attacks and brain damage
ORAL CANCER-lips, tongue, cheeks, gums, ANYWHERE IN MOUTH!
CANCER-stomach, esophagus, bladder
Slide 12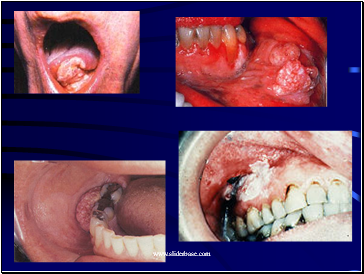 Slide 13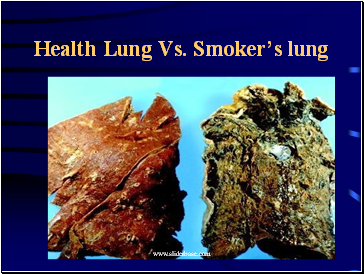 Health Lung Vs. Smoker's lung