Acids and Bases
Page
3
Slide 17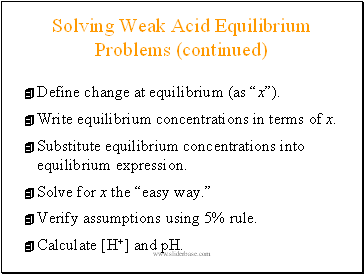 Solving Weak Acid Equilibrium Problems (continued)
Define change at equilibrium (as "x").
Write equilibrium concentrations in terms of x.
Substitute equilibrium concentrations into equilibrium expression.
Solve for x the "easy way."
Verify assumptions using 5% rule.
Calculate [H+] and pH.
Slide 18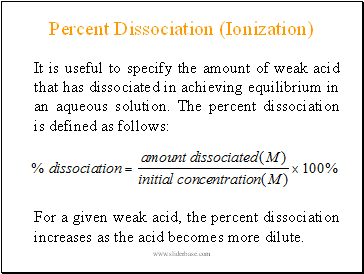 Percent Dissociation (Ionization)
It is useful to specify the amount of weak acid that has dissociated in achieving equilibrium in an aqueous solution. The percent dissociation is defined as follows:
For a given weak acid, the percent dissociation increases as the acid becomes more dilute.
Slide 19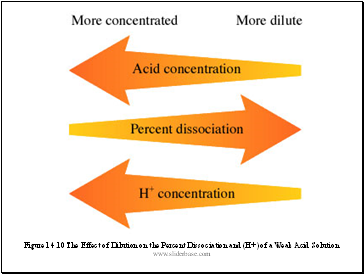 Figure 14.10 The Effect of Dilution on the Percent Dissociation and (H+) of a Weak Acid Solution
Slide 20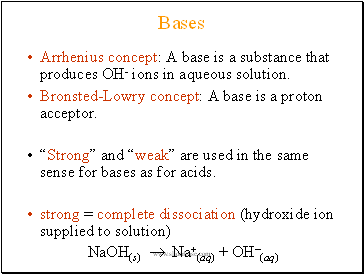 Bases
Arrhenius concept: A base is a substance that produces OH- ions in aqueous solution.
Bronsted-Lowry concept: A base is a proton acceptor.
"Strong" and "weak" are used in the same sense for bases as for acids.
strong = complete dissociation (hydroxide ion supplied to solution)
NaOH(s)  Na+(aq) + OH(aq)
Slide 21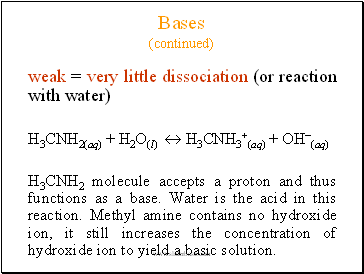 Bases (continued)
weak = very little dissociation (or reaction with water)
H3CNH2(aq) + H2O(l)  H3CNH3+(aq) + OH(aq)
H3CNH2 molecule accepts a proton and thus functions as a base. Water is the acid in this reaction. Methyl amine contains no hydroxide ion, it still increases the concentration of hydroxide ion to yield a basic solution.
Slide 22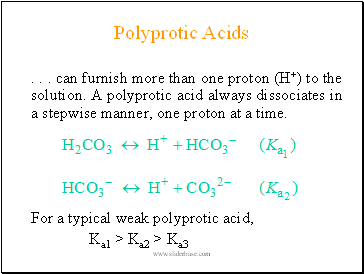 Polyprotic Acids
. . . can furnish more than one proton (H+) to the solution. A polyprotic acid always dissociates in a stepwise manner, one proton at a time.
For a typical weak polyprotic acid,
Ka1 > Ka2 > Ka3
Slide 23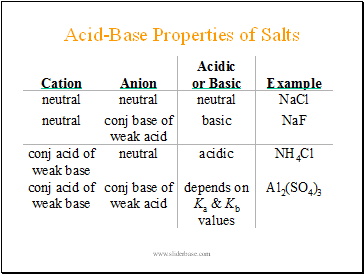 Acid-Base Properties of Salts
Slide 24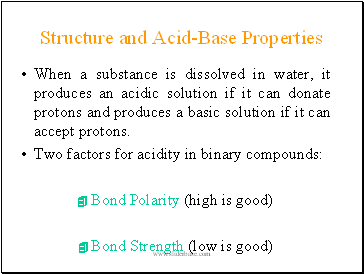 Structure and Acid-Base Properties
When a substance is dissolved in water, it produces an acidic solution if it can donate protons and produces a basic solution if it can accept protons.
Two factors for acidity in binary compounds:
Bond Polarity (high is good)
Bond Strength (low is good)
Slide 25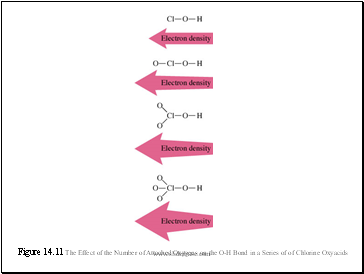 Figure 14.11 The Effect of the Number of Attached Oxygens on the O-H Bond in a Series of of Chlorine Oxyacids