Ancient World History
Page
4
ART, POETRY, PAINTING, INVENTIONS
Slide 45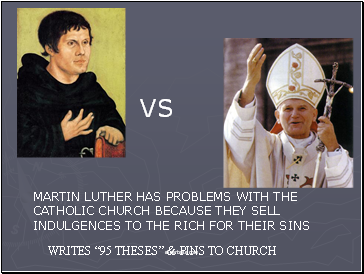 VS
MARTIN LUTHER HAS PROBLEMS WITH THE CATHOLIC CHURCH BECAUSE THEY SELL INDULGENCES TO THE RICH FOR THEIR SINS
WRITES "95 THESES" & PINS TO CHURCH
Slide 46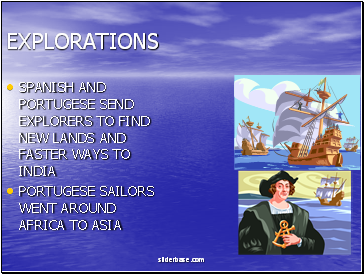 EXPLORATIONS
SPANISH AND PORTUGESE SEND EXPLORERS TO FIND NEW LANDS AND FASTER WAYS TO INDIA
PORTUGESE SAILORS WENT AROUND AFRICA TO ASIA
Slide 47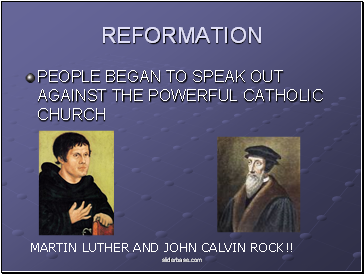 REFORMATION
PEOPLE BEGAN TO SPEAK OUT AGAINST THE POWERFUL CATHOLIC CHURCH
MARTIN LUTHER AND JOHN CALVIN ROCK!!
Slide 48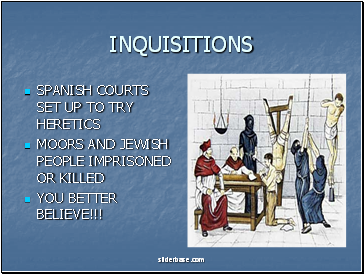 INQUISITIONS
SPANISH COURTS SET UP TO TRY HERETICS
MOORS AND JEWISH PEOPLE IMPRISONED OR KILLED
YOU BETTER BELIEVE!!!
Slide 49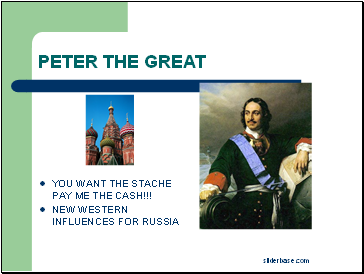 PETER THE GREAT
YOU WANT THE STACHE PAY ME THE CASH!!!
NEW WESTERN INFLUENCES FOR RUSSIA
Slide 50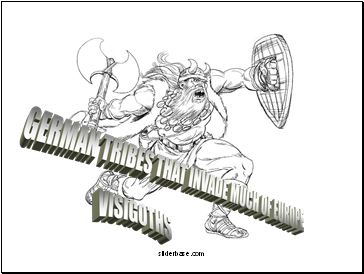 GERMAN TRIBES THAT INVADE MUCH OF EUROPE
VISIGOTHS
Slide 51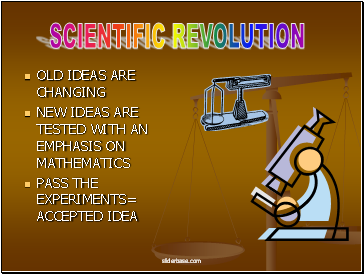 SCIENTIFIC REVOLUTION
OLD IDEAS ARE CHANGING
NEW IDEAS ARE TESTED WITH AN EMPHASIS ON MATHEMATICS
PASS THE EXPERIMENTS= ACCEPTED IDEA
Slide 52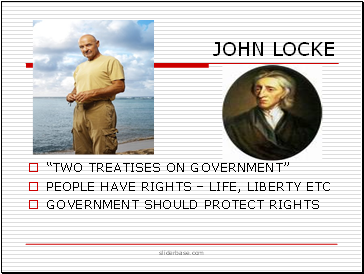 JOHN LOCKE
"TWO TREATISES ON GOVERNMENT"
PEOPLE HAVE RIGHTS – LIFE, LIBERTY ETC
GOVERNMENT SHOULD PROTECT RIGHTS
Slide 53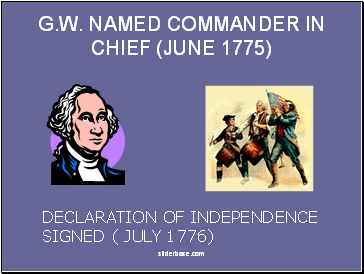 G.W. NAMED COMMANDER IN CHIEF (JUNE 1775)
DECLARATION OF INDEPENDENCE SIGNED ( JULY 1776)
Slide 54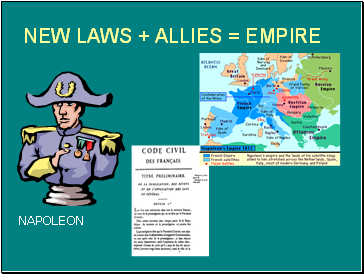 NEW LAWS + ALLIES = EMPIRE
NAPOLEON
Slide 55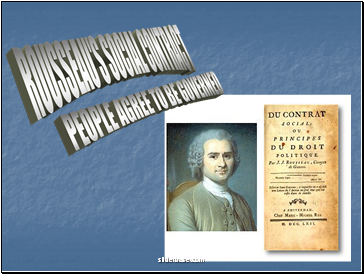 ROUSSEAU'S SOCIAL CONTRACT
PEOPLE AGREE TO BE GOVERNED
Slide 56
A SUDDEN REVOLUTION
Slide 57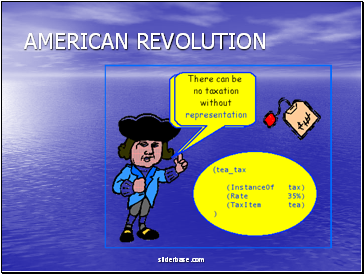 AMERICAN REVOLUTION
Slide 58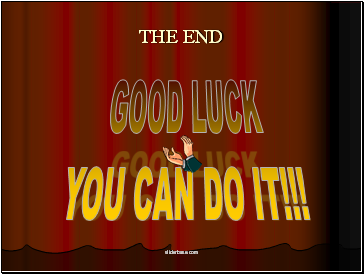 THE END
GOOD LUCK
YOU CAN DO IT!!!